Thecus M3800 NAS Stream Box – Total Media Storage
By
Thecus M3800 Stream Box – Total Media Storage Device
In the past Legit Reviews has looked at a bunch of different external drives and Network Attached Storage (NAS) devices, but none have really caught my eye or peaked my interest. Ive always thought that there was nothing really out there for me, the home PC user, to really get excited about. The most exciting thing for me thus far has been when we looked at the $4500 Alienware High Definition Media Server. The incredibly priced box could do everything under the sun from downloading and streaming all forms of media throughout your house to backing up and burning your favorite multimedia. Very cool stuff, but seriously, $4,000?!?!? Not worth it, in my opinion.
I need a fairly simple solution. Somewhere to store my various media with the ability to either play directly or stream to my favorite TV screens in my house. My Playstation 3 and PC have been getting the job done, but I need a better backup solution. The three-bay, $450 multimedia NAS from Thecus might just be what the doctored ordered.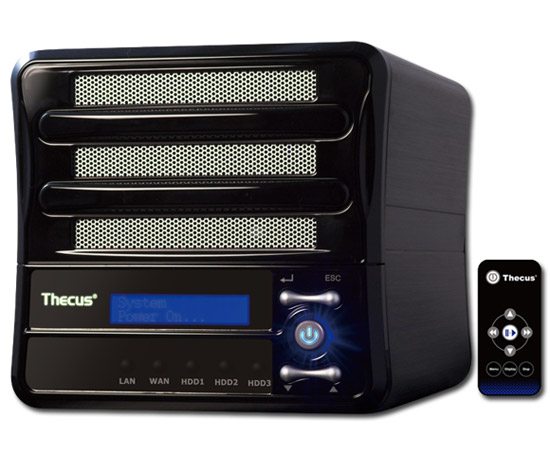 The Thecus M3800 NAS Stream Box is designed to be your final solution when it comes to storage and media playback. It features HDMI, component and AV out so that you can play your digital content directly to and through your home theater. The M3800 features an AMD Geode-powered Media Server that allows for easy connection of DLNA (Digital Living Network Alliance the standard used by consumer electronics manufacturers to allow entertainment devices within the home or small office to share their content with each other across a network).
The Thecus engineers went out of their way to present a Home NAS solution that features RAID 0,1, 5, JBOD protection that looks sleek and stylish. The M3800 is built around an AMD Geode LX low power processor that was designed to handle home theater video and audio sharing.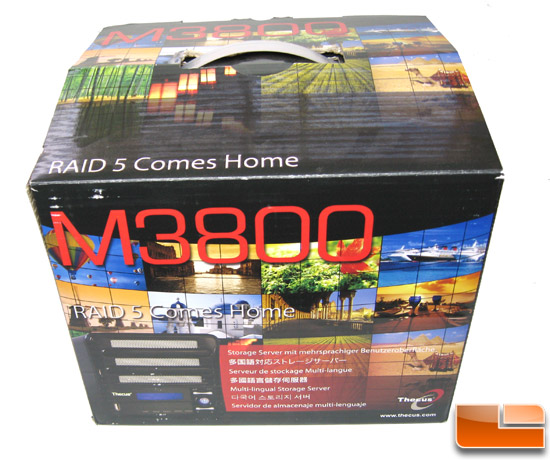 For video playback, the M3800 supports WMV9, WMVHD, VOB or TS and AVI up to resolutions of 1080p. Supported audio formats include WMA, AAC, PCM, and M4A. Two glaring omissions from this list are support for the very popular Matroska Multimedia Container or MKV and (gasp) the even more popular MP3 format. This means that the M3800 will not be able to play these types of files directly from the stream box. Well discuss these limitations a bit more in depth later on, but lets take a look at the M3800 specifications and start building the RAID array.
Hardware Specifications:
Item

Spec

Processor

AMD LX800

Chipset

CS5536

System Memory

256MB DDR SODIMM

LAN Interface

RJ-45×2 : 10/100/1000 BASE-TX Auto MDI/MDI-X

USB Interface

USB 2.0 host port x2(Front x1, Back x1)

eSATA Interface

eSATA port X1 (Back)

LED indicator

Power(Blue)

HDD1 Failed/Activity(Red/Orange)

HDD2 Failed/Activity(Red/Orange)

HDD3 Failed/Activity(Red/Orange)

WAN (Link : Green; Activity : Orange), WOL supported

LAN (Link : Green; Activity : Orange), WOL supported

LCD Module

2*16 character display with 4 buttons

Power supply

External 12V 96 Watts AC power adaptor

Disk interface

SATA x3 via backplane

Thermal/Fan control

Thermal sensor on HDD and processor temperature

Temperature controlled system FAN speed

Real-time clock

Battery backup system clock

IR Receiver

38Hz frequency controlled by Micro Processor

Buzzer

Frequency controllable

Chassis

Metal chassis

Environment

Temperature : 5C to 40 C

Humidity : 0 ~ 80 % R.H. (Non-condensing)

Power Consumption

Standby mode: 40W

Full Loading: 60W with 1.5TB Seagate * 3 HDD installed

Sound Pressure Level

Without HDD: 18.8 dB(A)

With HDD: 24.0 dB (A) with 1.5TB Seagate * 3 HDD installed

Safety

CE, FCC,BSMI, C-Tick, VCCI, RoHS Compliant

IO Interfaces

AUDIO/VIDEO OUTPUT

HDMI Audio/Video output

Component Output

AV Output

S/PDIF optical Output

System Information

Video

Format

WMV9(no DRM), WMVHD(no DRM), AVI, VOB, TS

Codec

XVID, H.264, VC-1

Resolution

Up to 1920 x 1080i, 1920 x 1080P

Audio

Format

WMA, AAC, PCM, M4A(no DRM)

Codec

AC3, WMA, WMAPRO, PCM, LPCM, BDLPCM(Blue-ray LPCM)

Dimension

158mm(H) 173mm(W) 218mm(L)
2. Software Specifications
RAID

RAID modes

RAID 0, 1, 5,JBOD

Auto-rebuild

Supported

Hot-swap

Supported

Network

Configuration

Fixed IP Address, Dynamic IP Address, DDNS

IP sharing mode

Can be enable/disabled

Transport Protocols

TCP/IP/Appletalk

File Protocols

SMB/CIFS, HTTP/HTTPS, FTP, NFS, AFP

Wireless LAN

802.11b/g AP mode supported by USB Dongle (ZD1211x based)

Data Access

Client OS support

Windows 98/ME/NT/2000/XP/2003/Vista

UNIX/Linux

Mac OS 9 / X

WebDisk

Web-based file access

FTP

File transmission protocol

Download Manager

HTTP / FTP / BT

Printer Server (IPP)

Support USB printers

Support IPP various printers

Client can manage(List/Delete) the print job queue on WEB interface

Data Backup

USB copy via LCM operate

Copy USB Mass storage device contents to specified location to NAS

Multimedia Support

iTunes Server

Supported File Types: AAC, MP3 w/ ID3 tag, WAV

Photo Web Server

Supported File Types: GIF, JPG (JPEG), BMP, PNG

Support EXIF display

Support slide show

Media server

Support uPnP AV streaming protocol

Works with DLNA-certified players

Web cam

Support Capture, preview, schedule

Support image size : 160 x 120, 320 x 240, 640 x 480

User Authentication

Local User

Supports built-in user accounts

Local Group

Supports built-in user groups

Microsoft PDC/AD

Supports PDC/AD users/groups

File System

Type

Journaling File System

Capacity

3TB or above

File Size Supported

Support Files max : 2TB

Language Support

Unicode Support

Authorization

Read, Write or Deny options on individual users or groups

Administration

Multi-Lingual Web-based administration

Web-based server management Interface Supports English, Traditional Chinese, Simplified Chinese, Japanese, Korean, French, German, Italian, Spanish

Utility Program

MS Windows / Mac OSX Setup Wizard,

Support multilingual

Support Windows 2000/XP/2003/Vista, Mac OSX backup utility

Email notification

Send the system messages via Email to the system administrator