Targus Voice Recording Presenter w/ Laser Pointer
By
Conclusions & Final Thoughts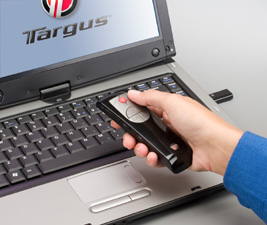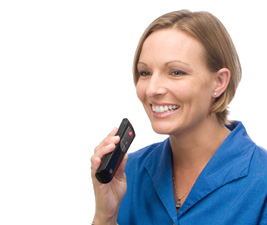 For the person who makes presentations in a variety of environments, the 2.4Ghz Targus Voice Recording Presenter AMP05US is one of the best, feature-packed presentation devices on the market. It may not have every bell and whistle that you can find, but Targus finds a balance and does an excellent job of giving the user a very professional looking and functional device. The layout of the buttons, both on the top and on the sides, are ergonomically comfortable for left- and right-handed users. The laser pointer is not the strongest or brightest that Ive used, but is good enough to highlight text and materials from across a lecture hall and board room. It would have also been nice to have the ability to change the shape (ie larger, smaller, underline, flashing) on the laser's spot but we are very happy with the performance overall.
Targus did a very good job of choosing what buttons to leave off as well. For instance, for $50 more, you could get a presentation mouse with trackball, or one that looks like something out of Star Trek, but for the majority of users who need a presentation device, there is no need for a trackball (or anything else Mr. Spock would have handed you). Rather, the functions of the AMP05US are designed well for what it does: Giving the user the ability to present PowerPoint presentations and multimedia. The goal is simple, and the Targus AMP05US gets the job done without the fluff.

Legit Bottom Line:
For a street price of around $65, we highly recommend the Targus Voice Recording Presenter with Laser Pointer. Along with its voice recorder and built-in SD card reader, the AMP05US fits nicely in your hand and has every major feature one needs in a presentation device. It is an extremely solid presentation device designed especially for those who use Microsofts PowerPoint on a regular basis.