Targus Voice Recording Presenter w/ Laser Pointer
By
Introducing The Targus Voice Recording Presenter with Laser Pointer
With school firmly back in for those of us in academia as well as the holiday blues farther behind those that do the 9-to-5 thing, today we look at a tool that makes life much easier for those of us who speak and present on a regular basis. Whether you are the student giving presentations to your speech class, or the professor who tries to keep his students awake with interesting content, or the businessman trying to land that big contract, you will find a use for a device such as the Targus AMP05US Presenter.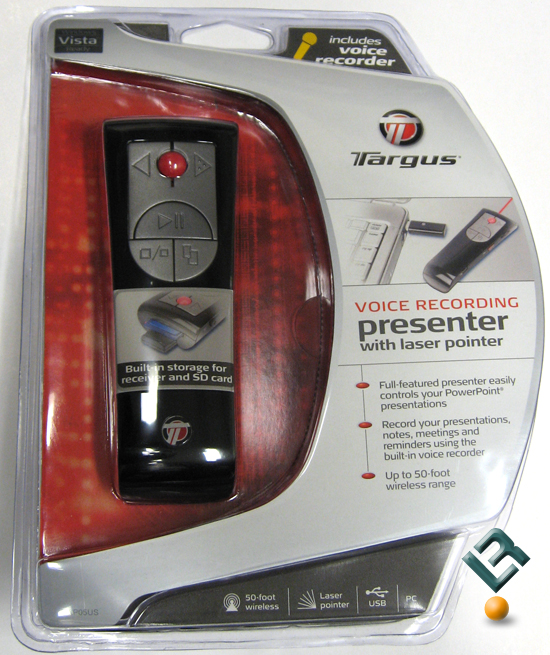 The device that Targus presents to us is a way to remotely control a computer that is using presentation software such as Microsoft PowerPoint. Targus, best known as one of the worlds leaders in providing computer carrying cases, has a fairly large cadre of computer hardware accessories that makes life much easier for the person who is constantly on-the-go. A good example of that is the AMP05US which is touted as a 4-in-1 Pointing Device; A PowerPoint presenter, laser pointer, integrated voice recorder and a built-in SD memory card reader.
For a list price of $69.99, Targus has placed this pointer firmly in the middle of the road when it comes to price-point. There are a lot of cheaper pointers on the market that do much less. Likewise, there a tons of other pointers and presentation mice that have fancier features. It looks like Targus made a conscious effort where to place this product. The question I had when looking at the device though was, did they take too much away? Lets look closer: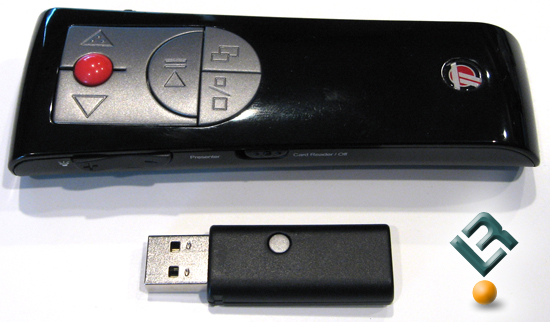 Nothing fancy about the packaging or the box contents. Targus gives you enough to get you going in less than 5 minutes including AAA batteries, a carrying case, and a USB-to-USB mini cable. The USB transceiver is very cool and is stored in a built-in slot on the AMP05US. In my opinion, this makes it very difficult to forget the USB transceiver in the host computer.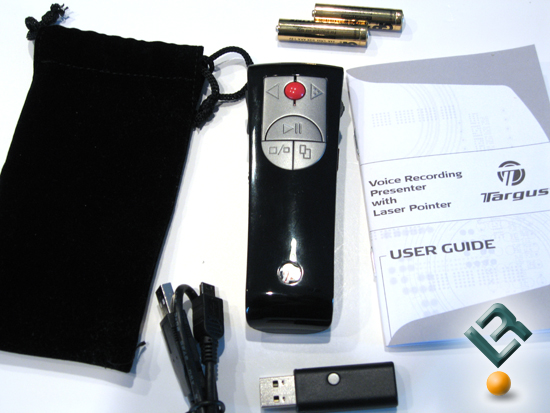 Key Features:
3-in-1 Functionality: PowerPoint Presenter, Laser Pointer, Voice Recorder, SD Memory Card Reader
Wireless: 2.4GHz, with 50-foot range
Easily record any presentation questions with the click of a button
Scroll wheel provides easy navigation
Weight: Less than 2 oz