Targus Voice Recording Presenter w/ Laser Pointer
By
Targus AMP05US Performance
Targus makes the AMP05US very simple to install and use under Windows XP and Windows Vista. Just plug in the USB adapter and go. This is especially nice for when you are giving a presentation in an unfamiliar location and you dont want to worry about installing drivers and such. After plugging in the USB transceiver, Windows, will locate the new hardware and have you up and running in no time. You then turn on the power the handset and you are good to go.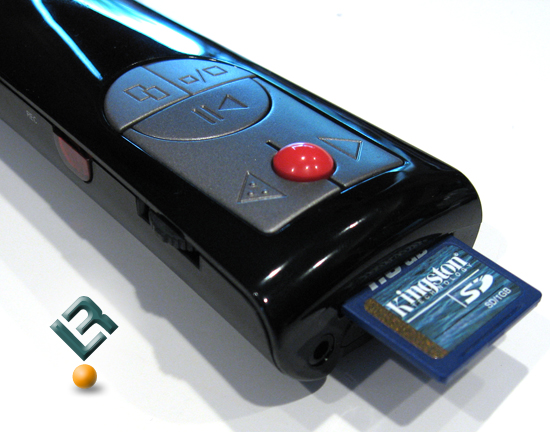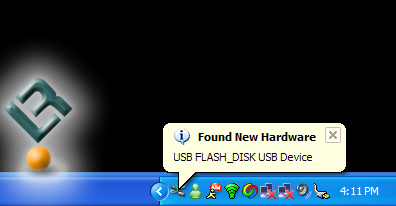 In PowerPoint, the AMP05US gives you the basic ability to go forward and backwards throughout your presentation. This, of course is the minimum that a presentation device should do. Targus also includes the ability to quick-swap between applications and documents a la when a user hits Alt-Tab. There is a button to play or pause the multimedia that you are presenting, as well as button to instantly darken the presentation. This is the same feature that is found on most projectors with the advantage being that you have the power to do it at the touch of your fingers.
On the sides you will find a volume control toggle and scroll button. The scroll button is great for scrolling quickly through PowerPoint or if you are showing another document on your computer, you can use it to scroll up and down for instance if you showing a Word or Excel document.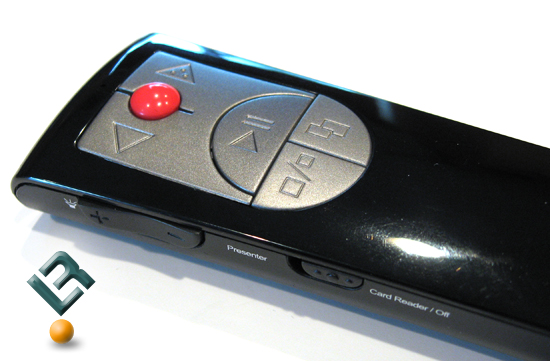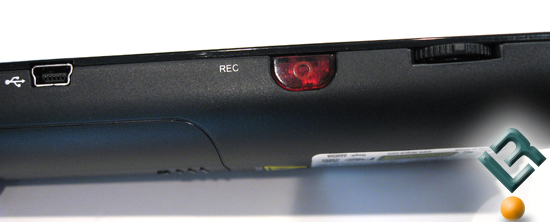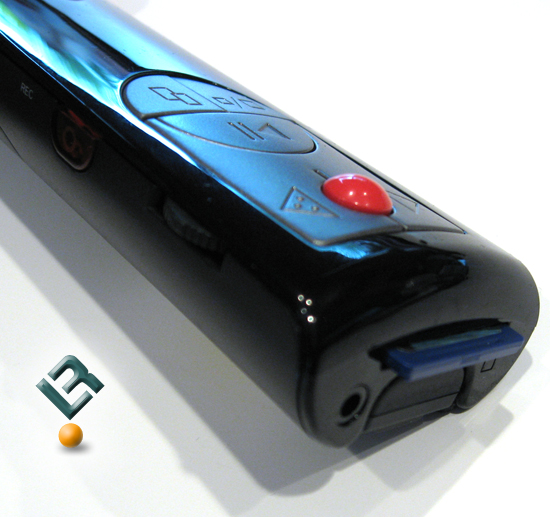 For the past few weeks Ive been using the AMP05US in a variety of situations. Mostly in front of a hostile crowd of 60+ students at the University I teach at. Every night I bring in my laptop and set up PowerPoint presentations and view media clips. The Targus AMP05US is a necessity for me. I am able to roam the entire hall (mainly to make sure the students are still awake) to engage the audience in what is being discussed. While we are watching videos, I am easily able to adjust the sound and even blank the screen when it is time to discuss what was just presented. All of this without having to approach the podium, projector, or computer.
I have also used the Targus pointer and USB in the board room. The card reader really comes in handy when you want to transport your presentation or files. The SD card reader on the AMP05US doesnt require any drivers for Windows XP or Windows Vista, so after initially plugging it into a computer, the drivers load very quickly and file transfer is ready to go in less than 15 seconds!
The AMP05US records natively in mono WAV format which is universal across many platforms. The recordings are 32 kbps so you wont be releasing a CD of tunes any time soon, but it is perfect for recording lectures or long presentations even your own! We estimate that at this bit rate, you can get over 7 hours of recorded material per 1 GB SD card. The Targus AMP05US automatically creates a folder called RECORDER and unique filenames for each voice recording. The recordings work quite well and is very easy to use.