Swiftech H20-220 Edge HD Liquid Cooling Kit Review
By
H20-220 Edge HD liquid cooling kit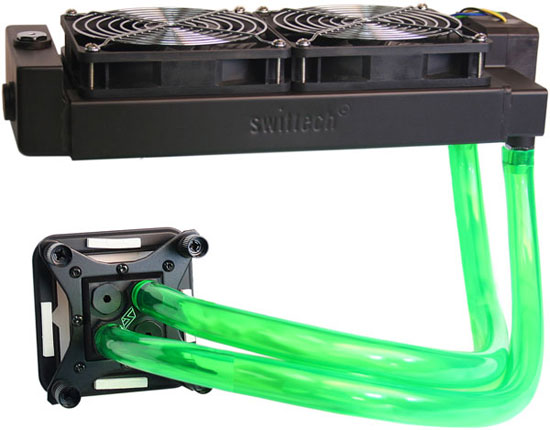 When I have done reviews of sealed loop water coolers like the Corsair H100, one of the first questions I get emailed to me is "Can I add a GPU cooler to the loop?" Answer: not without killing the warranty and a lot of hacking. That's where companies like Swiftech come into play. For years they have made components for custom liquid cooling loops for enthusiasts willing to dabble in the once black art of liquid cooling. With the kits like the Corsair H100 starting to demystify liquid cooling more people are giving it a go, but still have reservations about custom loops and picking out components. Swiftech has taken some of the questions out of the equation by putting all the parts needed into a user assembled water cooling kit called the Edge 'HD' series.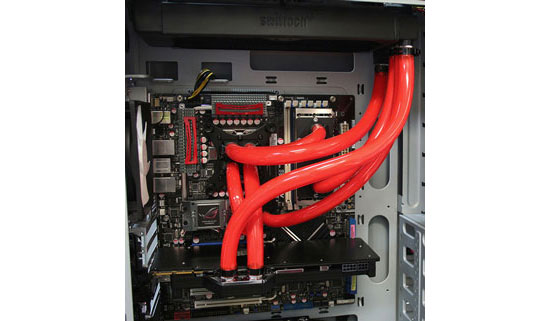 One of those kits is the H2O-220 Edge HD kit. The H20 Edge kits feature a radiator with an integrated reservoir and pump. Unlike kits like the Corsair H100, the H2O Edge kits are expandable, upgradable, and user serviceable. The end user can add a graphics card to the cooling loop and not void the warranty, upgrade the CPU block down the line with the next revision without having to replace the whole works and can also add to the cooling ability by adding a second radiator. When the unit is out of warranty the end user can replace the pump if it should fail. If the Corsair unit's pump fails, the whole unit has to be replaced.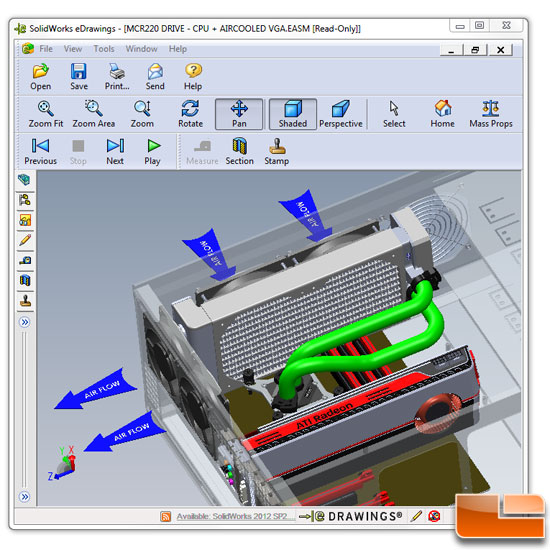 Since the water block is not pre-connected to the radiator like a sealed loop kit the H2O-220 Edge kit has a lot more flexibility when it comes to installing it into the case. There are over a dozen ways by Swiftech's count; they even provide a nice CD with 3D models showing different ways to install the kit.
Let's take a look at the features and specifications for the Swiftech H2O-220 Edge HD kit.
What's in the Box
MCR 220 Drive Rev3 Radiator including/featuring:
Heat exchanger for dual 120mm fans
Integrated reservoir with dual fill-ports and caps
Integrated MCP35X PWM controlled pump
(2) 120mm fans
–2) fan guards
Standard radiator mounting screw pack
(2) 1/2″ Black hose barbs and worm-drive clamps
(2) 12 to 7 volt fan-speed adaptors
(2) 12 to 5 volt fan-speed adaptors
Apogee HD waterblock including
Motherboard back-plates for socket 775, 1155, 1156 and 1366
Separate screw/springs for socket 2011
1/2″ Black hose barbs and worm-drive clamps.
PK1 thermal grease
Separate AMD hold-down plate & mounting hardware not included in the kit and supplied for free upon request – Compatible with: sockets 754, 939, 940, AM2, AM3, 770, F, FM1, as well as legacy Intel Server socket 771 processors.
Alternate fan installation screw & rivets pack
Alternate radiator installation hardware pack
Upper panel fill-port finishing hardware pack
(1) 1/2 liter pre-mixed HydrX coolant
(6) feet 3/4″ OD x 1/2″ Tubing
Funnel
Installation CD & Comprehensive installation guide
Radiator Specifications
2-pass, single row construction
Brass body and tubes, louvered copper fins
POM pump housing
Optimized fin-density for maximum heat dissipation at low noise
Patent-pending integrated pump housing
M3.5 threaded fan and case-mounting holes
G1/4 threaded ports
High-durability acrylic paint finish
ROHS compliant
Pump Specifications
Motor Type: Electronically commutated, brushless DC, spherical motor
Nominal voltage: 12 VDC
Operating voltage range: 9 to 13.4 VDC
Max. nominal power (@12 V): 18 W
Max. nominal current (@12 V):1.5 A
Max. nominal head (@12 V): 14.7 ft (4.4m)
Max nom. discharge (@12V): ~ 4.75 GPM (17.5 LPM)
Maximum pressure: 22 PSI (1.5 BAR)
Temperature range: Up to 140 F (60 C)
Electrical power connector: Molex 4 pin
PWM + RPM Signals: 4-pin connector
RoHS: Compliant
Port thread standard: G1/4
MTBF: 50,000 Hours
Apogee HD Waterblock Specifications
Precision-machined polyacetal housing
Precision-machined copper base plate with 225 m (0.009″) micro structures
Mirror finish mating surface with the CPU
Base plate dimensions: 60x60mm
-G1/4 threaded ports
Multi-port technology: (1) inlet port and (3) outlet ports
Universal hold-down plate for socket 775, 1155, 1156, 1366, 2011
Fan specifications
Model: RDM1225S
Voltage: 6.0 ~ 13.8 VDC
Current: 0.23 A
Speed: 2000 RPM
Static Pressure: 3.5 mmH20
Volume: 76.9 CFM
Noise: 38 db(A)
Bearing: sleeve
Connector: 3 Pin
Tach Output: Yes
Platform Compatibility
All Intel Core Desktop processor family (Core2, Quad, Duo, Extreme, i5, i7) in socket 775, 1155, 1156, 1366 and 2011 form factor.
AMD processors in their respective socket form factors – 754, 939, F, AM2 and AM3
Intel Server processor family (Xeon ) in socket 603, 604 and 771 form factors