Super Talent Luxio 64GB USB 2.0 Flash Drive
By
Luxio Performance Testing
With the amount of storage available on the Luxio, you are likely to be moving a lot of data and most people aren't going to have the patience for slow performance when moving files to and from the drive. Luxio read performance was a little disappointing with this benchmark, falling well below the 30MB/sec rating when tested with SiSoft Sandra's removable storage benchmarking tool where it hit just over 20MB/sec. For comparison purposes, I ran the same benchmark on the 32GB Patriot Xporter XT drive as well as the OCZ 4GB ATV Turbo drive. The Luxio trailed the other two drives; although bear in mind that it has 2x the capacity of the Patriot and 16x more capacity than the OCZ drive.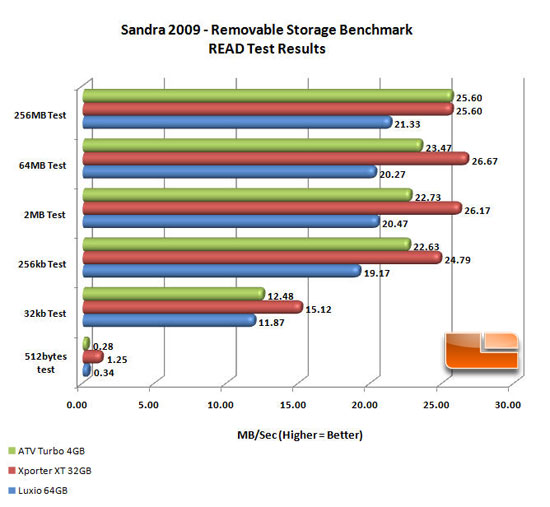 The write benchmark was different story. It bested the other drives in all but one test and hit just above the 16MB/sec rating at a hair over 17MB/sec.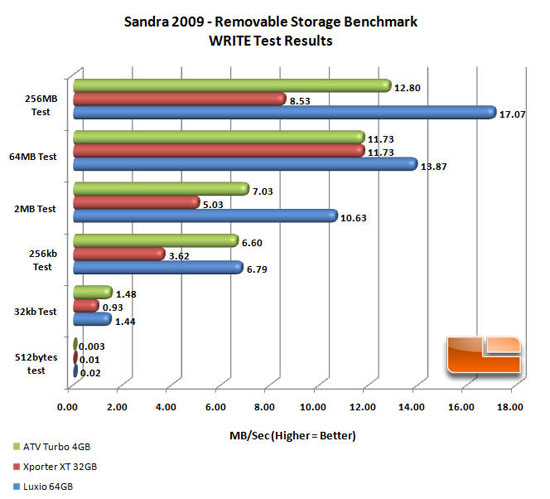 I also ran a few file benchmark tests with HD Tune Pro 3.50 where the read speeds fared a little better, capping out at 25MB/sec, which is closer to the rated read specification. Writes actually fared a little better as well maxing at just over 20MB/sec, which is well above the rated speed. Actual results for one of the tests are shown below.