SteelSeries Rival 500 MOBA/MMO Gaming Mouse Review
By
SteelSeries Engine 3 Software and Mouse Customization
The SteelSeries Engine 3 software is used by SteelSeries to control the features on their various products. The nice thing about the SteelSeries Engine 3 is that it works with all modern SteelSeries products, so you can manage them all with a single software suite. This is a similar approach to what we've seen from other manufacturers, but SteelSeries has been offering this functionality with their Engine compatible products for as long as the software has been available. SteelSeries has a full lineup of products that are compatible with their Engine 3 software and my own MSI GT72 Dominator that I use for portable gaming and peripheral testing uses the Engine 3 software for the keyboard lighting and macro controls.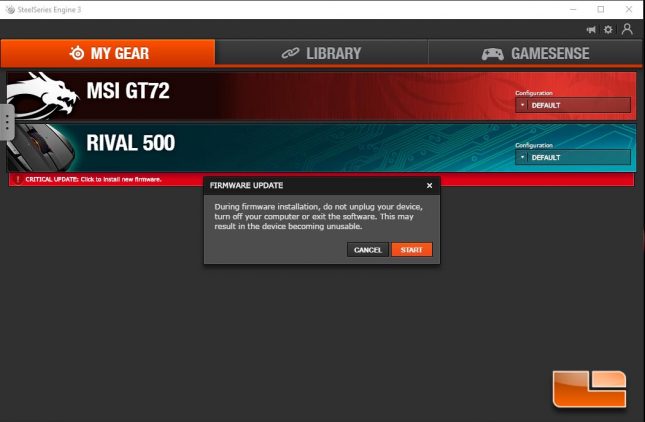 Upon initially plugging in my Rival 500, it was properly detected by the SteelSeries Engine 3 software and I was prompted to upgrade the mouses firmware. This process took just seconds, as the new firmware was installed and the mouse was automatically rebooted by the SteelSeries Engine 3 software. The stock CPI setting of 800 that SteelSeries ships the Rival 500 with was perfectly acceptable and allowed us to navigate our desktop and internet in order to download the latest version of the SteelSeries Engine 3 software from the SteelSeries website.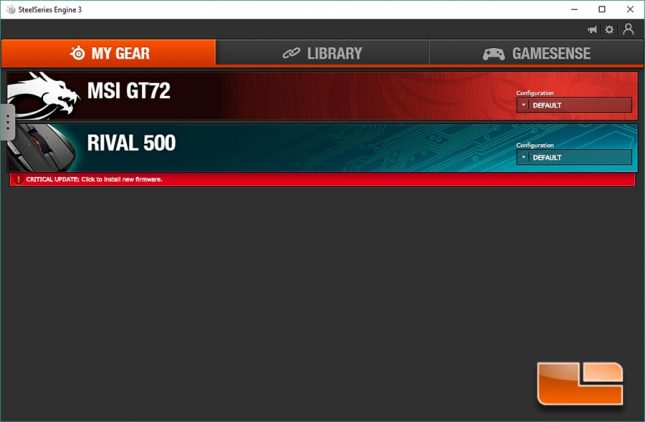 The main screen of the SteelSeries Engine 3 software has three tabs: My Gear, Library and GameSense. My Gear lists the SteelSeries hardware that has been detected by the Engine 3 software, while Library allows you to set per-game profiles.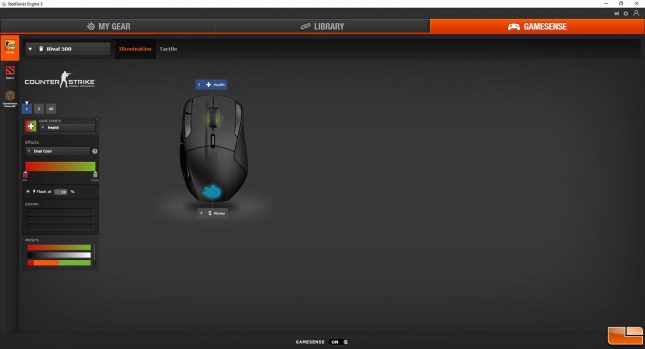 Gamesense handles settings for supported titles, of which there are currently only three: CS:GO, DOTA 2 and Minecraft. When GameSense Beta was first introduced in SeelSeries Engine 3.4.0 back in June 2015 it allows you to display game state information like health and all that. CS:GO and Minecraft were supported from day one and only DOTA 2 has been added since. It appears that little to no development work is being done on Gamesense as adding one game title in over a year is pretty sad.
SteelSeries is unofficially working on adding more game titles to the list and there are some fan-made gamesense downloads out there. One of the titles that SteelSeries is working on adding to Gamesense is supposedly Overwatch. If you know how to code you can get the Gamesense SDK and the Overwatch API details and likely do it yourself faster than waiting for Steelseries to do it.
In addition to two CPI settings, lift off and accelleration settings, full color customization can be done on the Rival 500, with both the scroll wheel and rear logo offering RGB customization. I was able to customize the ColorShift lighting of the Rival 500 to be the same effect as the ColorShift lighting on the front of my MSI GT72 Dominator laptop and while it might have been a bit obnoxious, it was nice to see the cohesiveness offered between my laptop and the Rival 500 that was being offered in thanks to the SteelSeries Engine 3 software. I did notice that when setting the LED to 255/255/255, rather than white, the LED gave off a distinctly blue tint, which is common when dealing with some RGB LED's. My laptop also does this when trying to set the LED's to white, so at least their off-white color is matching.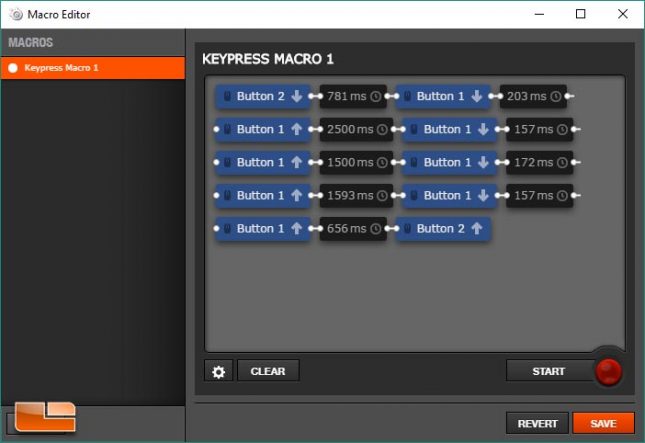 Recording macros is simple and done within a dedicated section of the Steelseries Engine. To record a macro, you simply hit record, enter your key presses and then hit stop when you are finished. I am not much of a macro users myself, but I was able to create a simple macro for a multiple shot scoped firing mode in just seconds. This is handy for somebody who is prone to holding down their mouse button and having major recoil issues in FPS games. While this may be considered a form of cheating in multiplayer to some users, it is just an example of what can be done with programmable macros.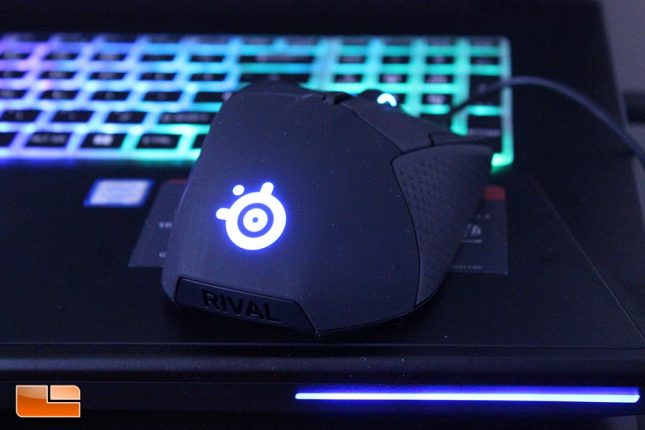 Overall, we're really happy with SteelSeries Engine 3. It is easy to use and SteelSeries has been developing it for some time now, so it has a full feature set and offers extensive customization capabilities. Installation of the software on our GT72 Dominator laptop went without hitch and continued updates from SteelSeries have been provided for their Engine 3 software. The software also has a pretty low footprint, using about 17.1 MB of RAM when running in the background, with less than 1% CPU usage recorded at any given time on our I7 6700HQ processor.