SteelSeries Heroes of the Storm Gaming Mouse Review
By
SteelSeries Heroes of the Storm (Sensei RAW) Gaming Mouse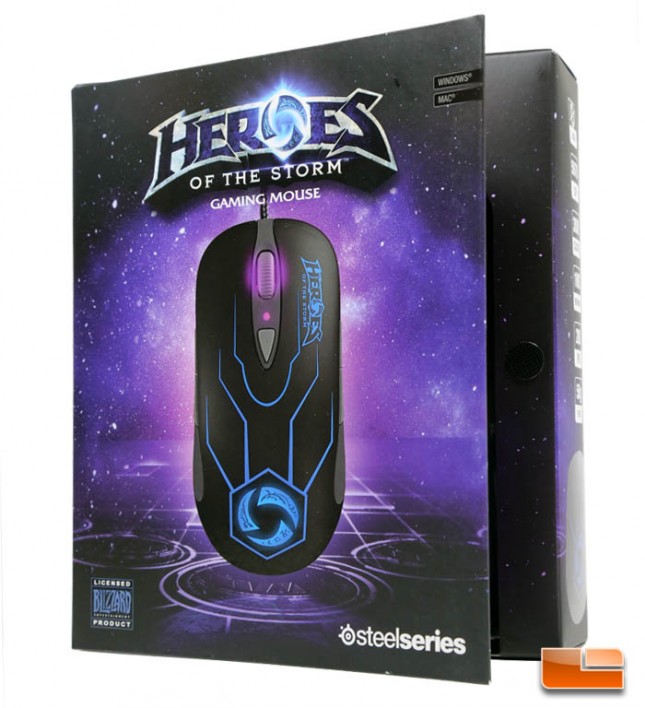 Fans of Blizzard Entertainment's new multiplayer game Heroes of Storm might just have a new tool to up their execution while showing their devotion at the same time. In short, this mouse is based on the SteelSeries Sensei RAW and features a stylization inspired by that game's artistic design. SteelSeries has been bringing forth licensed gaming products for quite a while now, especially for games from Blizzard namely World of Warcraft, StarCraft II, and Diablo III. Heroes of the Storm is Blizzard's newest game release which left its open beta last June. Blizzard describes the game as a hero brawler and gameplay very much evokes the straightforward clash of individual characters in the numerous renditions of hero arena custom games on WarCraft III Battle.net. The character and artistic design of this game is notable as it brings together several signature characters from Blizzard's biggest franchises.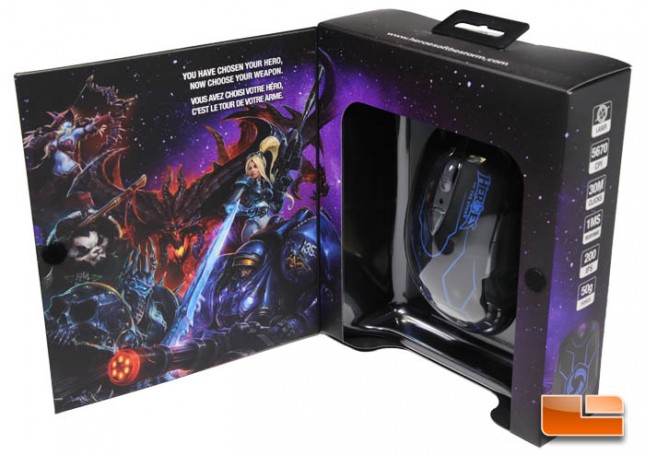 We can see that the inside front flap of the product box features artwork of some characters from Heroes of the Storm Sylvanas, Chen Stormscout, Arthas the Lich King, Diablo, Nova, and Tychus. The mouse itself features two different logos and some accents to highlight the theme. Otherwise, the Heroes of the Storm mouse is nearly identical to the Sensei RAW. Both mice have the same shape, same eight button layout, same 5670 CPI (DPI) laser sensor, braided cables, and 1-year warranty. The only functional difference are the surface materials as the Sensai RAW came in the option of either glossy plastic or rubberized coating whereas the Heroes of the Storm mouse is hard matte plastic.
SteelSeries Heroes of the Storm Gaming Mouse Features:
Incredible Performance: A customizable CPI up to 5670, 1ms response time, plug-n-play features and precise SteelSeries switches with a 30 million click lifespan will help guide your heroes to victory
Stylish Aesthetics: Heroes of the Storm artwork and logos are combined with vivid illumination in three different zones for a striking and unique appearance.
Award Winning Desgin: Built from the acclaimed STeelSeries Sensei [RAW] this mouse features an ambidextrous shape, 8 buttons in an ergonomic layout and high performance PTFE smooth gliding feet.
SteelSeries Heroes of the Storm Gaming Mouse Specifications:
Laser sensor
5670 CPI
30M Clicks
1 MS Response
200 IPS
50g Force
SteelSeries also sent us the QcK Heroes of the Storm Gaming Mousepad. It is sold separately and is not required with the Heroes of the Storm mouse. Yet as we will note further in this review, the appearance of the featured licensed artwork looks fantastic up close and would definitely complement the mouse within the aesthetic theme.
Both of these products are available for purchase and can be found on Amazon with the Heroes of the Storm gaming mouse costing $52.60 shipped and the QcK Heroes of the Storm mousepad costing $14.99 shipped.