Seagate Wireless Mobile Storage 500GB Portable Hard Drive Review
By
CrystalDiskMark and Streaming Performance
CrystalDiskMark 3.0.3 x64
While the Seagate Wireless is designed to be used wirelessly, a wired connection to a host PC will probably be the fastest method of putting files onto the drive. CrystalDiskMark 3.0.3 is a good benchmark to gauge how well a drive will perform. Many of the drive manufacturers have used this benchmark to show off the performance of their drives. It provides a quick benchmark of Sequential and Random read/writes, and included a NCQ with a queue depth of 32.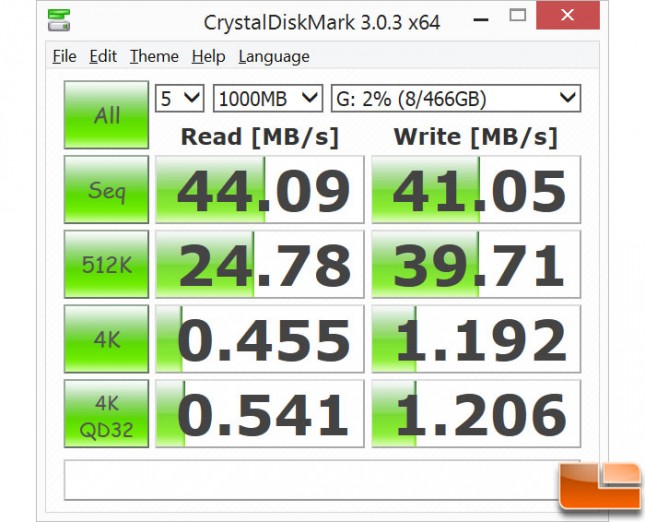 Benchmark Results: Keeping in mind that the Seagate Wireless uses the old USB 2.0 connection, and that its core focus is not a wired connection, it still performed above average for a USB 2.0 connection. The Sequential and 512K Read/Write speeds were well above what I expected, they are some of the fastest I have seen for USB 2.0. To verify the scores, I re-ran CDM several times over a couple of days and each time I received similar scores.
Streaming Performance
Before we do any streaming, we can take a quick look at how the Seagate Wireless presents the various file types. Once connected, you can use a menu to look through the files. The Seagate Wireless sorts the various file types depending on the folders you have placed the files (Video, Photos, Music and Documents). The internal database looks through these folders and builds a nice menu selection making it easy to find what you want. I randomly placed video's in other folders to see how the Seagate Wireless responded, thankfully it doesn't appear that location of the files matter, the Seagate Wireless detects the file format and places it in the right type. For Music, it is the same way, it files the files by file type, however it also reads the ID3 tags for sorting by Song, Artist, Album or Genre. There is also a standard file browser included if you want to browse the file/folder structure.
To test Video streaming, which is probably the most demanding, three HD movies were placed on the drive one at 720p and two at 1080p. I was able to stream all three video's to three devices at the same time flawlessly. In addition, I streamed the 1080p video to the three phones without any stuttering or buffering. Skipping to different points of the video took a few seconds, but that wasn't unexpected.
Power Usage
Seagate tells us that the battery will last for up to six hours, but that doesn't tell us under what conditions. The 1080p (2 hour movie) and 720p (1.5 hour movie) test video, was streamed to the three devices without any battery issues. Shortly after finishing the second movie, I received a low battery warning. You can charge the Seagate Wireless using the micro-USB port while connected wirelessly, however you can not use the USB data connection and wireless access at the same time.