Seagate Wireless Mobile Storage 500GB Portable Hard Drive Review
By
Seagate Software
The Seagate Wireless drive can be used as a traditional USB connected hard drive, however it is designed for mobile devices using a wireless connection. Seagate has done a great job at supporting Android, iOS and Windows through their Seagate Mobile App; we were able to get the drive in use within minutes of installing the software. Today, we will be taking a look at the Seagate Mobile App on an Android device, and seeing exactly what we can change in the settings with the app.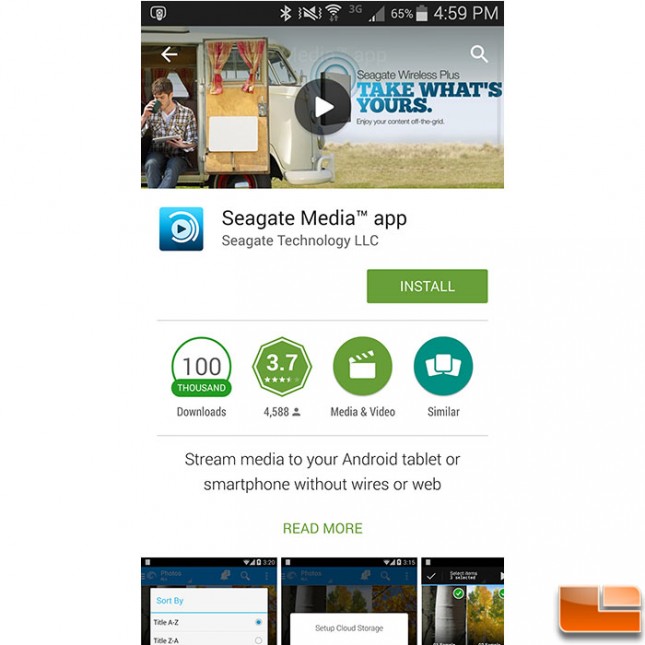 Using the Google Play store, we found the software and was able to install it with the click of a button. Once it was installed, connecting to the drive was done by selecting the "SeagateWireless" Wi-Fi signal. After we connected, we started the software to begin customizing the connection.
The Seagate Media App makes it easy to customize the Seagate Wireless drive. First thing I would recommend you do is enable a password on the wireless connection; which is done in the "Server Settings" menu. Simply click on "Enable Password" and it will prompt you to enter a password (and confirm it). That's it, the connection is now "secured". While in the "Server Settings" menu, you can also change the name of the connection, rebuild the internal database of files, and reset the device to factory settings.
A couple other menu options allow you to Auto Upload content to the Seagate Wireless drive whenever you connect to it. Various options of criteria that have to be met before it will upload the content can be configured. Also, if you have a Seagate Central or Seagate Personal Cloud account, you can connect to those as well through the Seagate Media App.
Let's take a look at the hardware that will be used to test the Seagate Wireless drive and then do some testing.