Seagate Momentus XT 500GB Solid State Hybrid Drive Review
By
The Seagate Momentus XT Hybrid
This morning Seagate launched the Momentus XT Solid State Hybrid Drive series. These drives offer hybrid storage with Seagate Adaptive Memory technology, enabling the drive to be offered in capacities up to 500GB with SSD-like performance for a fraction of the cost of a traditional SSD. How did Seagate make this happen? They took last year's Momentus 7200.4 hard drive series and doubled the cache for the hard drive from 16MB to 32MB and then added 4GB of SLC NAND Flash that acts as the drive's SSD. Seagate then wrote some custom software code that they are calling Adaptive Memory technology that makes the SSD portion of the Momentus XT OS-, driver- and software independent. By doing this they claim they can make a drive that feels and acts like an SSD, but it is really a combination of both. Interested yet? Let's take a look!
The new Seagate Momentus XT hard drive combines a 7200RPM spin speed,
4 GigaBytes of SLC NAND Flash and Seagates Adaptive Memory a
groundbreaking Seagate technology that moves frequently used information
into flash memory for faster access. By doing this the Momentus XT boots up to 40 percent faster than
a traditional 7200RPM notebook drive! Not bad for a 2.5-inch, 9mm
drive that comes in capacities of up to 500GB!
Seagate Momentus XT Solid State Hybrid Drive Suggested Pricing (MSRP):
500GB – ST95005620AS – Two Platters – $156 ($129.99 at Newegg)
320GB – ST93005620AS – Two Platters – $132
250GB – ST92505620AS – One Platter – $113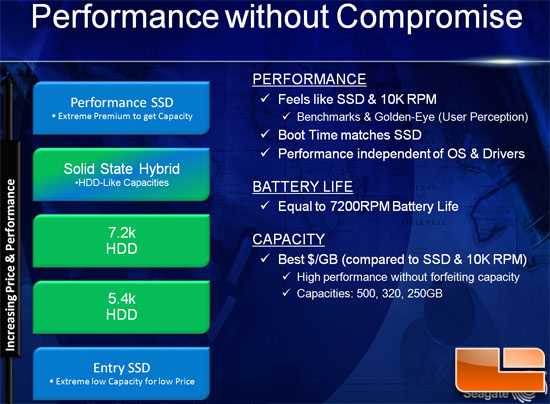 The Seagate Adaptive Memory algorithm works by identifying patterns
in how often certain digital data is used. It then moves the most
frequently retrieved information to flash memory for faster access than
from the spinning disks effectively tailoring hard drive performance
to the user and applications. By doing this the Momentus XT feels like an SSD or 10,000RPM desktop hard drive as the data you are accessing is being accessed from the 4GB SLC NAND Flash chip and not from the platter. The data is, of course, still on the platters, so even if the SLC NAND Flash ever fails or wears out you should still be able to access the data from the hard drive itself, which is really nice.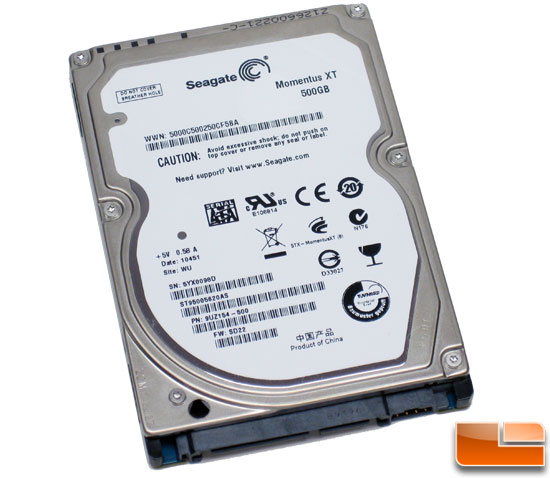 Taking a look at our Seagate Momentus XT 500GB Solid State Hybrid drive you really can't tell any difference from the outside. It looks just like any other Seagate Momentus notebook drive.
Seagate Momentus XT Hybrid Drive Benefits:
Boots 40 percent faster than traditional 7200-RPM drives
Cuts costs by 75 percent compared to SSDs by combining solid state and hard drive technologies
Delivers the perfect balance of speed and capacity
Uses Adaptive Memory technology to optimize performance in real time by storing frequently used
files and data on the solid state drive component
Ensures compatibility with any operating system or application with a standard 9.5mm notebook drive form factor and the characteristics of a traditional 7200RPM drive
Offers all the benefits of SSD performance with the high capacity, storage, battery life, power consumption and heat generation of a traditional hard drive
Hard Drive Features:
Form Factor: 2.5″ x 1/8H (9.5mm)
Capacity: 250, 320, 500 GB
Interface Type: Serial ATA-300
Buffer Size: 32 MB
Features: Native Command Queuing (NCQ), Perpendicular Magnetic
Recording (PMR), QuietStep (Ramp Load)
Drive Transfer Rate: 300 MBps (external)
Random Read Seek Time: 11 ms (average)
Random Write Seek Time: 13 ms (average)
Average Latency: 4.17 ms
Spindle Speed: 7200 RPM
Shock Tolerance: 350 g @ 2ms (operating) / 1000 g @ 1ms
(non-operating)
Acoustics (bels at idle/seek): 2.3 / 2.5
Power Usage: 0.8W (Idle), 1.554W (Seek)
Manufacturer Warranty: 5 year limited warranty
The back of this 2.5″ notebook hard drive gives a better look at
the SATA power connector and the SATA NCQ interface. There is a jumper just
to the left of the SATA data connection that enables the drive's 3GB/s
speeds. With the jumper in place the speed is limited at 1.5GB/s, and
with it removed the full potential of the drive is unlocked. This OEM
drive was shipped to us with no jumper installed as they wanted us to get the best performance possible from the drive for this review.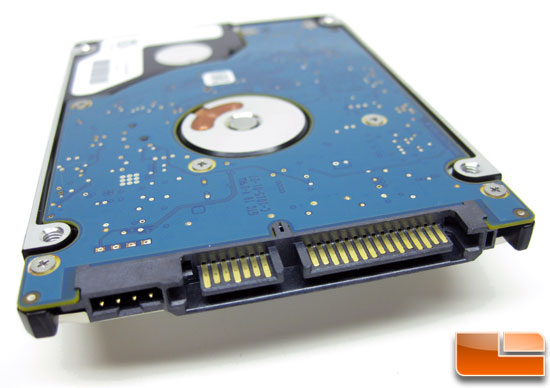 Since there is no labeling about this jumper on the drive and
information about the jumper is hard
to find it can be frustrating if you are having issues setting one
of these drives up in your notebook and find that you encounter issues.
Having the jumper installed will force the drive to operate in the
1.5Gb/s mode, which is needed on select notebooks like the Thinkpad
T61p. This is due to the fact some older 1.5Gbits/sec SATA cards do not
support auto negotiation with newer 3.0Gbits/sec drives. Systems using
older SATA host adapters may stop responding during boot or may respond
with a drive not detected error. If this happens on your notebook
while trying to upgrade to one of these drives just place a two-pin
jumper (not included with the drive) onto the two left pins of the
jumper block and the errors should go away.
Now that we know the
basics on the Seagate Momentus XT 500GB hybrid hard drive, let's take it apart and then move on to
the benchmarks!