Sanus Low Profile ELM203 Surge Protector Review
By
Installation and Final Thoughts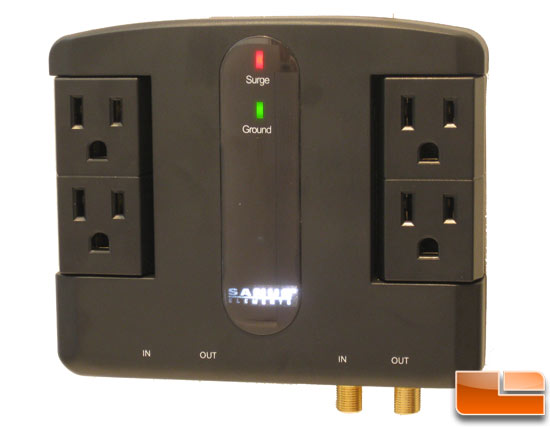 Both the 'Ground' and 'Surge' LED lights illuminate to indicate that the surge protector is working. If either light fails to illuminate, replace the surge protector as it has is not working properly. The Sanus Elements logo is also illuminated, which looks cool, but kind of pointless as it will never be seen behind the TV. Actually speaking of which maybe the 'Ground' and 'Surge' LED lights would have been better placed at the side of the unit along the wall rather than in the front, so they can be better seen.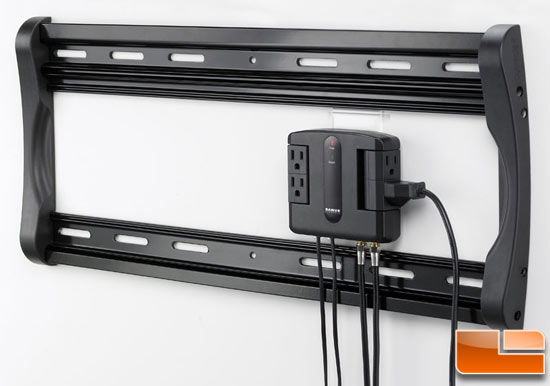 Sanus shows the ELM203-B1 Surge Protector being installed inside the wall mount, but it doesn't have to be installed like that as you will see below.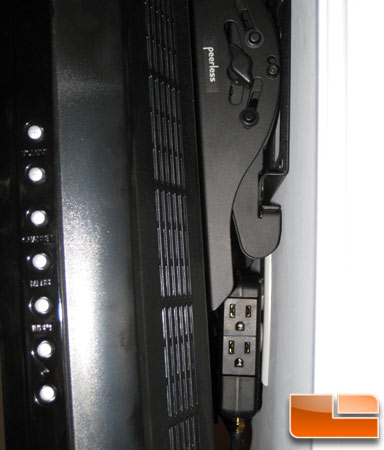 Our particular installation had the power outlet being located just below the Peerless Black Universal Flat Panel Wall Mount. The Sanus ELM203-B1 Surge Protector was still able to be easily installed and both the cable box and HDTV were able to be plugged into the left side of the surge protector. The installation was still clean looking as nothing could be seen from the front and from the side you just see the surge protector.
Final Thoughts and Conclusions:
The Sanus Elements ELM203-B1 Low-Profile Surge Protector was easy to install and for under $20 you can help protect your valuable wall mounted TV. A surge protector behind a wall mounted TV is often overlooked or forgotten, but with products like the ELM203 you really have no excuse for not getting one. The four swiveling outlets that can rotate 90 degrees to the left or right along with the low 1.37″ profile are what make the ELM203 sit nearly flush with the wall for added convenience
and flexibility. Speaking of convenience the Sanus Elements ELM203 Surge Protector also comes with all the cables needed for installation, which wasn't expected in the $18.95 plus shipping price tag. It's hard to find anything bad about the ELM203 surge protector, so let's bring this to a close.
Legit Bottom Line: The Sanus Elements ELM203-B1 Low-Profile Surge Protector offers 2100 joules of surge protection for up to four outlets and hides behind your wall mounted flat-panel HDTV!