Sanus Low Profile ELM203 Surge Protector Review
By
A Surge Protector For Behind The Wall Mounted TV
When I built my home theater and wall mounted my HDTV it occurred to me that I didn't have a surge protector that would work since the outlet was directly behind the TV. I made a mental note that I needed to look for one, but you know how that goes. A number of months went by and then the spring thunder storms started rolling in and the power started flickering. Only a few things will strike fear into a grown man, and losing his prized 1080p 120Hz HDTV is certainly one one them. It was around this time that I heard that Sanus Systems was now shipping a new low-profile surge protector called the ELM203. This surge protector is only 1.4″ thick, which allows audio/video users the ability to safeguard their electronic components and flat-panel TVs against damaging power surges even if the panel is wall mounted. Since it has been designed to be placed behind a wall-mounted TV know one will ever know it's there, but you will and that is all that matters.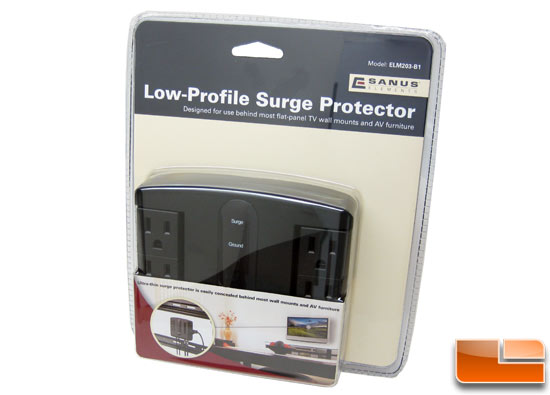 The Sanus ELM203-B1 is a 4-outlets surge suppressor that has a low-profile design that easily fits behind many flat-panel TV wall mounts and furniture. At just 1.37″ in depth, it protects valuable electronic components from damaging power surges with 2,100-Joule protection and 330V clamping voltage all while being hidden by the TV. Since everyone knows pretty much what a surge protector is let's skip the fluff and get to the specs.
Sanus ELM203-B1 Tech Specs
Input Voltage: 125 V
AC
Manufacturer: Sanus Systems
Manufacturer Part Number: ELM203-B1
Output Voltage: 125 V
AC
Current: 15A
Line Current
Receptacles: 4 x AC Power
Dimensions: 4.56″ Height x 5.39″ Width x 1.37″
Depth
Frequency: 60 Hz
Surge Energy Rating: 2100J
Product Type: Surge Suppressor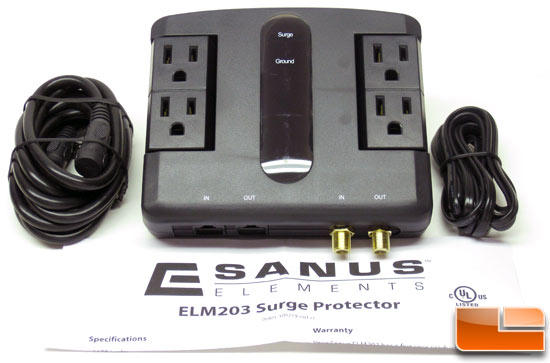 The Sanus Elements ELM203 Surge Protector comes with a pretty impressive bundle for being priced at just $18.95 plus shipping. Included with the ELM203 is a 6′ phone cord, 6′ coax cable, and the instruction manual. The instruction manual goes over the basics and also covers the five year warranty. Not a bad deal deal considering you can fork over $55 plus shipping for the Panamax MIW-SURGE In-Wall surge protection system that protects just a single device. The ELM203 Surge Protector is clearly priced right and in this economy, pricing is everything.
Let's take a closer look at the ELM203 and then install it behind a HDTV!