SanDisk Extreme Pro 64GB CFast 2.0 Memory Card Review
By
Real World Use and Conclusion
The SanDisk Extreme CFast 2.0 card didnt exactly light up our benchmark tests, we really should talk about the real-world functions that the card had and how well it works with professional cameras that are designed to utilize this form and throughput.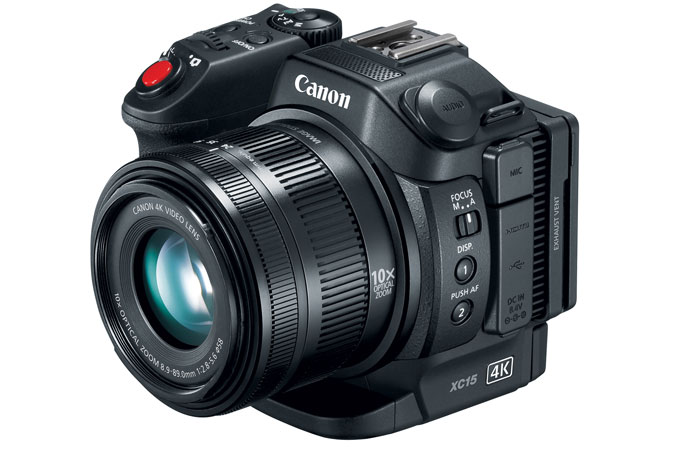 We not only tested the card using some storage memory benchmarks in the lab, but we wanted to make sure the SanDisk worked for all our applications and we looked at how well the SanDisk Extreme CFast 2.0 paired up with our newest video camera, the Canon XC15 UHD Compact Lightweight Professional Camcorder ($2,399 shipped). The XC15 was introduced recently and is the little brother of the Canon EOS C300 Mark II camera used for film and news production. The Canon XC15 really is a monster of a camera that features a 1 12MP CMOS sensor capable of capturing Ultra HD 4K resolutions at up to 29.97 fps and 1080p at up to 59.94 fps. (Lets see your iPhone or Android do that!) The XC15 supports both CFast and SD cards but records 4K at up to 305 Mbps via the CFast slot only. The SanDisk 64GB Extreme PRO CFast 2.0 Memory Card was hitting write speeds of just over 300MB/s in our ATTO benchmark, so it looks like this camera will be able to use all the write speed this card has to offer.
We had been shooting with the Canon XC15 for some time in 1080p60, but really wanted to see the difference in picture quality and was hoping the SanDisk Extreme CFast 2.0 card would work with our Canon.
Happily, the SanDisk Extreme CFast 2.0 card and Canon XC15 camcorder made for a great pairing. Shooting 4K video in the field was problem free and there were no issues of buffer underruns or overheating at the highest possible settings on the camera.
Our only problems with the SanDisk Extreme CFast card came when transferring these large data files off of the card to our drive or NAS. Many times during transfer, we saw the card struggling to stay at its optimal transfer speed. We did not, however find that the card, when filming or when transferring data, lost any data whatsoever.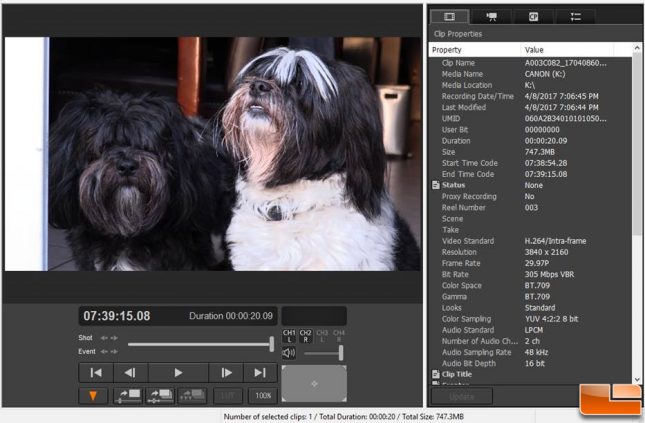 The Canon XC15 generates huge files when shooting in 4K. A 20 second clip at the highest settings is around 750MB! This means our 64 GB SanDisk Extreme card can shoot for under 30 minutes before it runs out of space. Of course moving up to a larger card (128GB at $349 or 256 GB at $679) is costly to say the least.
While we spent an extensive amount of time using the SanDisk Extreme CFast 2.0 card for video, we didnt use the card too much for burst photos.
One of the reasons that the CFast 2.0 cards out today are so expensive is that the film and video industry does not have any entry-level equipment out that supports this format. Unfortunately, only medium and high-end equipment supports CFast 2.0, thus the price has not dropped like SD or microSD cards.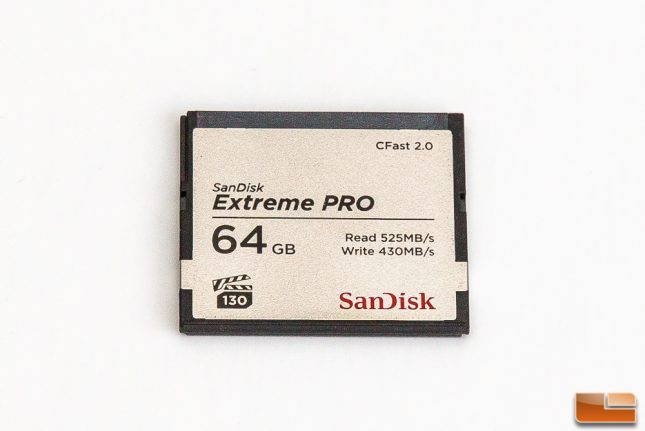 Today there are still only a limited number of memory manufacturers who sell CFast 2.0 cards, but if you are a video enthusiast or professional that owns equipment to take advantage of these super-fast throughputs, you need to look at purchasing a CFast 2.0 card. Is the SanDisk Extreme CFast 2.0 the best out there? Who knows? At $199 for 64GB, we have only had the chance to use the SanDisk. While the usability with the Canon XC15 is flawless, we have to worry about our benchmarks that measured speeds that were quite a long ways away from what SanDisk claimed the card could do.
Another great thing about the SanDisk Extreme CFast 2.0 memory card is that Western Digital/SanDisk gives the purchaser a lifetime limited warranty. This is great and somewhat expected on a $199.95 64GB card.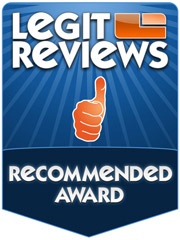 Legit Bottom Line: The SanDisk Extreme 64GB CFast 2.0 memory card is an overall solid performer when looking at typical benchmarks. We never saw the card come close to the theoretical maximum Read/Write speeds but yet our real-world tests with Canons XC15 UHD Camcorder showed that the SanDisk CFast 2.0 card could handle anything that we threw its way with no frame drops or other issues to affect the capture video. This might be an instance where we need to pay less attention to the benchmark and more attention to beautiful images captured.
Update May 22nd, 2017 – We spoke with Lexar about our performance numbers on the Lexar CR1 reader and were curious if the reader was the bottleneck. They got back to us with the following statement:
We cant speak for the SanDisk card, but we tested Lexar Professional 3500x CFast 2.0 512GB card (pricing) with Lexar CR1 reader in a faster system and our result looks better with 369MB/s write, 425MB/s read.
That card is rated at up to 525 MB/s read and 445 MB/s write and they were only able to get 425 MB/s read and 369 MB/s write on their own CFast 2.0 card reader. So, if you happen to buy one of these cards and don't see that you are getting close to the rated speeds in a memory card reader don't be too shocked!