Samsung SSD 950 PRO 512GB M.2 NVMe PCIe SSD Review
By
Samsung SSD 950 PRO 512GB M.2 PCie SSD
Since becoming mainstream some 40 years most have forgotten the magic of the Personal Computer (PC). But how they have changed the course of humanity and what it brings to our daily lives is undeniable. Sure the PC is all grown-up and unit sales are still slowing down, but that does not mean that the development of new technology and hardware has slowed down. The advance of PC Hardware continues to march at a daunting pace. Storage drives were the slowest part of a PC for decades, but the introduction of Solid-State Drives (SSDs) with NAND Flash memory have helped to greatly improve system performance. As great as SSDs have been in recent years they were stuck using the SATA interface and still used the AHCI (Advanced Host Controller Interface) that was originally developed for SATA hard drives more than a decade ago. SSDs long ago were being limited by the SATA interface, so the high-end enthusiast and enterprise drives were moved over to the faster PCI Express (PCIe) interface. The move to the PCIe interface has helped greatly, but there is still more performance that can be had from todays low latency NAND Flash memory chips that is being held back by AHCI. NVM Express (NVMe) or the Non-Volatile Memory Controller Interface Specification (NVMHCI) is the next transition for storage drive to become faster. SSDs that are able to use NVMe on the PCIe bus have allowed the companies that build the drives to create higher performing products with lower latencies than ever before. The only problem is that no company has made an effort to take M.2 PCIe SSDs with NVMe to the mainstream market.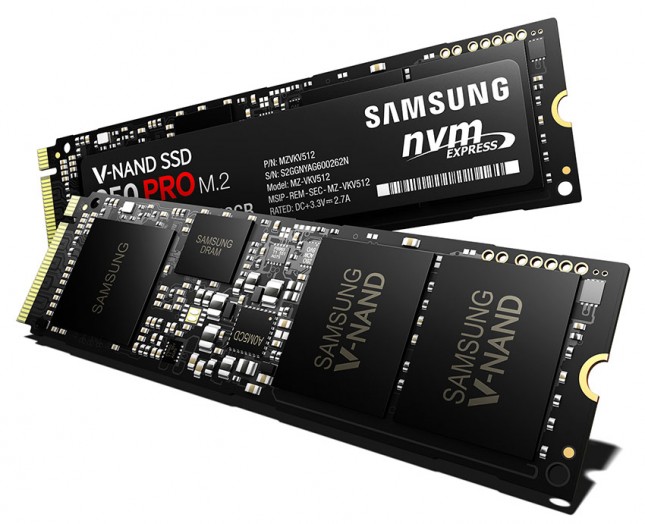 That all changed last month when Samsung debuted the 950 Pro M.2 SSD at its annual SSD summit in Seoul, Korea. The Samsung 950 PRO M.2 SSD uses the PCIe 3.0 x4 interface along with NVMe and Samsung's latest V-NAND technology to bring amazing performance (sequential reads of 2500 MB/s and writes of 1500 MB/s) to mainstream users at affordable price points. The Samsung 950 Pro SSD will be available in 256GB and 512GB capacities with MSRPs of $199.99 and $349.99, respectively. This puts the price per GB for the 950 PRo at around $0.68 for the 512GB drive and $0.78 for the 256GB drive, which is arguably aggressive for a drive like this.
Samsung SSD 950PRO
Usage Application
Client PCs
Capacity
256GB, 512GB
Dimensions(LxWxH)
Max 80.15 x Max 22.15 x Max.2.38 (mm)
Interface
PCIe 3.0 x4 (up to 32Gb/s) NVMe1.1
Form Factor
M.2 (2280 – 22mm x 80mm)
Controller
Samsung UBX controller – 8 Channel
NAND Flash Memory
Samsung V-NAND
DRAM CacheMemory
512MB LPDDR3
Performance
256GB – MZ-V5P256BW
512GB – MZ-V5P512BW
Sequential Read:
Up to 2,200 MB/s
Up to 2,500 MB/s
Sequential Write:
Up to 900MB/s
Up to 1,500 MB/s
4KB Random Read(QD32Thread4):
Up to 270K IOPS
Up to 300K IOPS
4KB Random Write(QD32Thread4):
Up to 85K IOPS
Up to 110K IOPS
4KB Random Read(QD1 Thread1):
Up to 11K IOPS
Up to 12K IOPS
4KB Random Write(QD1Thread1):
Up to 43K IOPS
Up to 43K IOPS
Data Security
AES 256-bit for User Data Encryption TCG Opal Family Spec and eDrive (IEEE1667) to be supported by FW update
Weight
Max. 10g (512GB)
Reliability
MTBF: 1.5 million hours
Power Consumption**
Active average/maximum: 5.1W/6.4W (256GB), 5.7W/7.0W (512GB)

Idle: 70mW

DEVSLP(L1.2 mode): 2.5mW

Supporting features
TRIM(Required OS support), Garbage Collection, S.M.A.R.T
Temperature
OperatingTemp : 0C to 70C

(Measured by SMART Temperature. Proper airflow recommended)

Humidity
5% to 95%, non-condensing
Vibration
Non-Operating:
20~2000Hz, 20G
Shock
Non-Operating:
1500G , duration 0.5m sec, 3 axis
Warranty
5 years limited
TBW
256GB: 200TB, 512GB : 400TB
The Samsung SSD 950 Pro uses Samsungs own Gen 2, 32-layer V-NAND and is backed by a 5-year warranty or the Total Bytes Written, which would be 200TB on the 256GB drive and 400TB on the 512GB drive. The SSD 950 Pro series features TRIM, garbage collection, SMART and AES 256-bit for User Data Encryption. TCG Opal Family Spec and eDrive (IEEE1667) are supported, but not enabled right now. Samsung is working on a Firmware update to bring support for those advanced security/encryption technologies.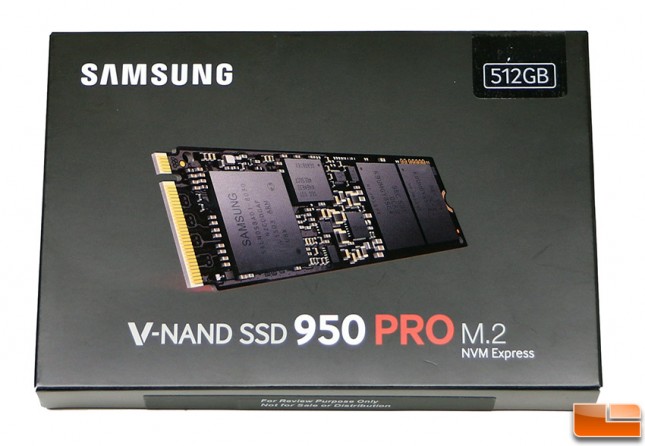 The drive that we'll be looking at today is the Samsung SSD 950 Pro M.2 NVMe PCIe SSD that is 512GB in capacity. This particular drive is sold under part number MZ-V5P512BW and has an an MSRP of $349.99 ($0.68 per GB). Of the two SSD 950 Pro drives that are initially launching, this is the faster of the two and moving into 2016 this is likely going to be the most sold capacity for gamers and enthusiasts.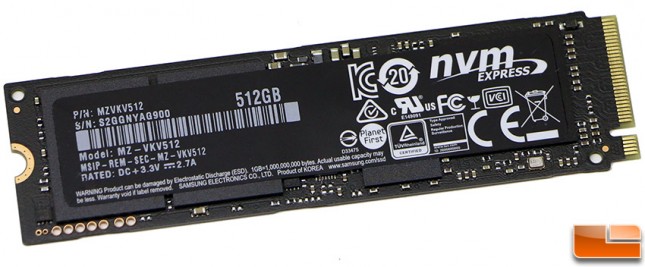 The Samsung SSD 950 Pro M.2 2280 card has a matte black PCB that enthusiasts love and the standard M-Key PCIe Gen 3.0 x4 connector for use in the latest desktop motherboards and laptops. If your PC does not have a PCIe Gen 3.0 x4 slot for M.2 SSDs available you can purchase an add-in adapter card. All of the components on the Samsung SSD 950 Pro M.2 PCIe SSD are on the front of the PCB. You have two chips of Samsung MLC V-NAND, one 512MB LPDDR3-1600 memory chip for the cache and then the Samsung UBX controller all tucked underneath the product label.

On the back of the drive there is just a sticker on the PCB that says Samsung SSD 950 Pro M.2.
One of the big differences between the Samsung SM951 OEM drive and the Samsung SSD 950 Pro consumer drive is that Samsung now has their own NVMe driver. Microsoft Windows 7, 8.1 and 10 all provide native (in-box) driver support for the Samsung 950 PRO and no compatibility issues are expected. Nevertheless, Samsung is providing a proprietary driver to ensure functionality and offer consumers the choice of what driver they'd like to use. We were curious how Samsung was handling Forced IO Commands or FUA (Forced Unit Access) on their driver and was told that he Samsung driver for NVMe products carries the same policy towards FUA as SATA/AHCI devices. The Samsung 950 PRO driver does not support FUA, so users who install the latest driver should see no penalty to the drives excellent performance.
Let's take a look at the test system and then get into thermal throttling and the performance numbers!