Samsung Portable SSD T1 250GB Review
By
Samsung Portable SSD T1 250GB Review
Sexy and luxurious are two adjectives you don't often see when one is talking about portable storage drives. Samsung is no stranger to beautiful designs and the South Korean electronics giant has an actual global design team that is tasked with the job of bringing good looking products to market. Someone at Samsung wanted to come out with a tiny yet stylish, external portable SSD that uses the USB 3.0 interface to become the fastest drive on the market. The result of this was the Samsung Portable SSD T1, which is hands down the exciting USB 3.0 external storage drive that we have seen since the adaptation of SuperSpeed USB 3.0. Could the decreasing profit in Samsung's smartphone division mean that Samsung is reinvigorated and looking to bring out innovative new premium class products in other areas? To be honest we don't care what has been stifling innovation when it comes to portable USB 3.0 storage drives as long as companies like Samsung are now bringing our products that are going to shake up the market place.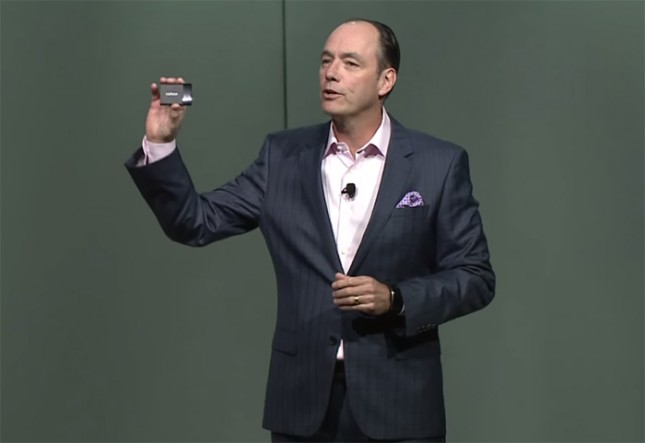 So, why are we so worked up by the Samsung Portable SSD T1? For starters take a look at Samsung's President and COO Tim Baxter holding the Samsung Portable SSD T1 1TB drive! This portable SSD is available in 250GB, 500GB and 1TB capacities and is just 71.0 x 9.2 x 53.2 mm in size and weighs in at just 30 grams! This slim design means that you no longer have to carry a bulky drive around with you when you need to move large amounts of data around. The best part about the T1 is that Samsung did not sacrifice speed when they went small. The Portable SSD T1 has extremely fast Read/Write speeds. We are talking about up to 450MB/s on a properly setup USB 3.0 connection. Samsung has the Random Read/Write ratings at 8,000 IOPS and 21,000 IOPS, respectively. Do those numbers mean nothing to you? How about the fact that with the T1 it takes only eight seconds to transfer a 3GB movie file and 27 seconds for a 10GB movie file.If you are still rocking an external HDD you might find a product like this will get you to give up on rotational storage.
Since Samsung went tiny, fast and with a premium design it means that the price will be high. You can't go small and fast without a high price tag, so you are looking at the following with regards to pricing:
When it comes to pricing you are looking at $0.60 to $0.72 per Gigabyte, which doesn't sound that bad considering what the T1 offers. Although when you start to think about it, that is a significant markup over other external portable drives. For example, a WD My Passport Ultra 1TB portable External USB 3.0 Hard Drive can be bought today for $69.00 shipped from Amazon. That puts the cost per GB at just $0.07, which is ridiculously inexpensive to be frank. So, the Samsung Portable SSD T1 is Fast, Safe, Stylish and Expensive!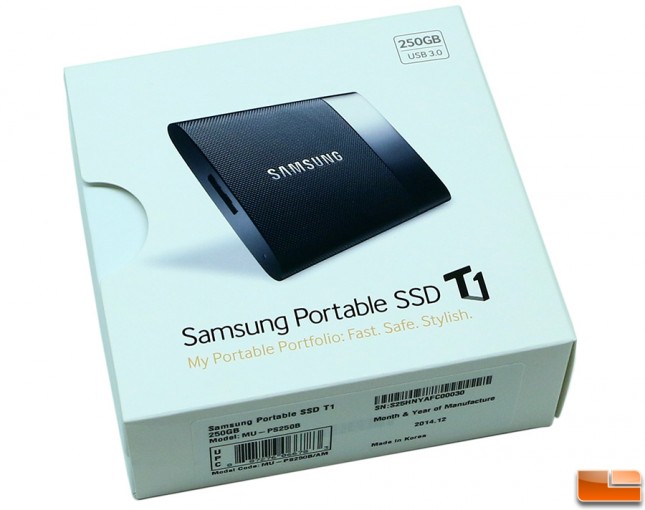 Legit Reviews got our hands on a Samsung Portable SSD T1 250GB drive. This is the smallest capacity drive of the bunch, but 250GB is still an awful lot of storage space to take with you on the go. The model number on this particular drive is MU-PS250B/AM.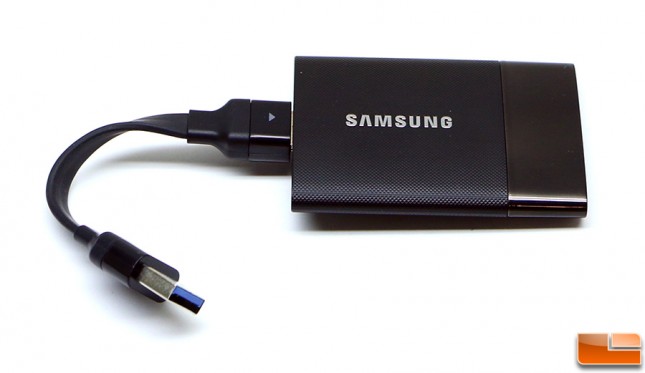 The T1 comes with a USB 3.0 cable and a small instruction booklet that ensures you are up and running without needing to call Samsung tech support or that tech savvy friend of yours. The included SuperSpeed USB 3.0 cable features USB A to USB 3.0 Micro B ends and measures in at 5-inches or 127mm in length. The USB 3.0 cable itself supports transfer speeds of up to 5 Gbps, 10x faster than USB 2.0. It also carries the power needed for the T1, so no external power is required.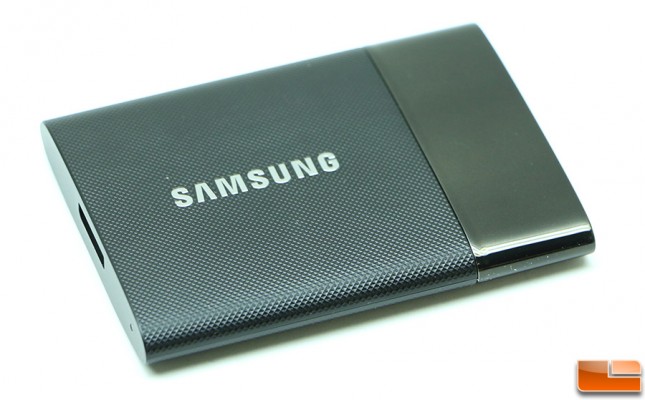 The Samsung Portable SSD T1 weighs about an ounce, so the enclosure is primarily made up of plastic. That said the feel of the drive is nice and the pattern on most of the enclosure prevents the drive from slipping out of your hand and doesn't show finger prints. On the end of the drive you'll find a black chrome metal coating over the plastic for an upscale look. The T1 drive is super small and is about the same size as a credit card.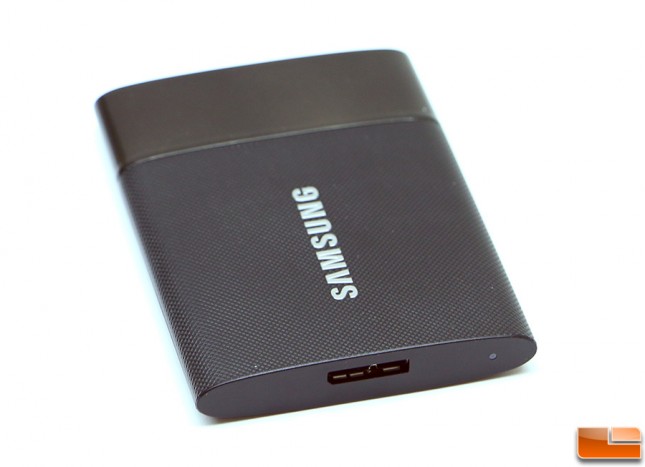 On one end of the T1 you have the USB 3.0 port and off to the side of that there is a blue LED activity light. The light glows blue when the drive is properly connected to a USB port and then flashes when the drive is being actively accessed by the system.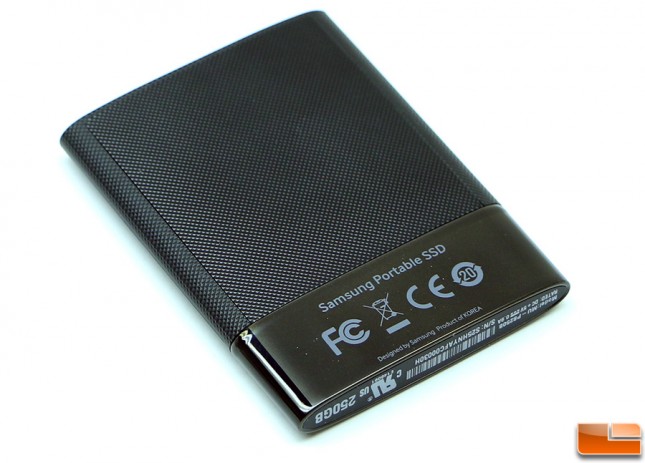 On the back side of the T1 you'll find the product name and information laser etched into the housing. On other end of the drive you'll find the serial number, model number, capacity and power ratings among other things. This particular drive is rated at 5V and 0.9A. One would think that there would be a screw located under the sticker at the end of the drive, but there was not. There is no easy way to take the Samsung Portable SSD apart, so we don't advise trying to do so. You'd likely void the T1's 3-year warranty anyway. Samsung told us that the Portable SSD T1 uses Samsung 850 EVO (review) components. This means the T1 uses the latest Samsung 3D Vertical NAND (V-NAND) memory along with the latest Samsung MGX controller.
Before you can use the T1, you must activate the drive. When you first plug the drive into a USB port you'll discover a folder on the drive that has the needed software on the drive to do this. The process is simple and you basically just need to designate a name for the Samsung Portable T1 SSD. Once you name the drive you can choose whether or not you want to enable password protection. You don't have to enabled data security, so after either setting up a password or skipping that step you are done. If you forget your password, a Samsung T1 can be restored to its factory settings at a Samsung Service Center. This means that you will loose all your data in the process due to the advanced AES 256-bit encryption technologies Samsung is using. Please exercise caution not to forget or misplace your password as you'll end up with a total data loss.
Once you have completed the activation process you'll need to redownload the activation application if you need to make modifications. For example if you didn't activate password secuirty and wanted to you'll need to download "Samsung Portable SSD.exe" from Samsung and do so.
Let's take a look at the test system and move along to the benchmarks!