Rosewill Galaxy-03 ATX Mid Tower Case Review
By
Rosewill Galaxy-03 ATX Mid Tower Case Introduction
Rosewill makes a plethora of products, including but not limited to: networking equipment, PC peripherals, computer cases, and even binoculars. Theyve been known to make a well functioning low cost alternative to the big boys, while also providing higher end products, which keeps them in the eyes of many. I personally have purchased a few products from them over the years and I think that theyre all great. Today were going to take a look at Rosewills Galaxy-03 case, which is a mid tower budget minded case. So if youre looking to build yourself a new computer on a budget for the holidays, or even looking to gift a case for that great friend who is on a limited budget for his/her new gaming PC, you will definitely want to read on and see how this case fairs!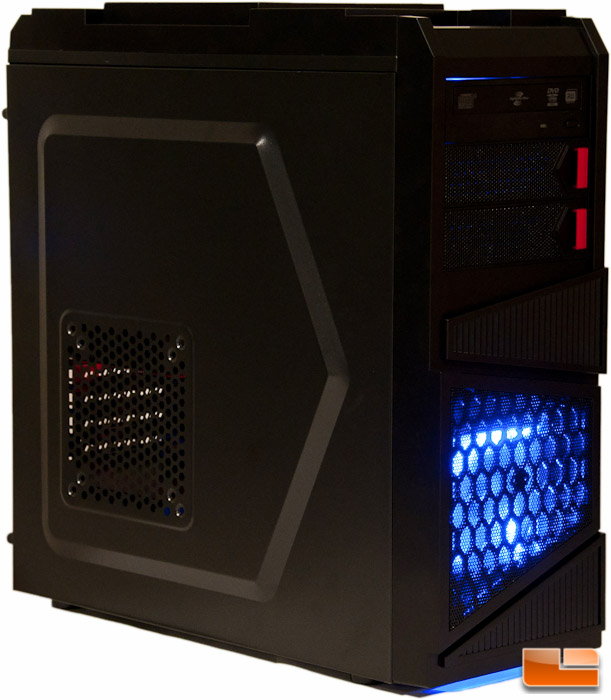 Rosewills Galaxy-03 is a sleek mid tower chassis that is painted a flat black throughout. To make things not look boring on the outside, this case provides several color accents and designs in attempt to help make it look a bit more aggressive. One other aspect that Rosewill touched on was the weight. Youll find that this case weighs in only a little more than 10 lbs, which absolutely makes moving this case around a breeze.
The whole idea of a mid tower chassis is to keep things tight and this case is no exception. The interior does feel like it has a lot of room to work with; this is exactly what Rosewill aimed for. Inside youll find plenty of wire pass-thru holes, seven expansion slots, three 5.25 inch bays, room for four 3.5 inch hard drives, and even a place to mount a 2.5 inch solid state drive. We cant forget about the fans; Rosewill includes one blue LED 120mm intake fan on the front and two 120mm exhaust fans on the rear/top.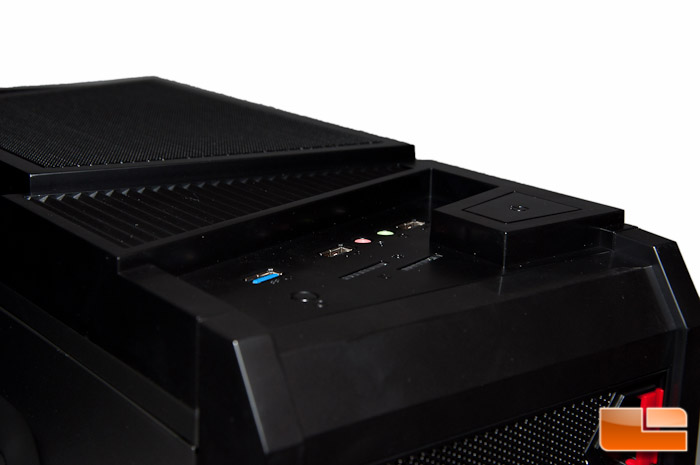 Rosewill Galaxy-03 Technical Specifications:
Model: Galaxy-03
Type: ATX Mid Tower
Case Material: Steel
With Power Supply: No
Power Supply Mounted: Bottom
Motherboard Compatibility: Micro ATX, ATX
With Side Panel Window: No
External 5.25″ Drive Bays: 3/2
External 3.5″ Drive Bays: 0/1
Internal 3.5″ Drive Bays: 4
Internal2.5″ Drive Bays: 1
Expansion Slots: 7
Front Ports:

1 x USB 3.0 (internal 20-pin connector to MB)
2 x USB 2.0

Audio In/Out: (AC97, HD)
Fan(s):

1 x Front 120mm Blue LED Fan (pre-installed)
1 x Rear 120mm Fan (pre-installed)
1 x Top 120mm Fan (pre-installed)
1 x Side 120/140mm Fan (option)

Side Air duct: No
Dimensions: 8.2 x 18.5 x 18.5 (WxHxD)
Weight: 10.14 lbs
The Galaxy-03 will currently run you $49.99 shipped on Amazon or $39.99 after $10 rebate on Newegg and comes with a full 1 year warranty. Does the cost of this case make it feel too cheap, or does it provide a ton of value for the money? With all of the aforementioned features that this case is offering, it feels like a good value so far, but well still have to take a look and see if it functions well and isnt cheap feeling.
Read on to briefly check out the retail packaging and then onto the exterior impressions.