Rosewill B2 Spirit Full Tower Case Review
By
Rosewill B2 Spirit Full Tower Case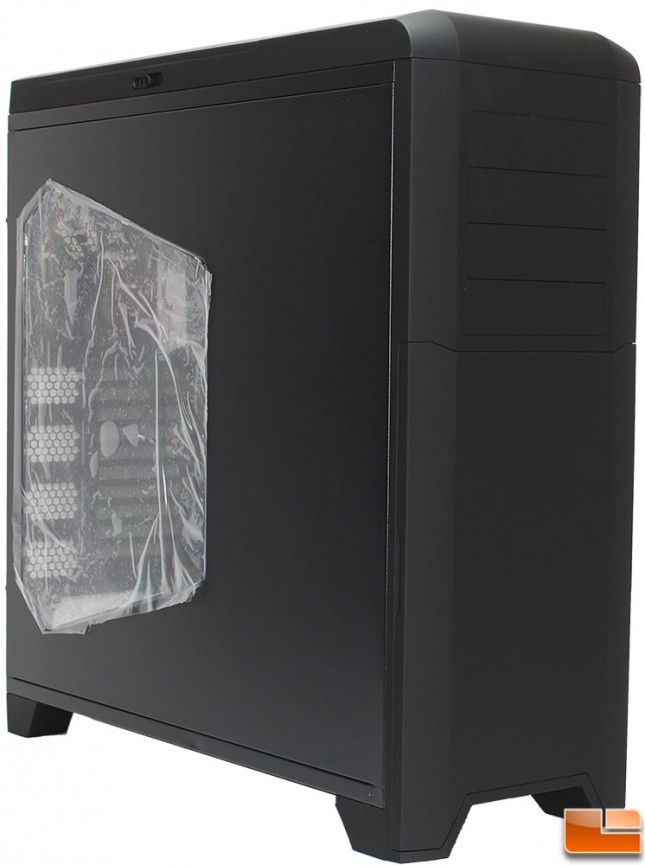 Rosewill is not generally considered a top tier case manufacturer, for some people they just want a well built case with the features they want without paying a lot. With the limited experience I have had with cases by Rosewill, overall I have been impressed by their build quality and features that they provide while keeping a reasonable price. They are doing a good job at working towards making products that meet the needs of every type of computer enthusiast wants.
Today, we will be taking a look at the Rosewill B2 Spirit, a full tower case that can be purchased at their main etailer, Newegg for $139.99 after a $30 rebate and free shipping. This new full tower case boasts many features that those wanting a full tower demand. For storage it will support up to 13 3.5″ or 2.5″ drives, and 4 5.25″ devices. It will support the largest standard size HPTX motherboards, which means the case itself is pretty large and there is plenty of space inside for components. Cooling is provided by five included 140mm fans, two of which are blue LED fans; additional cooling options include liquid cooling radiator support in various locations and sizing options up to 360mm.
The Rosewill B2 Spirit will most likely be commonly purchased online, so fancy packaging isn't necessary. However, Rosewill provides a nice overview of the B2 Spirit on the front and back of the box. Inside the heavy cardboard box, the case itself is packed in a plastic bag which is nestled between two foam blocks which are reinforced by cardboard.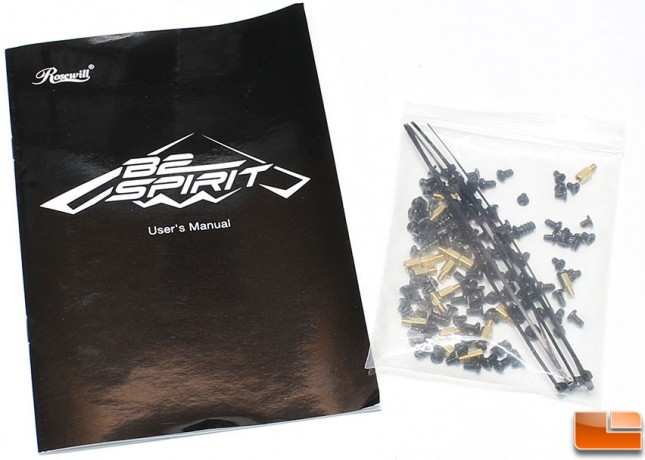 Rosewill includes a basic accessory pack with the B2 Spirit that includes a well detailed user installation manual, various screws, motherboard stand-offs and six cable ties. This is the basic accessory pack that is included with every case. Being a full tower case, I expected there to be a few more cable ties, and maybe an extension cable for the 8-pin motherboard power connector.
Rosewill B2 Spirit Case Features
Supports up to 400mm Graphics Card
Supports up to 200mm CPU cooler height
Supports up to 280mm Liquid-Cooling Radiator
Pop-out Front Fans
Soft-Touch Paint
Rosewill B2 Spirit Case Specifications
Type
ATX Full Tower
Color
Black
Case Material
Steel
With Power Supply
No
Motherboard Compatibility
Micro ATX / ATX / E-ATX / XL-ATX / HPTX
Side Panel Window
No
External 5.25″ Drive Bays
4
Internal 3.5″ Drive Bays
13
Internal 2.5″ Drive Bays
0
Expansion Slots
10
Front Ports
4x USB 3.0 / 2x USB 2.0 / Audio
Cooling Features
Front: 2x 140mm (provided)

Back: 1x 120mm or 1x 140mm (provided)

Top: 3x 120mm or 3x 140mm (2 Blue LED provided) or 2x 200mm

Bottom: 2x 120mm, or 1x 140mm

Dimensions
22.83″ x 9.84″ x 24.02″ (H x W x D)
Weight
39.24lbs
Let's begin by taking a look at the exterior of the Rosewill B2 Spirit!