ROCCAT Ryos TKL Pro – Tenkeyless Mechanical Gaming Keyboard Review
By
ROCCAT Ryos TKL Pro Introduction
ROCCAT is a German company that was founded in 2007, and is best known for the original Kone gaming mouse. They have since branched out their offerings into other gaming peripherals, including keyboards, mousepads, gaming headsets, and even gaming notebooks. Today we're going to take a look at the latest gaming keyboard that was added to their arsenal, called the Ryos TKL Pro.
The Ryos TKL Pro is ROCCAT's first Tenkeyless keyboard, aimed at gamers who are looking for a little more room to move their mouse. Having that number pad can add bulk to the width of the keyboard, which is why gamers tend to love these; They also make for easier transportation to LAN parties. With the Ryos TKL Pro, you will find that every key is mechanical and backlit.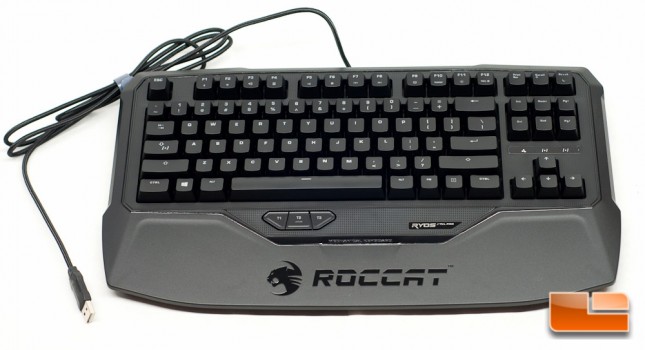 The per-key illuminated Ryos TKL Pro is a fully mechanical keyboard, offering your choice of four Cherry MX switches. Also packed inside this keyboard are two 32-bit ARM Cortex processors to handle the lighting and your key presses in real time and with precision! There is a generous 2MB of storage built into this keyboard for storing up to 470 different macros, plus your lighting combinations across five profiles.
The version of the Ryos TKL Pro that we're going to look at today features Brown switches, which will provide you a small tactile feedback when pressing them, but they only require the same pressure to activate the switch like Red switches. Should you need to get a better understanding of the different switch types, feel free to check out ROCCAT's switch guide or this guide.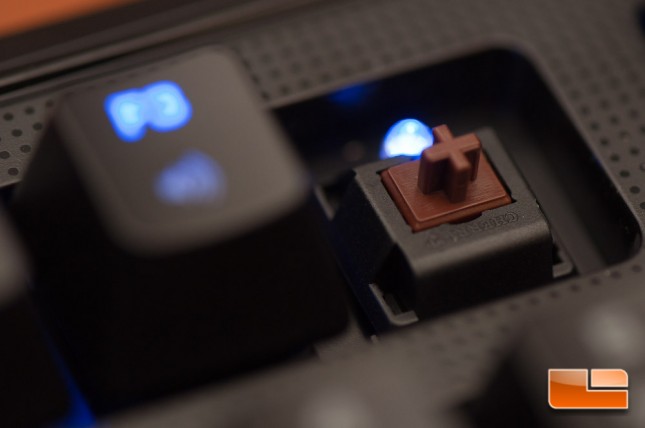 Being a fully mechanical and backlit keyboard, you will find this very same Ryos TKL Pro keyboard at a slight premium, however it isn't a ridiculous premium. You may pick up this keyboard on Amazon for $139.99 shipped and it comes with a 1-year warranty.
ROCCAT Ryos TKL Pro Technical Features:
ENHANCED PER-KEY ILLUMINATION
insane customization possibilities
EASY-SHIFT[+] BECOMES EASY KEYBOARD
assign a secondary function to virtually any key
N-KEY ROLLOVER
means advanced anti-ghosting
HIGH-POWERED HARDWARE
two 32-bit ARM Cortex processors + 2 MB of flash memory
ROCCAT ACHIEVEMENTS DISPLAY
keep track of your vital statistics
KEY SWITCHES TO SUIT EVERY GAMER
CHERRY MX key switchs in blue, black, brown, and red
SMUDGE-PROOF GLOSSY LOOK
killer look with no fingerprints
TENKEYLESS FORMAT
compact design without compromise
COMPLETE COMFORT, ROCK SOLID
jumbo-size integrated wrist rest
CLUTTER-FREE, SUPER-STABLE SUPPORT
in-built cable channel and five rubber feet
ROCCAT TALK SET BONUS
get more out of your ROCCAT devices by combining their functions
ROCCAT Ryos TKL Pro Technical Specifications:
Lighting engine 2.0-powered per-key illuminated mechanical keyboard
Advanced anti-ghosting with N-key rollover
Choice of four CHERRY MX key switches
Brown, Red, Black, and Blue
50 million keystroke durability
3 programmable thumbster keys (T1 T3)
91 total programmable keys
1000 Hz polling rate, 1 ms response time
1.8 meter rear-exit braided cable
2 x 32-bit ARM Cortex Processors
2 MB flash memory
Weighs 2.76 US pounds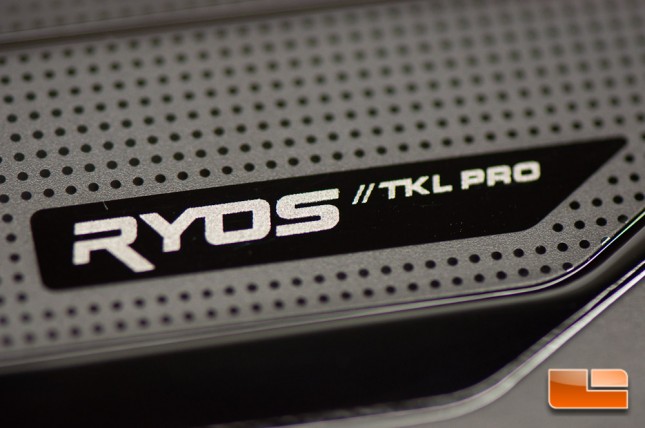 Next up, we're going to pull the keyboard out of the box and see what it all has to offer us.