RIOTORO Prism CR1280 Full-Tower Chassis Review
By
Introduction to the RIOTORO Prism CR1280 Full-Tower Chassis
What do you get when you combine a few former Corsair and Nvidia employees? A new company called RIOTORO. RIOTORO is a few-month-old California based company thats dedicated to building innovative PC components with leading-edge features and performance. Currently they produce PC cases, keyboards, and mice, though one does wonder if thats where theyll draw the line doubtful. Initially their products were available to Latin America, but theyre now broadening their offerings to the US market and are launching the Prism CR1280 Full-Tower chassis with integrated RGB lighting.
The Prism CR1280 is the worlds first RGB-lit chassis, which I bet we can expect to see other manufacturers follow suit. Comprised of mostly steel, some plastic, and some aluminum, the CR1280 also has a full-sized semi-tinted acrylic window to show off your hardware inside. While you dont have a giant [unnecessary] 16.8 million palette of colors to choose from, the 256 that you do should be more than enough. So what exactly lights up on this case? Going from top to bottom: The I/O panel features a rectangular ring that lights up, two 120mm intake fans, and also a RIOTORO logo on the bottom of the face. Adjusting the lighting is as simple as pressing a dedicated button within the I/O panel, which will also allow you to adjust the rotational speed of the lighting.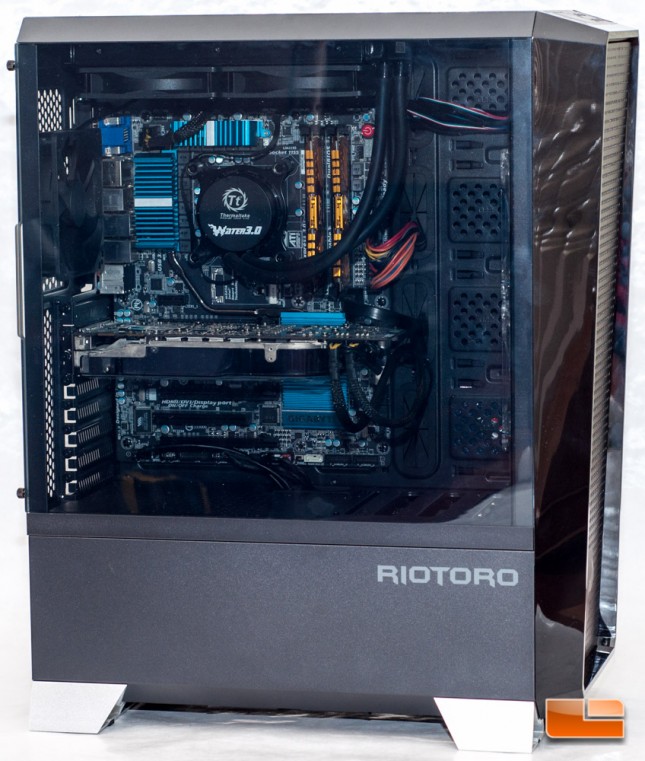 Also featuring direct airflow technology (DAT), this case will provide better cooling performance by directing air where it is most needed. Also found in the I/O panel is a fan controller to allow you to decide on the level of performance that youd like to achieve.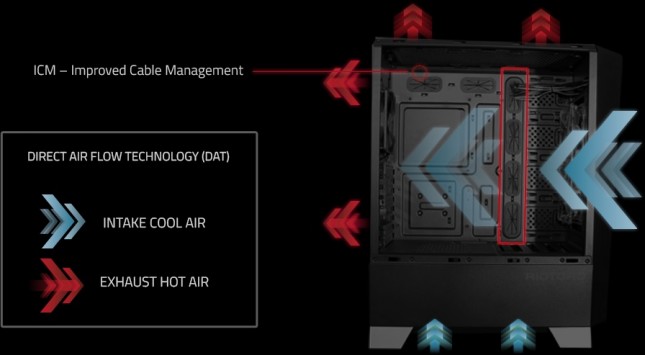 You can find RIOTOROs Prism CR1280 on Amazon with an MSRP of $139.99 beginning today and features a 2-year warranty.
Prism CR1280 Technical Specifications:
478.1 x 250.72 x 577.50 mm (w/foot)
Material
Steel, Aluminum, and Plastic
Color
Black
Drive Bays
4 x 3.5 internal screwless
4 x 2.5 internal screwless
Cooling
2x 120 or 2x 140 fan mounts in front (2x 120mm included)
3 x 120 or 2x 1400 fan mount on top
1 x 140 mm or 1x120mm rear exhaust (1x 120mm included)
Expansion Slots
8 Slots
Water Cooling Compatibility
1 x 140 x 25mm or 38mm rad + push/ pull fan in rear
3 x 120 x 25 mm rad + push fan on top (full clearance)
2 x 120 rad or 2x 140 + push/ pull fan in front
Front I/O
Power button, reset button, HDD light, 2x USB 3.0, 2x USB 2.0,
headphone and mic. Slow speed, high speed, and RGB LED switch
Motherboard Compatibility
Mini ITX, Micro ATX, ATX, eATX
ATX PSU Max Length
Up to 220mm
Max GPU Length
Over 400mm
Max CPU Cooler Height
180mm
Lets move on and see what the outside is all about, and follow that up with checking out the interior, and finally build a test system inside, seeing how easy or difficult it is.