Razer Diamondback Precision Gaming Mouse Review
By
The Razer Diamondback Gaming Mouse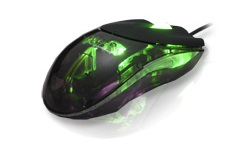 Today we look at the $59 Razer Diamondback. It is touted as one of the world's first 1600 dpi gaming mice. Directly competing with Logitech G5 and MX series of gaming mice as well a slew of other "Plain-Jane" mice on the market, how does Razer's updated entry of their original gaming mouse stack up? Previously available in "Salamander Red" and "Plasma Blue", Razer has unveiled the new Acid Green version of the Diamondback. Besides the new color, Razer has also incorporated a new precision optical tracking engine to provide gamers with smooth but exact tracking. Unlike a growing trend in mice technology, the Diamondback uses the standard optical technology rather than laser tracking that we see used in mice such as the MX600.
Technical Specifications:
Optical engine powered by Razer Precision
1600 DPI, twice that of conventional high performance sensors
Ultra-large non-slip mouse buttons, tactile response design
Razer drivers featuring On-the-Fly sensitivity adjustment
Frame rate over 6400 frames per second (5.8 mega pixels per second)
16 bit data path, as compared to 8 bit and 12 bit data paths used by other conventional mice
Always-On Mode the optical sensor never powers down –
provides instantaneous response at all times during game play
High speed motion detection, up to 40ips and 15g
Buttons 7 physical buttons optimized for gaming response and independently programmable
Non-slip side rails and new ergonomic ambidextrous design
Zero acoustic Teflon feet for smooth motion over any surface
Gold plated USB connector for maximum conductivity
Size: 5.04″ length x 2.5″ width x 1.54″ height
7 foot, lightweight, non-tangle cord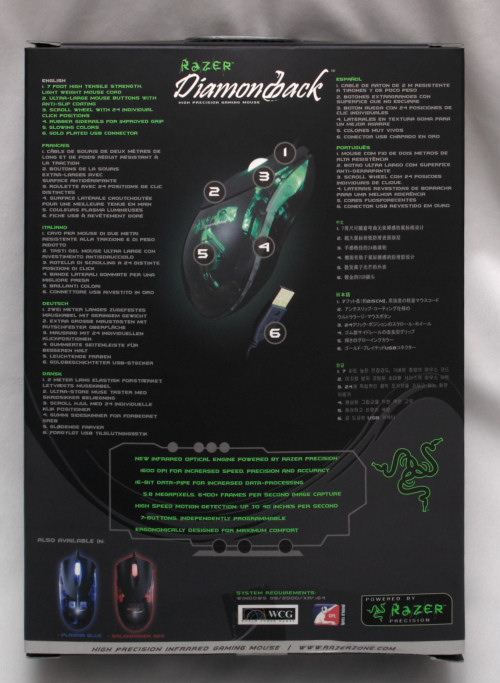 Packaging
The Diamondback comes in a stylish black box, whose quality hints at what can be found inside. Immediately on the front there is a life-sized picture of the mouse, along with several technical specs proudly displayed. There are also several of the Diamondbacks awards emblazoned leaving no doubt as to its abilities. Upon opening the front flap the mouse itself is observed protected by plastic and on the opposite side a small piece of mouse propaganda, presumably designed to inspire a curious shopper.
Inside the proud new owner will find a certificate of authenticity, quick start guide and a software CD. The quick start guide briefly details all the locations of the buttons on the mouse and how it should be attached to the computer.