QNAP TS-459 Pro Turbo NAS with Intel Atom D510 Review
By
TS-459 Pro – Faster, Better, Stronger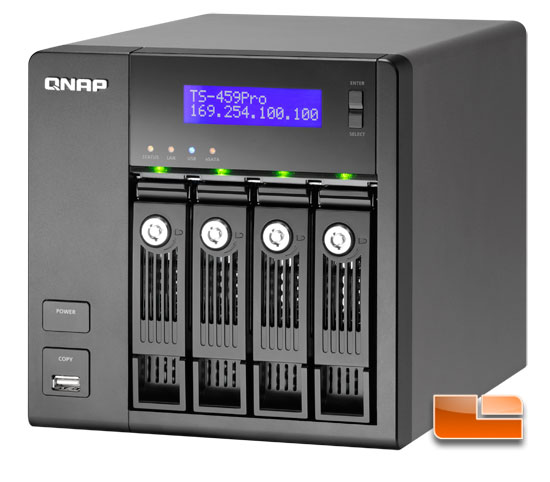 When QNAP released their new family of Turbo NAS devices, they built their systems around the brand-new Intel Atom Processor. The TS-259 Pro, TS-459 Pro, TS-659 Pro and TS-859 Pro hit the market a few weeks ago and QNAP promised that this new architecture would bring users ultra-high performance.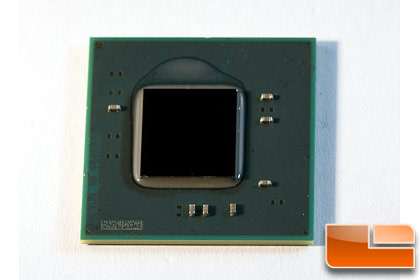 The TS-459 Pro uses the next generation Intel Atom D510 1.66 GHz Dual-Core processor and 1 GB DDRII RAM to deliver up to 100 MB/sec RAID 5 reads. A few months ago, we reviewed the TS-419P which had great performance for a home or SOHO NAS, but nowhere close to 100 MB/sec RAID 5 reads. In this review we will compare the differences between the TS-419P Turbo NAS and the TS-459 Pro and check if this new NAS can deliver on its high speed promise.
We will be looking at the TS-459 Pro that looks exactly like the TS-419P we reviewed late last year. The main differences between these NAS devices come from whats inside the box. As stated above, the TS-459 Pro is using the Intel Atom D510 1.66GHz Dual-Core processor compared to the Marvell 6281 1.2GHz processor in the older TS-419. The TS-459 Pro also has double the RAM, 1GB of DDRII compared to 512MB of DDRII.
Already adopted by over 80 notebook and netbook designs, the Intel Atom D510 chip was released in January 2009 and was designed from the ground up for small devices and low power. It remains Intel's smallest chip, built on the company's 45nm high-k metal gate manufacturing process and should make a significant difference in the performance of network attached devices QNAP's Turbo NAS family.
The flash memory has also been increased from 16MB on the TS-419P to 512MB on the TS-459 Pro. There are a few other minor hardware differences between the two systems, but these are the major changes which should give the TS-459 Pro a major performance boost over the TS-419P.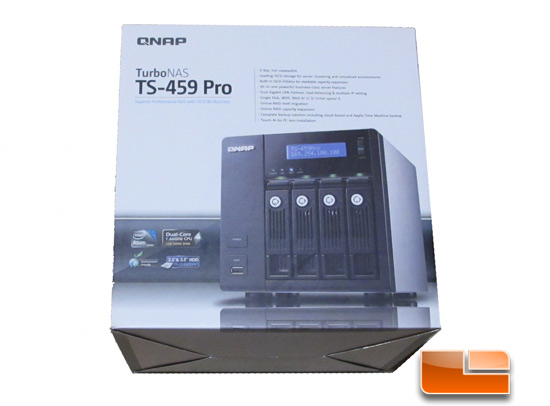 One feature that the TS-419P didnt have that the TS-459 Pro does that I really like is the ability to plug a VGA monitor and a USB keyboard into the back and log in like its a Linux computer. I wasnt able to determine which Linux variant of the operating system was running, but the kernel version is 2.6.30.6 which is a relatively new version of the kernel compared to kernel.orgs latest stable kernel.
Lets take a look at the hardware and software specifications before we move on to more features and whats inside the box.
Hardware Specs:
CPU
Intel Atom Processor D510 1.66GHz (Dual-Core)
DRAM
1GB DDRII RAM
Flash Memory
512MB DOM
HDD
2.5/ 3.5″ SATA x4
NOTE:

The system is shipped without HDD.

For the HDD compatibility list, please visit http://qnap.com/pro_compatibility.asp

HDD Tray
4 x Hot-swappable and lockable tray
LANPort
2 x Gigabit RJ-45 Ethernet port
LED Indicators
Status, LAN, USB, eSATA, Power, HDD 1, HDD 2, HDD 3, HDD 4
USB
5 x USB 2.0 port (Front: 1; Back: 4)
Support USB printer, pen drive, USB hub, and USB UPS etc.
eSATA
2 x eSATA port (Back)
Buttons
System: Power button, USB One-Touch-Backup Button, Reset button
LCD panel
Mono-LCD display with backlight
Enter button, Select button for configuration
Alarm Buzzer
System warning
Form Factor
Tower
Dimensions
177 (H) x 180 (W) x 235 (D) mm
6.97 (H) x 7.09 (W) x 9.25 (D) inch
Weight
Net weight: 3.65 kg (8.04 lbs)
Gross weight: 4.65 kg (10.24 lbs)
Sound Level (dB)
w/o HDD installed: 34.7 dB
Stand by: 34.1 dB
In operation: 36.8 dB
(with 4 x 500GB HDD installed)
Power Consumption (W)
Sleep mode: 19W
In Operation: 35W
Power-off (in WOL mode): 1W
(with 4 x 500GB HDD installed)
Temperature
0~40C
Humidity
0~95% R.H.
Power Supply
Input: 100-240V AC, 50/60Hz, Output: 250W
Secure Design
K-lock security slot for theft prevention
VGA
Reserved VGA interface for maintenance
Fan
1 x quiet cooling fan (9 cm, 12V DC)
Software Specifications:
Operating System
Embedded Linux
Supported Operating System

Microsoft Windows 2000, XP, Vista (32-/ 64-bit), Windows 7 (32-/ 64-bit), Server 2003/ 2008
Apple Mac OS X
Linux & Unix

File System
Internal HDD: EXT3, EXT4
External HDD: EXT3, EXT4, NTFS, FAT32
Networking

TCP/IP (IPv4 & IPv6: Dual Stack)
Dual Gigabit NICs with Jumbo Frame
Multi-IP Setting, Port Trunking/ NIC Teaming
DHCP Client, DHCP Server
Protocols: CIFS/ SMB, AFP(3.1), NFS, FTP, HTTP, HTTPS, Telnet, SSH, iSCSI and SNMP
Network Service Discovery (UPnP, Bonjour)

Network File Sharing
CIFS/ SMB (plus DFS support), AFP, NFS, FTP, WebDAV
Backup Solution
USB One Touch Backup (Import/ Export)
Apple Time Machine Support
Block-level Remote Replication
– Works as both an Rsync Server & Client
– Supports Encrypted Replication between QNAP NAS Servers
QNAP NAS servers
Data Backup to External Storage Device
Data Backup to Cloud Storage (Amazon S3)
Security IP Filter
Network Access Protection with Auto-blocking
HTTPS Connection
FTP with SSL/ TLS (explicit)
Encrypted Remote Replication (Rsync over SSH)
Importable SSL Certificate
Instant Alert E-mail and SMS
Disk Management
Single Disk, JBOD, RAID 0/ 1/ 5/ 6/ 5+hot spare
Online RAID Capacity Expansion
Online RAID Level Migration
HDD S.M.A.R.T.
Bad Block Scan
RAID Recovery
Bitmap Support
iSCSI
iSCSI Target
– Multi-LUNs per Target
– Supports LUN Mapping & LUN Masking
– Supports SPC-3 Persistent Reservation
– Supports MPIO
– Supports MC/S
Virtual Disk Drive (via iSCSI Initiator)
– Stack Chaining Master
– Max. Virtual Disk Drives: 8
Server Virtualization & Clustering
Supports VMware vSphere (ESX/ ESXi 4.0 and above)
Supports Windows Server 2008 Hyper-V & Failover Clustering
Power Management
Wake on LAN
Scheduled Power on/ off (max. 15 settings)
Automatic Power on after Power Recovery
Access Right Management
Max. User Accounts: 4,096
Max. Groups: 512
Max. Share Folders: 512
Batch Creating Users
Import User List
User Quota Management
Web Administration
AJAX-based User Interface
HTTP/ HTTPS Connections
Alert Notification (Email & SMS)
Smart Fan Control
DDNS
SNMP (v2 & v3)
UPS Support with SNMP Management (USB)
Resource Monitor
Network Recycle Bin for CIFS/ SMB and AFP
Comprehensive Logs (Events & Connections)
Real-time Online User List
Syslog Client
Backup and Restore System Settings
QPKG
Web Application
– Joomla
– phpMyAdmin
– WordPress
– AjaXplorer
P2P Application
– MLDonkey (eMule)
– SABnzbd+
Server Application
– SSOTS (Squeezebox Server)
– Tomcat
– Asterisk
– XDove (Mail Server)
Miscellaneous
– Optware IPKG
– Python
– Java Runtime Environment
– And more
Supported Web Browsers
Internet Explorer 7 & 8 or Later
Firefox 3 or Later
Safari 3 & 4 or Later
Google Chrome
Multilingual Support
Chinese (Traditional & Simplified), Czech, Danish, Dutch, English, Finnish, French, German, Italian, Japanese, Korean, Norwegian, Polish, Russian, Spanish, Swedish
File Server
File Sharing across Windows, Mac OS and Linux/ Unix Platforms
Protocols: CIFS/ SMB, AFP(3.1), NFS, FTP, HTTP, HTTPS
QNAP Web File Manager
FTP Server
FTP over SSL/ TLS (explicit)
Max. Concurrent Connections: 256
FXP Supported
Passive FTP Port Range Control
FTP Bandwidth & Connection Control
Unicode Support
Web Server
HTTP/ HTTPS Connections
Supports WebDAV Connection
Importable SSL Certificate
Database Server
Built-in MySQL Server
Web-based Management via phpMyAdmin (QPKG)
Backup Server
Remote Replication Server (over Rsync)
Apple Time Machine Support
QNAP Client Backup Application NetBak
3rd Party Backup Software Support: Acronis True Image, CA Brightstor, ARCserve Backup, EMC Retrospect, Symantec Backup Exec, LaCie Silverkeeper
UPnP Media Server
PC-less BitTorrent/ FTP/ HTTP Download (Up to 500 tasks)
BitTorrent Download
– Supports TCP/ UDP Tracker Protocol
– Scheduled Download
– Configurable Port Range
– Bandwidth Control
– UPnP NAT Port Forwarding
HTTP/ FTP Download
– Configurable Saving Directory
– Bulk Download with Wildcard Setting
– RapidShare Download Support
QNAP Download Management Software: QGet
– For Both Windows & Mac OS
– Control the Download Tasks on Multiple QNAP NAS over LAN or WAN
Surveillance Station
Supports 4 IP cameras (not included) for network surveillance