Plantronics RIG Surround Gaming Headset Review
By
Plantronics RIG Surround Gaming Headset
Plantronics despite its diverse audio product portfolio has shown immense respect and high regard for gaming as it does for its other ventures. Their past flagship gaming headsets have been both well-received and popular. Beyond their products, Plantronics has a substantial presence in the esports scene as an event sponsor and equipment provider a modified version of the Plantronics Commander gaming headset is often seen used by players at major tournaments.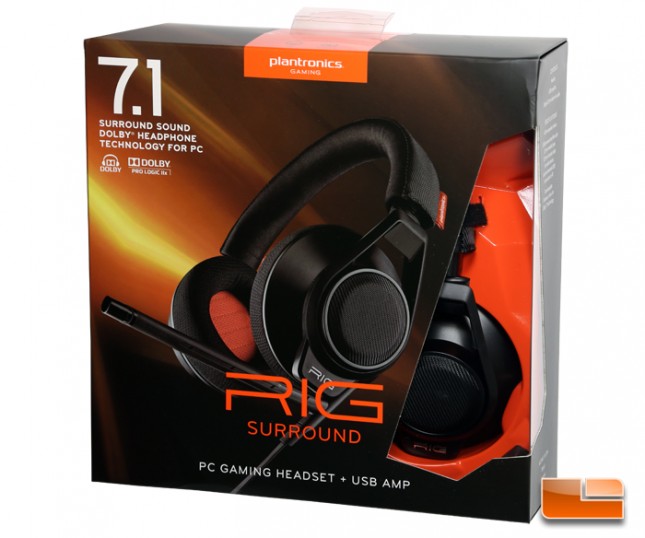 Thus, were very excited to be taking an early look at the upcoming Plantronics RIG Surround. Its not only because Plantronics has a stellar reputation, but because weve had great firsthand experiences with their other gaming headsets. The Plantronics RIG Surround primarily consists of two components a headset and an external sound card called the RIG mixer that also allows gamers to attach their smartphone and use the setup like a home call center. The headset is completely unchanged from the original RIG released in 2013, but the new mixer is now a full-fledged external sound card with Dolby virtual surround sound. The RIG Surround will launch in late 2014 at major retailers for $99.99, the same as the readjusted price of original RIG.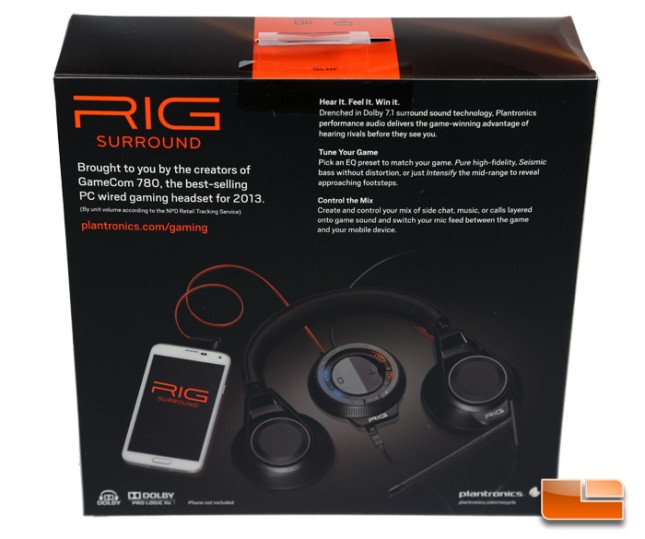 Plantronics RIG Surround Gaming Headset Features:
USB gaming headset with 40 mm drivers and bass tube technology delivers performance audio drenched in the downloadable Dolby 7.1 surround sound experience for PC.
USB amp connects to your game and gives you fingertip controls to mix levels of game and chat audio plus integration of music or calls from your mobile device.
Three EQ settings let you choose between Pure for improved voice clarity, Intensify for bass and mid-range boost, and Seismic for more bass without any rumbling or distortion.
Forget-its-on comfort lets you play for hours, watch movies, or relax with music wearing lightweight, pillow-soft earcups and cushioned headband.
Headset also connects to your mobile devices with a single 3.5mm connection so you can play anywhere.
Plantronics RIG Surround Gaming Headset Specifications:
USB Amp + Audio Mixer: Power on/off, Dobly on/off, master volume, game/chat audio balance, game/mobile audio balance, game chat/mobile call incoming audio and mic switch (fades one to
favor the other), call answer/end, mic mute/unmute, EQ presets : PURE, SEISMIC, and INTENSIFY
Speaker driver size: 40 mm
Speaker frequency response: 20Hz 20kHz
Mic frequency response: 100Hz 10kHz
Cable length: 6.5 feet/2 meters from audio controller
Connection: Headset: 3.5 mm USB-powered amp: 3.5 mm headset jack, 3.5 mm (4-pole) cable for a mobile device, and dual-enumerated USB connection to PC.
Compatibility: PC, smartphone, or tablet
Service and support: 1-year limited warranty
The RIG packaging has been updated and the box now has a small window on the front that has a partial view of the headphones. The RIG pieces are nested in molded and stacked plastic trays that hold and protect the product during shipment. Only one accessory cable is included and that is the boom mic attachment that connects the headphones to the mixer. The rest of the accessory cables that were included with the original 2013 RIG are not included. Much of this is due to the RIG Surround not being and needed to be compatible with the previous-gen consoles Xbox 360 and PlayStation 3, though technically the RIG is compatible with the PlayStation 4. In addition, Plantronics decided to offer a new product called RIG Flex that has the boom-mic cable and inline mic cable accessories included, of which only the former is included with the RIG Surround. The RIG Flex will be available in fall for $79.99.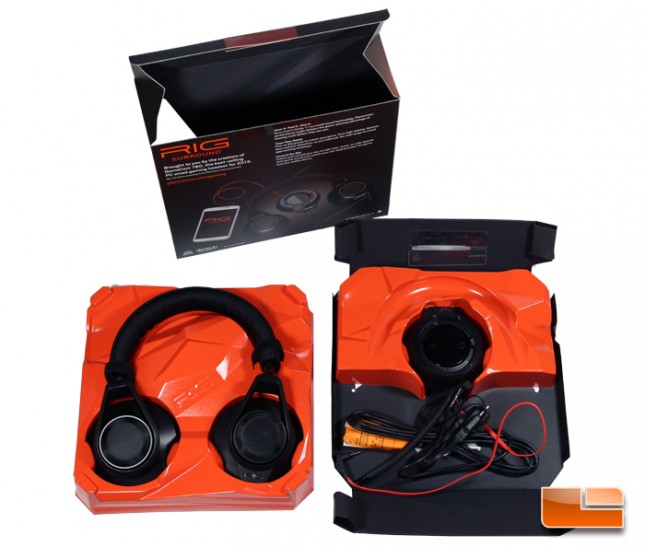 Safety information, warranty information, and instructions are also included. The RIG mixer is not difficult to operate, but the lack of labeling makes the instructions and diagrams useful early on.