PC4000 HyperX Examined
By
Memory Performance:
Our Test System:
Intel Pentium 4 3.0C 800MHz FSB (Intel ES unlocked Sample)
ABIT IC7-MAX3 Canterwood Motherboard
nVidia 5900 Ultra 256mb (nVidia refference)
Thermalright SLK-900U w/80cfm Delta (Air Cooled)
Seagate 120Gb Serial ATA 150 Hard drive
Antec TrueControl 550W Power Supply
ViewSonic E90fb Monitor
BeanTech Igloo8 Aluminum Case
Driver Versions:
NVIDIA Detonator 52.16
Intel Chipset Software Utility 5.00.1012
Intel Application Accelerator v2.3
ABIT BIOS version Beta 13
Testing Procedure :
All testing was done on a fresh install of Windows XP Professional build 2600 with Service Pack 1A and DirectX 9.0b. All benchmarks were completed on the desktop with no other software programs running. No overclocking was done on the video card unless noted. Our testing processor was an unlocked Intel Pentium 4 3.0C. Our testing was done at 250×12 = 3.0GHz with H/T enabled. The audio, USB, Firewire, and lan features were disabled in the BIOS menu for all the testing competed during this review.
All testing was completed at 2.7Vdimm unless otherwise noted!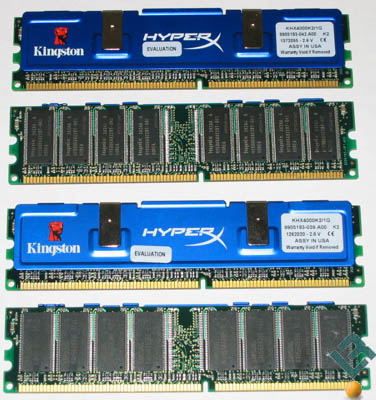 Sisoft; Sandra 2004:
Sisoft Sandra 2004 is designed to test the theoretical power of a complete system and individual components. The numbers taken though are, again, purely theoretical and may not represent real world performance. Higher numbers represent better performance in memory bandwidth.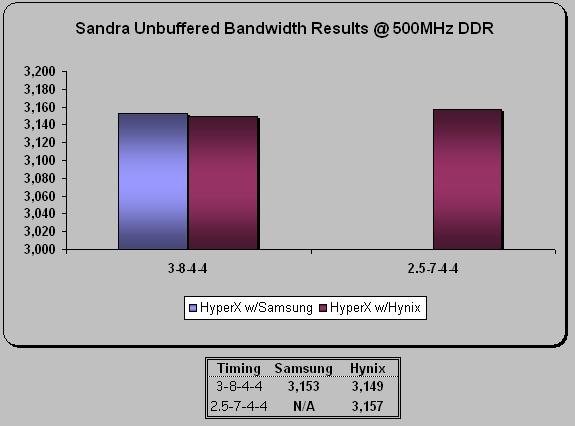 Results: At the default timings set forth by Kingston both Hynix and Samsung are head-to-head when it comes to performance. Samsung is unable to run at a CAS Latency of 2.5, and even though Hynix is able to run at CL 2.5 the performance gain is marginal and insignificant. By saying insignificant — I mean it! There is less than a 0.0002% difference in bandwidth when running CL 2.5-4-4-7 over CL 3-4-4-8!