PC4000 HyperX Examined
By
Introduction: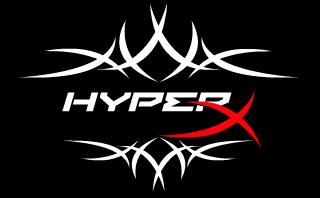 Legit Reviews has the honor to work closely with the majority of the memory manufacturers in the world and recently learned that Kingston has begun using some Hynix IC's on their PC4000 line. Prior to using Hynix IC's Kingston was using Samsung Revision "C" IC's on their PC4000 memory modules and received some negative feedback from the enthusiast community. Is this criticism warranted by the community or are people jumping to conclusions without understanding the entire picture?
Now that Kingston has introduced Hynix IC's on there modules this gives professional reviewers the unique ability to take a look at different brands of IC's on identical modules. Essentially this allows for some qualification testing of our own and that is just what we have done.
Before the testing and results I will quickly cover some of the work that memory manufacturers do to bring a new line to consumers and the specifications of the IC's.
Underneath It All:
Is there a difference in labeling? Kingston told us that there is no way to know which type of modules you have, even though we found some slight variations on the labels for our modules. Just for your information, below are the batch numbers from the modules we took a look at.
| | |
| --- | --- |
| Kingston HyperX DDR500 Samsung Label | Kingston HyperX DDR500 Hynix Label |
Both have the same KHX4000/1G model number, but with the heat spreaders removed you can clearly see two different brands of IC's. The PCB and tracings were not changed so the only differences between the two modules are the IC's that have been used.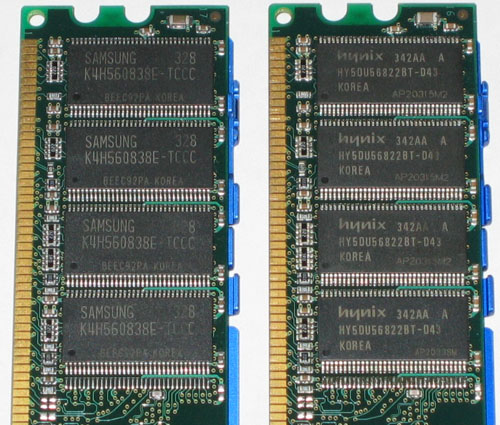 As you can clearly see, the orignal HyperX DDR500 module on the left has Samsung K4H560838E-TCCC IC's and the recently released DDR500 module with Hynix HY5DU56822BT-D43 IC's is on the right.
What does all this mean? Decoding the chips shows exactly what everything is supposed to run:
Hynix HY5DU56822BT-D43
Samsung K4H560838E-TCCC

Specification

Feature

Specification

Feature

Decoding

Hynix HY5DU56822BT-D43

Decoding

Samsung K4H560838E-TCCC

HY

Hynix

K4

Samsung

5D

DDR SDRAM

H

DDR SDRAM

U

VDD & VDDQ = 2.5V

56

256M 8K Refresh

56

256M 8K Refresh

08

organization = 8

8

organization = 8

3

4 Banks

2

2 Banks

8

Interface = SSTL_2 2.5V

2

Interface = SSTL_2

E

Generation #6

B

Generation #3

T

TSOP Package

T

TSOP Package

C

Normal Temperature Range

D43

5.0ns @ DDR400 3-3-3

CC

5.0ns @ DDR400 3-3-3
Once you decode the IC's found on these modules you can tell both of these IC's are rated at identical CAS Latencies for DDR400 performance! Since they are being used in DDR500 modules will they still perform the same?