Patriot EVLVR 1TB Thunderbolt 3 Portable SSD Review
By
Patriot EVLVR Performance Benchmarks
To benchmark the Patriot EVLVR Thunderbolt 3 SSD we'll be using CrystalDiskMark, ATTO Disk Benchmark, Anvil's Storage Utilities, AJA System Test, Iometer and a manual file transfer test. These six benchmarks should paint a good overall picture of how this portable SSD performs, so you know what kind of performance to expect before making a purchase that could be up to $500.
Patriot EVLVR 1TB CrystalDiskMark: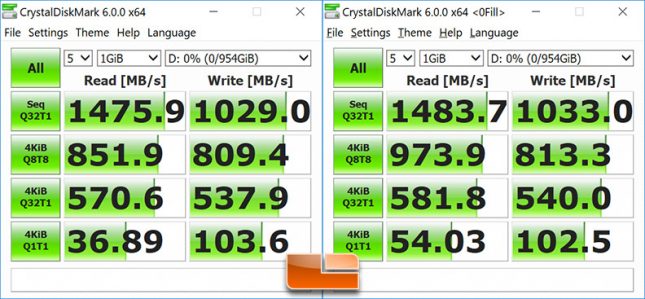 When it comes to sequential read/write performance we topped out at just shy of 1500 MB/s read and right around 1030 MB/s write on the 1TB model that we tested. Not bad and this is very close to the EVLVR 1TB's rated speeds of 1500 MB/s read and 1000 MB/s write.
Patriot EVLVR 1TB ATTO:
ATTO Disk Benchmark showed that we were getting up to 1475 MB/s read and 1014 MB/s write speeds on the Patriot EVLVR 1TB drive through the Thunderbolt 3 port on our Dell XPS 13 laptop.
Patriot EVLVR 1TB Anvil: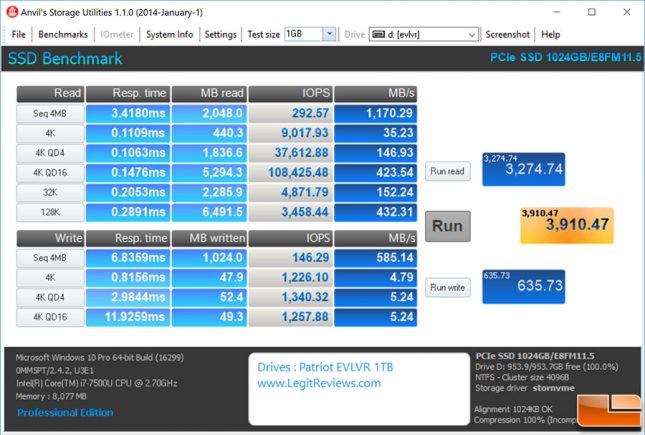 Anvil's Storage Utilities benchmark finished with an overall score of 3,910 points on the Patriot EVLVR 1TB portable SSD with no modifications to Windows 10.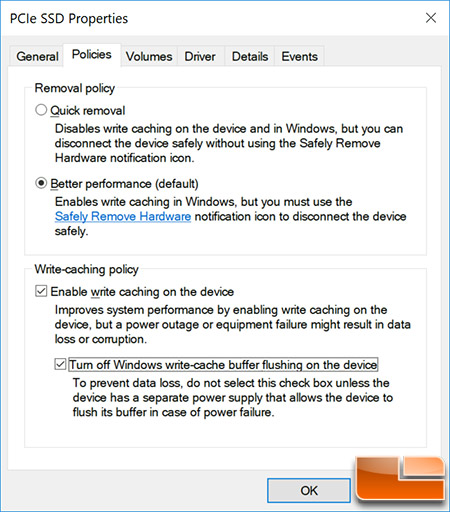 We went into Windows Device Manage and under the EVLVR PCIe SSD properties we disabled Windows write-cache buffer flushing.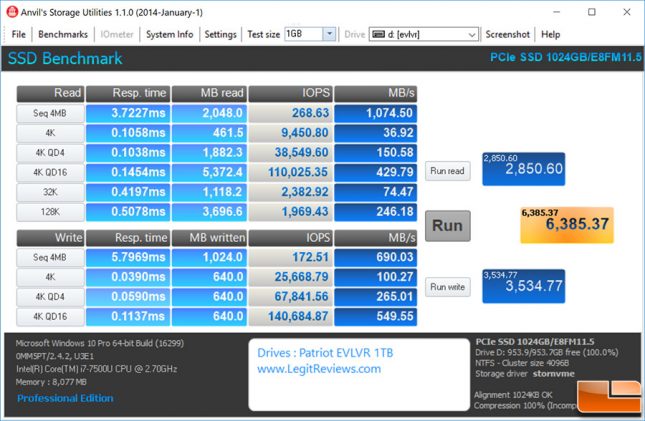 That pushed our overall score to 6,385 points as it dramatically changed all the write speeds.
Patriot EVLVR 1TB AJA System Test:
AJA System Test by AJA Video Systems measures system disk performance using video test files of different resolutions, sizes and codecs. We selected the standard 4K UltraHD resolution, a test file size of 1GB and the ProRes 4444 codec to see how this drive does with regard to video rendering performance. ProRes 4444 is used for heavy effects work and deep color projects. FPS is very important for this market as well as MB/s, so we'll be talking about both FPS and MB/s performance here. The first lets the editor know whether they are going to be able to make their 60p project work for instance. The second they value for understanding rendering expectations, throughput, file read/write expectations for transfers and that kind of thing.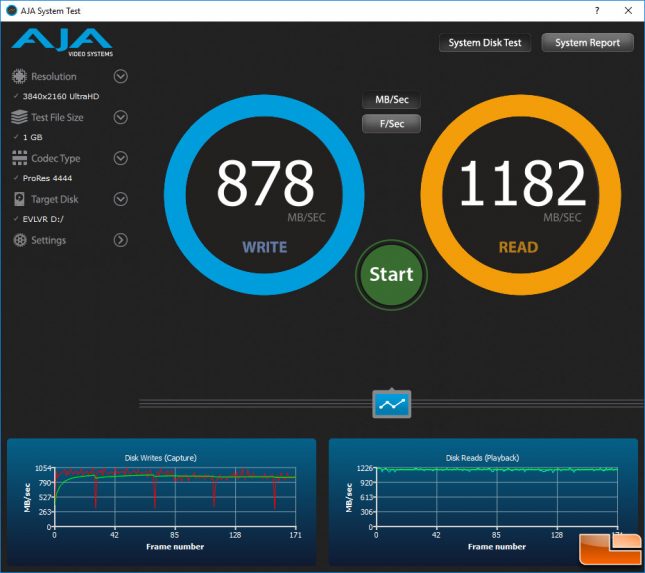 We we able to get 1182 MB/s read and 878 MB/s write from the Patriot EVLVR 1TB drive on this benchmark test scenario.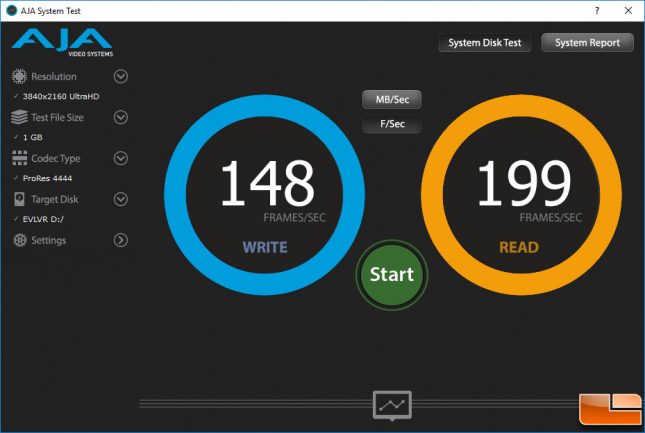 This translates to almost 200 Frames Per Second (FPS) on read and nearly 150 FPS on write!
Patriot EVLVR 1TB File Transfer Test:
We wanted to do some real world file transfers, so we copied over few MKV Full-HD movie that added up to almost 6GB. During the transfer we found that we were getting around 815 MB/s on average when the data was being written to the drive.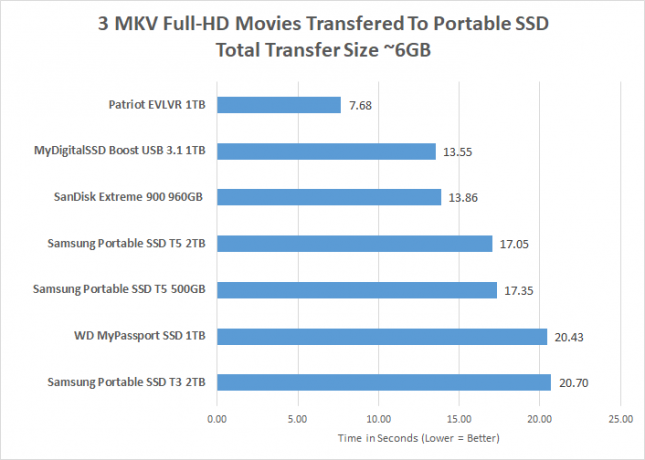 It took just 7.68 seconds to transfer the files over and is the fastest solution that we have tested. The Samsung SSD T3 2TB drive took nearly 21 seconds to complete the same exact file transfer, so we are seeing nearly a 3x performance improvement over some big name portable SSD solutions that are suing the USB interface.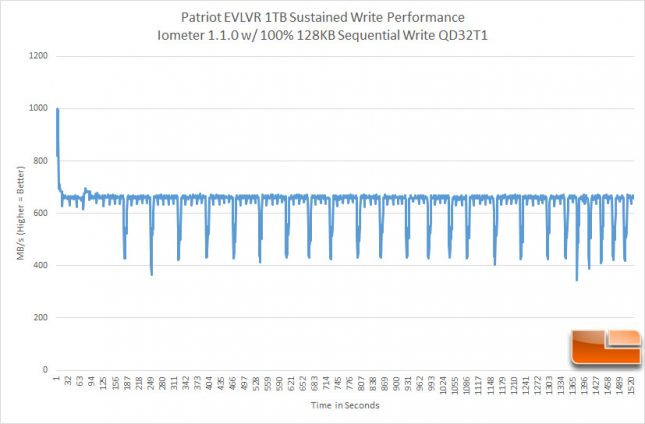 When it comes to sustained write performance on the EVLVR 1TB drive we noticed that we started our around 1000 MB/s and after the drives cache was full performance settled down to around 650-675 MB/s of sustained sequential write performance. The performance dips that happened after a few minutes hit a low of 343 MB/s and despite the drive getting pretty warm we never noticed any thermal throttling on the EVLVR.
Let's take a look at temperatures!