Overclocking the AMD A64 4200+ AM2 Processor
By
What Can $184 Get You?
The AMD Athlon 64 X2 4200+ "Windsor" Socket AM2 processor has become an attractive processor for those looking to get an X2 dual-core processor for roughly $184. Before last months drastic price cuts this processor ran over $330! Today Legit Reviews takes a look at the 4200+ AM2 processor, which is a CPU that doesn't get much time in the hot seat, yet is one of the most purchased processors in AMD's desktop arsenal.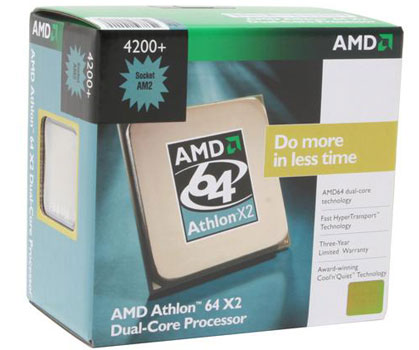 Last month the same processor would deplete $330 from your savings account, but thanks to the price war in the desktop market this price has been slashed. Thanks to the limited number of Intel Core 2 motherboards and high prices of those on the market many consumers are looking back to AMD platforms due to the price versus performance advantage that they currently offer. An example of the motherboard situation can be seen by anyone that looks at Newegg.com and finding that they carry 43 motherboards that support AM2, while only 11 can be found that support Core 2 processors. It's no secret that right now the market fully stocked with AM2 parts and consumers have more choice in the platforms that are built. We picked the AMD Athlon 64 X2 4200+ AM2 for this article thanks to its price point and with the hopes that it would be overclocker friendly to give us even more bang for our buck.
For our testing platform we used the Foxconn C51XEM2AA-8EKRS2H motherboard that is based on the nVidia 590SLI chipset and runs roughly $179.99 after rebate. To back up our motherboard and processor we ran Corsair PC2-6400C4 memory and a Corsair HX620W power supply. We normally use water cooling on the test bench, but for this article we are looking to give real world numbers so we skipped the water cooling and clipped on the Zalman CNPS 9500 AM2 heatsink for some air cooling numbers.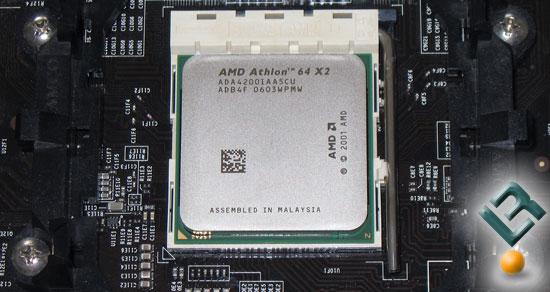 Here is our AMD Athlon 64 X2 4200+ AM2 90nm processor sitting in the Foxconn C51XEM2AA-8EKRS2H motherboard waiting to be run for the very first time!