OnTop TurboJet Whisper 4GB USB Flash Drive Review
By
OnTop TurboJet Whisper Flash Drive
Portable flash drives come in all shapes and sizes now and there is hardly a form factor that isnt available these days. OnTop Technologies, which was founded in 2007, offers a wide variety and asked us to have a look at their TurboJet line of flash drives. They have lines of products for both corporate and consumer customers. The particular model they sent us is a "glistening gold" Whisper 4GB drive which functions as both a flash drive and a necklace pendant. Also available in "sparkling silver" and "dark chrome", they are available for order through OnTop's site.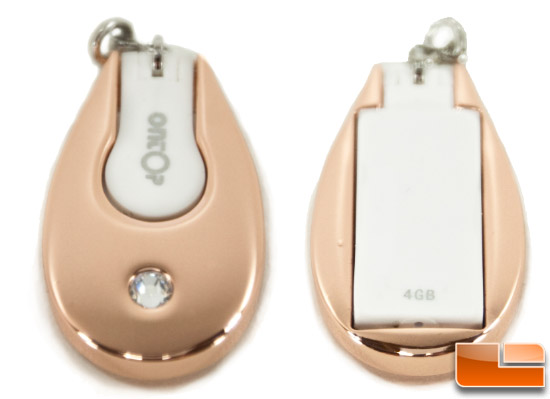 This particular model has a crystal inset into the bottom and came complete with the chain and gift box which are options that can be purchased with the drive. The features OnTop lists are as follows:
High Capacity up to 16GB
High Performance Fast read and write speeds
Convenient small and light
Stylish available in a choice of color combinations
Guaranteed five-year warranty
In addition, the specifications are:
| | |
| --- | --- |
| Capacities: | 2GB, 4GB, 8GB, 16GB |
| Dimensions: | 37.1 x 21.4 x 4.7 mm |
| Operating Temperature: | 32 to 140 F (0 to 60 C) |
| Storage Temperature: | -4 to 185 F (-20 to 85 C) |
| Materials: | Zinc alloy and plastic |
| Warranty: | 5 years |
| USB Type: | USB 2.0 and USB 1.1 |
| Certification: | CE, FCC, ROHS |
| Standard Packaging: | Blister pack |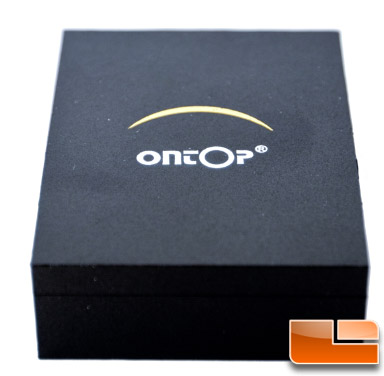 The gift box has a hard shell plastic exterior and is branded with the OnTop name and logo. It's roughly the size of a deck of cards. Opening it up reveals the Whisper drive fitted in to a form fitting foam cushion with a felt-like texture. A shiny round sticker confirms the drive capacity of 4GB.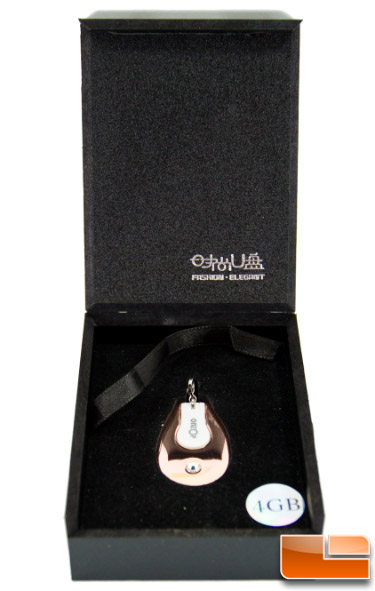 Underneath the foam material holding the drive in place is a bag with the silver chain on which you can mount the drive to wear around your neck. There are no instructions or documentation packaged with the drive, nor are there any loaded onto the drive itself. Not that there really needs to be.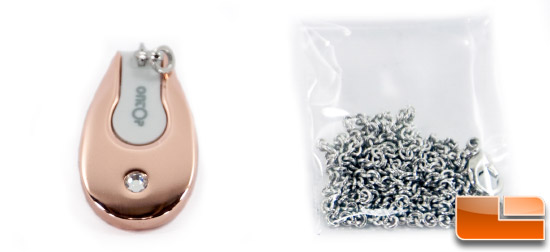 The actual drive portion of the device folds out with the pivot point being the top of the pendant where the chain attaches. The loops for the clasp attachment are solid (not a cinched piece) and seem like they are fairly sturdy. More on this later.

Notably absent are any LED's to indicate drive I/O activity. This is not a critical component but it can be helpful if you are one of many who don't bother with ejecting drives before removing them. Doing so during writes can corrupt data.