Netgear Nighthawk X4 AC2350 WiFi Router Review – Quad-Stream X4 Architecture
By
Netgear Nighthawk X4 AC2350 WiFi Router with Quad-Stream X4 Architecture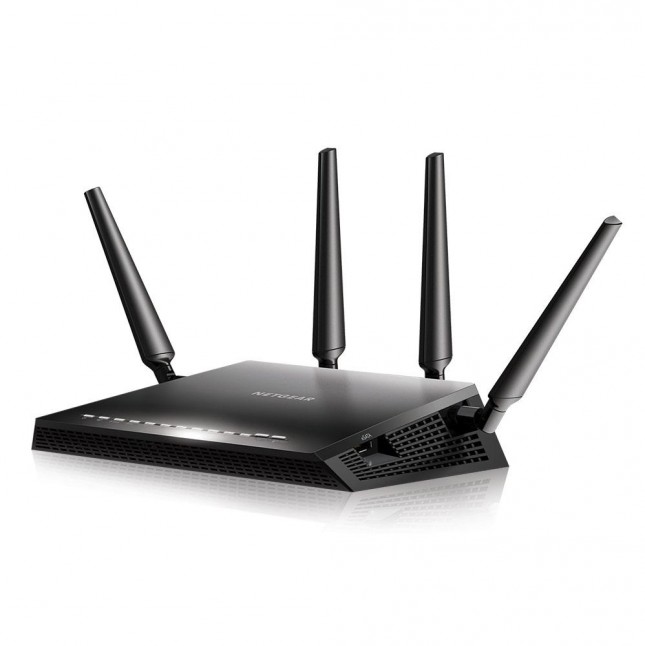 Today we are evaluating the newest Netgear 802.11ac router, the Nighthawk X4 R7500 that is the first high-end Netgear router to feature Quantenna's QSR1000 4×4 chipset for MU-MIMO support to help boost performance for multiple users of the same router. The R7500 is an Dual-Band AC2350 which means it can produce speed up to 600 Mbps on the 2.4 GHz channel and 1733 Mbps on the 5.0 GHz channel. The Netgear R7500 is priced at $249 shipped and is designed for users who spend time gaming and streaming multimedia content.
Before we get too far into the R7500, lets pause for a second and take a look back to last year when Netgear first announced their new Nighthawk series of routers. No longer was the Broadcom-powered R6300v2 the king of the hill, Netgear had announced no less than three new routers to hit the market in 2014 all powered by faster CPUs with expanded Wi-Fi speeds and features. The first one out of the gate was the $195 AC1900 R7000 which was a step up in Wi-Fi speeds over the R6300. Next out of the gate was our current head of class the $299 AC3200 R8000 boasting three separate radios for 5G redundancy. This router showed us speed and usefulness for households and offices that had a multitude of wireless devices.
Now on deck is Netgears Quad-Stream Nighthawk X4 AC2350 R7500. Dont be fooled by the model number though, on paper these three Nighthawk editions occupy very different space. With an update processor and super-fast radio, the Nighthawk X4 is designed to give the fastest WiFi speeds for households that both gamers and streamers. For anyone who has encountered lag or choppiness while playing their favorite console or computer game while other parts of the house want to utilize their favorite media streaming such as Netflix or Hulu. The X4 architecture is designed to optimize the bandwidth that you via beamforming and processing to help deliver connection speeds of up to 1.73 Gbps on the 5 GHz channel which is by far the fastest (theoretical) speed in any router we have seen.
Unlike the other two Nighthawk models, the Netgear Nighthawk X4 R7500 features a Qualcomm Atheros IPQ8064 dual-core SoC running at 1.4 GHz 40% faster than the R7000 and R8000 using Broadcomms BCM4709A0 CPU.
The router has four external antennas and Dynamic QoS to help with beamforming and wife signal range. Even though the router has only two radios (2.4 GHz and 5.0 GHz), the Dynamic QoS still allows the router to automatically direct traffic and prioritize signals based on the type of information being transmitted. For instance, if you want to make sure you have enough bandwidth to stream your HD video to two rooms simultaneously, you would allocate Netflix with a higher priority than World of Warcraft.
We will look at more of the R7500 features a bit later, but here is an overview of the Nighthawk X4 features:
Nighthawk X4 R7500 Featured Specifications:
Product Number – R7500
Product Thumbnail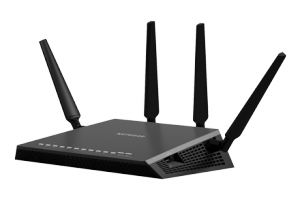 WiFi Technology
802.11ac Dual Band Gigabit
Speed and Range
WiFi Performance
WiFi Range
WiFi Band
Simultaneous dual band 2.4 & 5GHz
Beamforming
Beamforming+Smart, signal-focusing technology boosts the speed, reliability, and range of your WiFi connections
Number of Ethernet Ports
Five (5) 10/100/1000 Mbps Gigabit Ethernet ports (1 WAN & 4 LAN)
Number of USB Ports
Number of eSATA Ports
Key Features
Quad-Stream AC2350 WiFi up to 2.33Gbps (600 + 1733 Mbps)
Next generation Wave 2 WiFi
Fastest available 1.4GHz dual core processor
Dynamic QoS bandwidth prioritization by application and device
Twin USB 3.0 and eSATA ports for external storage
Four high-performance external antennas
Beamforming+ for more reliable connections
Memory: 128MB flash and 256MB RAM
ReadySHARE USB to share your USB hard drive and printer
IPv6 Support (Internet Protocol Version 6)
On/off LED light switch
Security
Customized free URL to set up personal FTP server
VPN supportsecure remote access
Guest network accessseparate and secure
WiFi Protected Access (WPA/WPA2PSK)
Double firewall protection (SPI and NAT)
Denial-of-service (DoS) attack prevention
Processor
Processor Technology
Qualcomm Internet Processor delivers unprecedented processing power enables better multi-tasking performance to support the growing number of connected devices, content, apps and services.
Dual-core 1.4GHz processor is manages advanced apps and media content, leaving the traditional network functions to the dual-core 730 MHz packet processing engine.
Faster media and storage Supports the latest media and storage interfaces for enhanced network services.
Memory
128MB flash and 256MB RAM
Physical Specifications
Dimensions: 11.22 x 7.26 x 1.97 in (285 x 184.5 x 50 mm)
Weight: 1.65 lb (750 g)
Product Diagram
Package Content
Nighthawk X4 AC2350 Smart WiFi Router (R7500)
Four (4) detachable antennas
Ethernet cable
Quick install guide
Power adapter
Standards
Two (2) USB 3.0 ports
One (1) eSATA port
IEEE 802.11 b/g/n 2.4GHz
IEEE 802.11 a/n/ac 5GHz
Five (5) 10/100/1000 Mbps Gigabit Ethernet ports (1 WAN & 4 LAN)
System Requirements
Microsoft Windows 7, 8, Vista, XP, 2000, Mac OS, UNIX, or Linux
Microsoft Internet Explorer 5.0, Firefox 2.0, Safari 1.4, or Google Chrome 11.0 browsers or higher
Now lets take a look inside the box to see what Netgear has equipped the X4 with.