MyDigitalSSD BPX M.2 NVMe 480GB SSD Review
By
Final Thoughts & Conclusions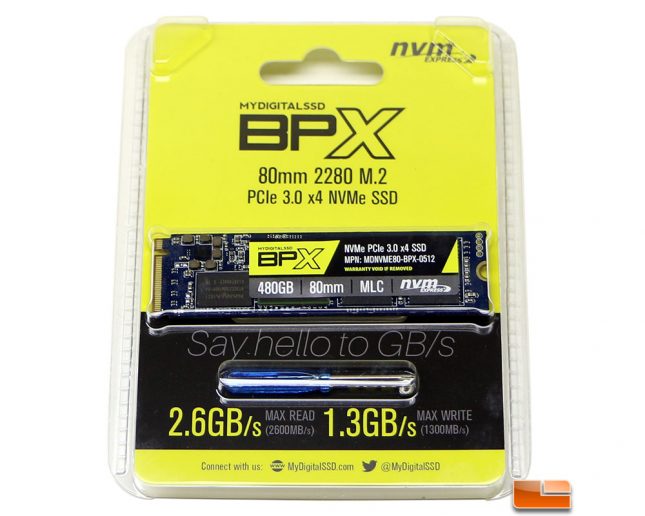 The MyDigitalSSD BPX 480GB SSD performance numbers that we are seeing on the test bench were impressive as we were hitting 2,961 MB/s read and 2,320 MB/s write in the standard overlapped I/O benchmark in ATTO. This drive is rated at 2,600 MB/s max sequential read and 1,300 max sequential write, so we were able to blow those numbers away. This might be an entry-level NVMe SSD, but the numbers are damn good and the BPX series will make for a good upgrade for those wanting something better than a SATA drive.
MyDigitalSSD BPX Series Street Pricing:
When it comes to pricing, the MyDigitalSSD BPX series is without a doubt the most cost effective Phison PS5007-E7 controller based storage drive on the market today. The 480GB model that we reviewed today is priced at $199.99 shipped or just $0.42 per GB. No other drive with the Phison PS5007-E7 controller can touch that.
Other PCIe SSDs Using The Phison PS5007-E7 Controller:
Other brands using the Phison 5007 controller are $30 to $140 more expensive and come with a shorter warranty and lower endurance rating. The 5-year limited warranty on the BPX 480GB drive is impressive as does the limiting factor of the warranty, the 698 TBW endurance rating. The Patriot Hellfire 480GB drive only has a 230 TBW endurance rating, so the MyDigitalSSD BPX comes with a 3x longer endurance rating for less money. This drive is a price versus performance winner!
If you are looking for an NVMe SSD and want the best bang for the buck the MyDigitalSSD BPX 480GB SSD should be on your short list. Sure, the Intel 600p series might cost less, but this drive has better performance, a higher endurance rating and it comes with a screwdriver and extra M.2 mounting screw (whew, got the fact that it comes with a screwdriver and screw at the very last second!).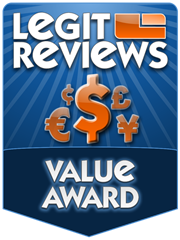 Legit Bottom Line: The MyDigitalSSD BPX M.2 PCIe NVMe 480GB SSD is the budget NVMe drive to beat right now. It has solid performance, a nice 5-year warranty, a healthy 698 TBW endurance rating and a low price point compared larger more known brands using the same controller technology.
Update 1/18/2017 @ 8am CT: Updated with correct TBW endurance ratings. The 1400 TBW rating is for the 960GB model that comes out in February 2017.