MyDigitalSSD Boost 1TB Portable SSD Review
By
A High Performance Portable SSD For The Working Class
A portable SSD certainly sounds good, but the seriously fast speed the bring to the table comes with a relatively high retail price. Last week, we posted a review on the SanDisk Extreme 900 960GB Portable SSD and it cost $459.99 shipped. Today we are looking at the MyDigitalSSD Boost USB 3.1 Portable SSD that comes either as a diskless enclosure for $49.99 shipped or a populated 1TB model for $440.86 shipped. The diskless version is a really interesting product as there aren't too many USB 3.1 Gen 2 enclosures on the market that allow you to run two mSATA III drives in RAID 0 for up to 830 MB/s sequential read and up to 730 MB/s sequential write speeds. That rated speed is dependent on the drives you use inside and of course the systems you are using it on. MyDigitalSSD also slaps a 3-year warranty on the Boost USB 3.1 SuperSpeed Plus (SSP) Portable SSD, so you get a fast drive that is backed by what we would consider a standard warranty.
MyDigitalSSD Boost USB 3.1 Portable SSD Features
50mm (Full) and 25mm (Half Size) mSATA SSD compatibility
Durable matte black/red aluminum casing (98mm x 80mm x 17mm) with silver trim
ASMedia ASM1352R Chipset
USB3.1, USB3.0, USB2.0, and USB1.1 operation support
Supports H/W RAID 0, RAID 1, SPAN, and JBOD modes
Compliant with USB 3.1 specification revision 1.0
Compliant with USB 2.0 specification revision 2.0
Compliant with Serial ATA specification revision 3.2
Windows, Linux, and Mac OS support
TRIM/UNMAP support
Plug and play
Hot swappable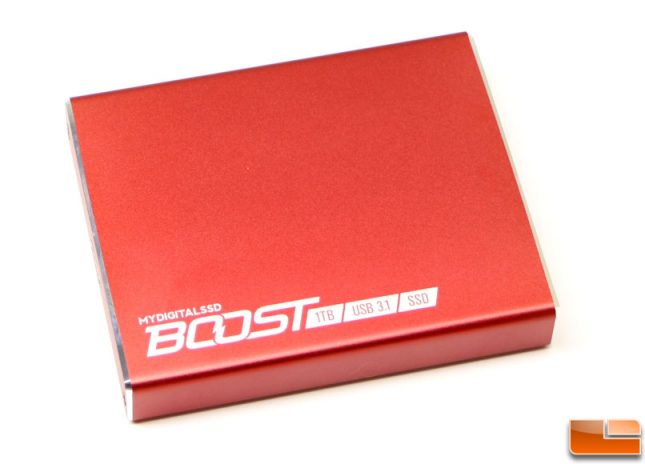 The model we'll be looking at for this review is the MyDigitalSSD 1TB Boost USB 3.1 SuperSpeed Plus UASP Portable SSD that is sold under part number MDMSR-BST-1TB-RD. You can also get this enclosure in black under a different part number for the same price. The red finish on the aluminum housing looks good and if you are a fan of all metal enclosures you'll like this one. The bundle includes two 18-inch USB 3.1 cables. One is a USB-A to Micro-B cable and the other is a USB 3.1 Type-C to Micro-B cable for use with the latest systems with a USB Type-C port.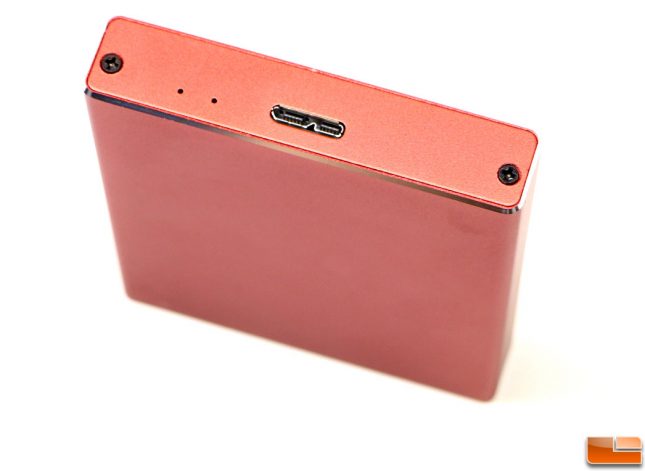 The use of a USB Micro-B port on the device itself is disappointing as most external SSDs have USB Type-C ports now, but we do understand that adds to the cost and that MyDigitalSSD was trying to keep costs down.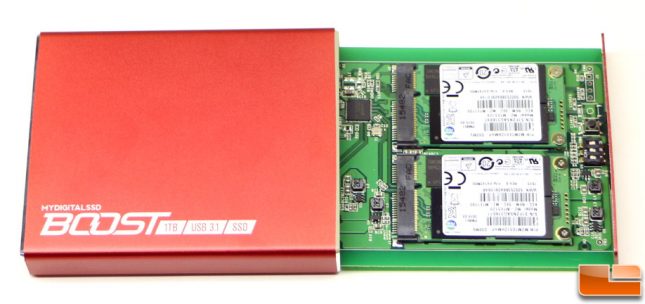 Inside we discovered that MyDigitalSSD went with Samsung PM851 512GB mSATA SSDs that run $270.95 each on Amazon. These drives use the Samsung 3-core MDX controller and are paired with 50nm TLC NAND Flash for up to 540 MB/s read and 380 MB/s write speeds. When paired together with the ASMedia ASM1352R Chipset you get speeds of up to 830 MB/s read and up to 730 MB/s write with this design.
If you wanted to buy the diskless MyDigitalSSD Boost USB 3.1 Portable SSD enclosure you could buy a pair of Samsung 850 EVO 500GB mSATA SSDs for $181.70 each. That would give you a grand total of $413.39 for this enclosure and two of those drives. You can also buy any other brand mSATA SSD to put in here, so you can easily build a 512GB or smaller portable SSD with fast speeds for well under $400.
If you ever wanted to change the RAID mode on the MyDigigtalSSD Boost, you'll need to open up the enclosure by removing the Philips screws to gain access to the main PCB. On the middle of one side of the circuit board you'll see a few DIP switches that will allow you to change the mode of the drives. The back of the PCB has a drawing of what modes you an do.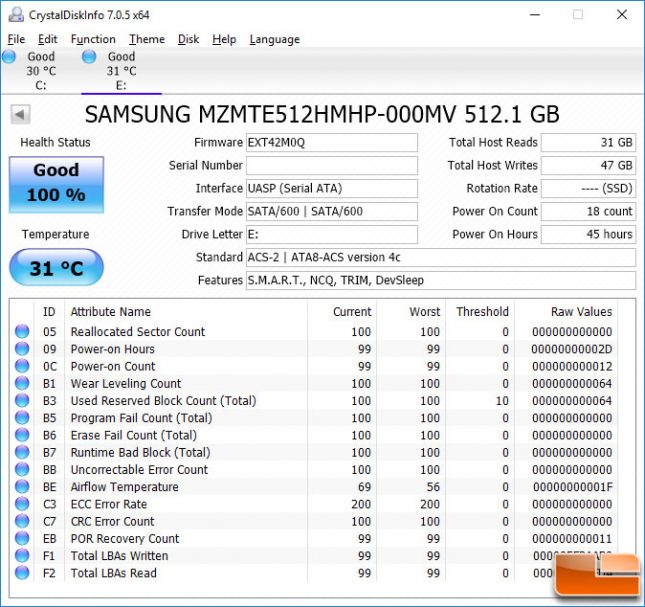 It should be noted that we tested the MyDigitalSSD Boost USB 3.1 1TB portable SSD that we tested came with two Samsung PM851 mSATA with firmware EXT42M0Q.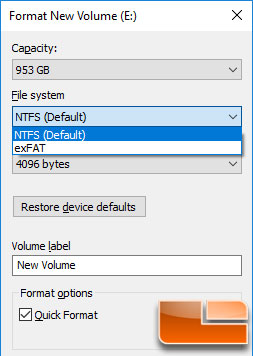 Fresh out of the box the MyDigitalSSD Boost USB 3.1 Portable SSD drives come pre-formatted for NTFS and are ready for use on Windows 7, 8.1 or 10 systems. If you are wanting to use this on an Apple product you'll need to change the file system over to exFAT.
Let's take a look at some performance tests that we performed on Intel X99 powered desktop PC and wrap this up!