Mushkin Redline Memory Raises The RPM's
By
Overclocking / Conclusion
Overclocking
Overclocking on the DFI LanParty SLI-D motherboard can be tricky, but by using the BIOS, a clockgen, and AMDTweaker we were able to overclock the motherboard with ease. Most overclockers buying this memory want to have 2-2-2 timings, so we overclocked with very aggressive timings set in the BIOS on our AMD 3500+ Venice processor. With 2-2-2-5 timings at a 1T command rate and 3.6V we were able to reach 510MHz with a solid Sandra 2005 score of roughly 7350Mb/s.
Next we reduced our timings to 2-2-2-6; 2T and raised the voltage up to 3.7V and was able to reach 273MHz or DDR546 with our XP4000 memory modules. At these speeds we were able to get a Sandra 2005 score of 7400MB/s once averaged.
Below is a screen capture of our CPU-Z 1.29 settings and the Sandra results at 546MHz.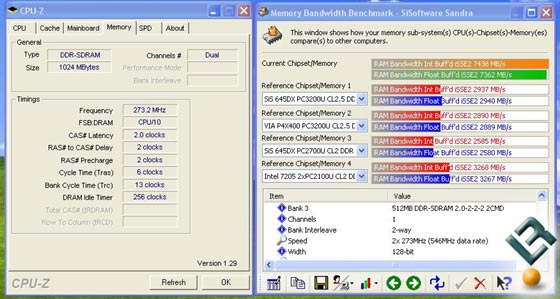 Reaching 510MHz at the most agressive timings possible, with complete stability is pretty nice and the scores are also impressive. When running our PC-3200 at 2-2-2 on a stock 3500+ our scores were roughly 5800MB/s. After overclocking our system and taking the memory to the Redline we were able to reach 7400MB/s. A 1.6GB/s increase in memory bandwidth over our stock system was nice to see!
Conclusions:
Nathan Kirsch's Thoughts:
The memory industry has seen a number of changes over the past few years and the use of UTT memory IC's is another big change. The performance numbers shown from Mushkin's Redline XP4000 modules are impressive to say the least. If you have a platform that is able to run high voltages then these modules are something to consider for sure. Just keep in mind that ACTIVE COOLING is required and from our testing in the lab it really does help. When PC-3200 2-2-2 came out they were 2.6V and now with these new modules consumers are told to run 3.5V through the modules to get PC-4000 2-2-2. The voltage required on enthusiast modules has gone up dramatically as you can tell, but with proper cooling nothing should go wrong.
The performance of these modules was impressive after benchmarking them on a number of applications. The memory bandwidth and number of frames per second in games both increased thanks to the tight timings. Out of the three Mushkin modules we tested during this review the winner is clear as the Mushkin Redline modules beat out the other two kits on every single benchmark. The Redline XP4000 modules are also the fastest 2-2-2 modules that we have had out of the box. Reaching 2-2-2-2; 1T at 510MHz, was once a long shot for the average consumer, but now it can be done easily with no major mods needed.
In terms of pricing the Mushkin Redline XP4000 can be found at $275 from Monarch Computers, $213 direct from Mushkin, or $199 at Newegg (Out of Stock). As you can tell the pricing varies from $199 to $275, so shop around for the best pricing before you pick a kit up. The Mushkin Redline XP4000 modules are competitively priced at just under $200 and over a very good price versus performance ratio.
UPDATE: (11am 6-14-2004) Mushkin has informed us that their 1GB Redline XP3500 kit has a $30 mail-in rebate on it right now. That puts the modules at $169 plus shipping over at Newegg from 6/13/2005 to 6/30/2005. The XP3500 kit uses the same PCB's and IC's as the XP4000 kit, but is rated lower by Mushkin. Not a bad deal seeing how the XP4000's are sold out!
Looking back at my experience with the Mushkin Redline XP4000 modules it has been a positive one. The modules work well on the DFI SLI-D motherboard and that can't be said for many older modules. Overclocking was not hard and the modules never got too hot with our single 80mm fan sitting above them. If you live your life in the fast lane then these modules are right up your alley.
Legit Bottom Line:
Mushkin's Redline XP4000 memory takes 2-2-2 timings to a whole new level by allowing users to reach previously unseen tight timings at high frequencies. To top it all off they were able to pack all this performance into a 1GB kit that retails for less than $200 (USD)!!