Mushkin Redline Memory Raises The RPM's
By
Mushkin Redline XP Memory
Mushkin Enhanced Memory has been a player in the DRAM market for years and just recently has taken another jab into the heart of the enthusiast market. This time around Mushkin has secured a number of Winbond based UTT IC's that have been packaged and put on some Brain Power 815 PCB's. The end result was not only a new part number, but a whole new memory series called Mushkin Redline XP (Extreme Performance). Mushkin states that their Redline memory series eliminates the memory as a potential hardware bottleneck when overclocking their DDR1 systems. Today, we take a look at their XP4000 2-2-2 Redline memory and see if it is all that Mushkin says it to be.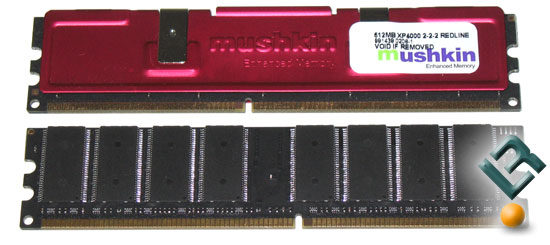 When Mushkin first told us the name of the new series, Redline, I thought that the name was perfect. Redline has been for years a thing that many professional racers and weekend racers have learned to love or hate. The thrill of having your car running 6,000+ RPM's down the quarter mile strip at 150+ MPH is a rush that few people will have experienced, but once you try it you get addicted. In a sense overclocking is the same thing. You take a bunch of parts and modify them to run as fast as you can with the thrill of it all being the chance of it breaking or breaking records. Mushkin's XP4000 redline memory is rated to run at 3.3-3.5 Volts, which is above the redline on many boards. To be honest only DFI's DFI LanParty UT NForce4 Ultra-D, DFI LanParty UT NForce4 SLI-DR, and DFI LanParty NForce4 SLI-DR offer the voltages needed to operate correctly. Boards that are unable to reach these voltages may be able to do so with the help of a "voltage booster" that is marketed and sold by OCZ Technologies.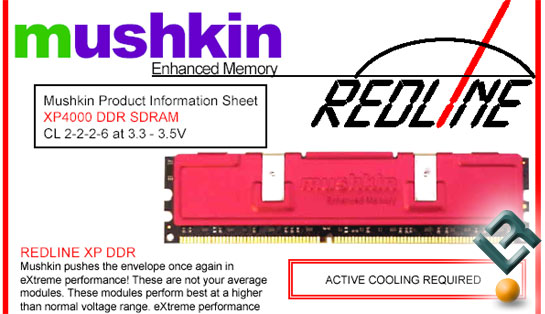 Once you get your platform correctly set up you then need to make sure the correct "safety" devices are in place for your official redline experience. Just as the NHRA requires safety restraints, Muskin requires that computer enthusiasts use active cooling to keep the Redline XP memory series cool and performing at their best. Modules that are not properly cooled will/may not meet rated timings and speeds, and may become susceptible to premature failure. Mushkin currently recommends 15-25cfm of direct airflow over the ram modules which can be easily accomplished with one 60mm or 80mm low rpm fan.
Now that you know what platforms the Muskin Redline XP4000 memory line works on and what is required in terms of cooling we can take a closer look at the modules and then redline them to see what we get in terms of performance.