Mushkin Redline Memory Raises The RPM's
By
What is under the Heat Spreader?
When removing the heat spreaders the warranty is voided, so we do not suggest removing them unless you don't plan on using the lifetime warranty. Once our nice red heat spreaders were taken off the modules were found to be to be using Brain Power 815 PCB's and unmarked UTT memory IC's.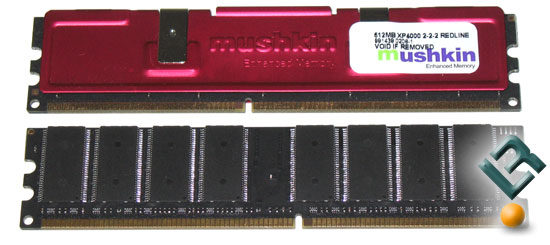 The Jet Black colored Brain Power 815 PCB's differ from the JEDEC design, but have proven to have good overclocking results in the past. The PCB has six layers and holds 16 UTT IC's on the double sided modules. This means the modules are using the 32M x 8 configuration. Let's take a closer look at the IC's themselves.
Last month we wrote an in-depth article on UTT IC's, so if you don't know what UTT stands for you need to read it. Since the UTT IC's come unmarked, we had a tough time trying to identify the IC's. Mushkin was sure that they used Winbond UTT IC's, but did not comment on which revision (BH, CH, DH) they were using right now.
Key Features:
Memory amount: 2 x 512MB
Memory IC's: Unmarked Winbond UTT IC's
500MHz (PC-4000) Unbuffered DDR Modules
CAS latency: 2 clock cycles
RAS precharge: 2 cycles
RAS active to precharge: 6 cycles
Command rate: 1T (1 cycle)
Red heat spreader for thermal diffusion
Latency: 2-2-2-6-1T
3.3-3.5 Volts
Lifetime Warranty