Mionix Castor Ice Cream Edition Mouse Review
By
Mionix Castor Ice Cream Edition Mouse
Swedish-based Mionix was founded in 2007 and is a producer of computer peripherals designed for enthusiasts, with an emphasis placed on craftsmanship and ergonomics. Manufacturer of the popular Naos and Castor series of mice, Mionix recently launched a lineup of products known as the GetFresh collection that is designed to help users give their setups a unique visual flair.
Taking a break from the typical black colored peripherals and accessories we see pumped out by manufacturers left and right, Mionix has designed their GetFresh collection of peripherals and accessories around popular food items such as donuts, french fries and ice cream. I know, it sounds silly and is a bit hard to visualize, but Mionix has developed some visually appealing products that can bring a new aesthetic to a boring old PC setup. The lineup of Mionix Lifestyle products includes mouse pads, wrist rests, mice and more. While I am not sure that the market was clamoring for this radical change in peripheral design, I certainly don't see any problem with it and like the fact that Mionix has stepped out of the box with this stuff. Despite Mionix marketing their Lifestyle products with pictures of them perilously close to food items, I highly suggest that you do not eat donuts and nacho fries around your PC.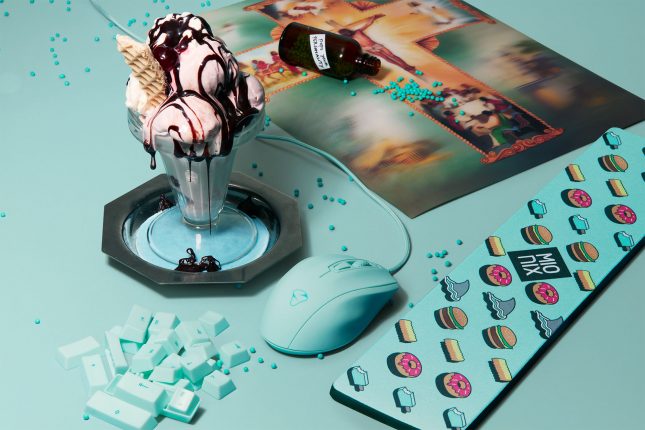 Taking a proven design and updating it a bit, the Mionix Castor Ice Cream Edition puts a visual spin on one of the most comfortable, well-built gaming mice in the industry. The original Castor came out a couple of years ago and quickly gained praise for its amazing shape and ergonomics, paired with consistent tracking performance thanks to the Pixart PMW 3310 sensor. The 2017 Mionix Castor refresh didn't just see Mionix update the popular mouse with new colors, Mionix has also improved click latency on the 2017 Castor, as it was an issue that plagued the original version of the mouse. Rather than emulating up to 10,000 DPI as they did with the original Castor, Mionix has set the DPI on the 2017 Castor to a reasonable maximum of 5,000, which will reduce processing latency. The original Castor was a fine mouse, Mionix knows that and wanted to tweak it a bit in an attempt to make it more appealing to a wider audience.
Mionix Castor Ice Cream Edition Features
5000 native DPI optical sensor (PMW-3310)
Adjustable DPI-settings in 50-steps
6 fully programmable buttons
128 kB built-in memory
Soft touch coated surface
Truly ergonomic design
93 Grams
Compatible with Windows and MAC OS.
Mionix covers their mice with just a one year warranty in North America, while Europe gets two years due to their laws. Mionix doesn't have US offices to handle RMA requests, so if you buy Mionix products, be sure to do so through authorized dealers, like the official Mionix Store on Amazon.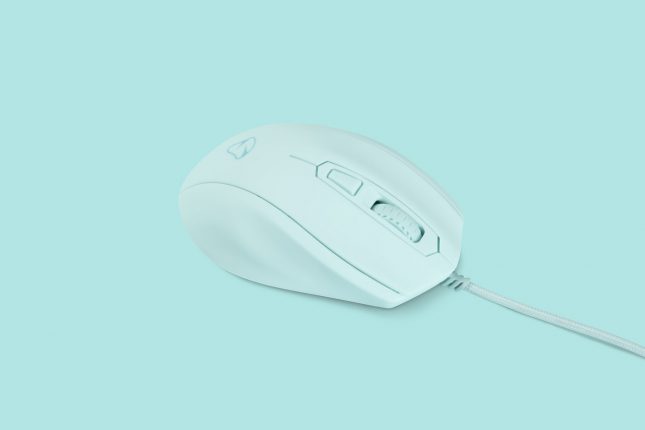 The Mionix Castor Ice Cream Edition mouse ($59.00 shipped) features a tried and true Pixart PMW-3310 optical sensor. The Pixart PMW3310 is an accurate sensor that works quite well, offering no acceleration or jitter in typical DPI ranges, but it is becoming quite outdated and has been overshadowed by the PMW3360 sensor, which is also from Pixart. The Pixart PMW-3360 has been available for quite some time now and offers latency and DPI/LOD improvements over the PMW3310. I am not sure why Mionix didn't update the Castor with the PMW3360 sensor, beyond it being a cost-saving measure. With that said, in actual use scenarios at the 700-1200 DPI range that I play at, it is hard for me to tell a difference between the PMW3310 that has been integrated into the Castor and the PMW3360 sensor that is integrated into various mice I've tested over the past year. Still, it is a shame that Mionix didn't outfit their latest mice with the PMW3360 sensor from Pixart, as all of the other major mouse manufacturers are doing this, or using variants of the PMW3360.
Since the Mionix Castor Ice Cream Edition and the other Mionix Lifestyle edition mice don't have any integrated LED lighting, they come in just bit lighter than the original Castor, which had RGB lighting zones at the logo and scroll wheel sections. The original Castor was already pretty lightweight, coming in at under 100 grams without the cable, but the new edition tilts the mouse even closer to 90 grams without the cable, making it very lightweight and easy to maneuver.
Mionix Castor Ice Cream Edition Unboxing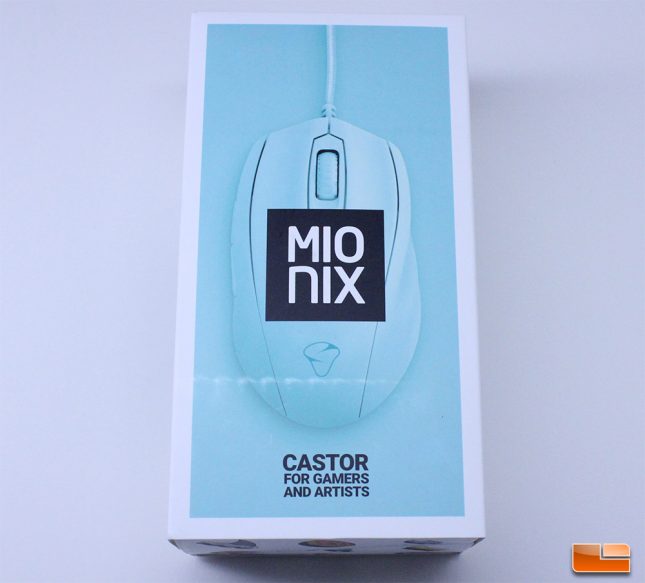 The box of the Mionix Castor Ice Cream Edition continues the trend of unique packaging and presentation from Mionix. The front of the box simply has the pistachio-colored Castor Ice Cream in a top-down view with the Mionix logo obscuring the center of the mouse. The Castor model name is underneath the image of the mouse, with the tagline "for gamers and artists" underneath. I am used to seeing DPI specifications and other marketing on the front of mouse packaging, but Mionix has gone with a really simple approach for the front of the Castor Ice Cream box.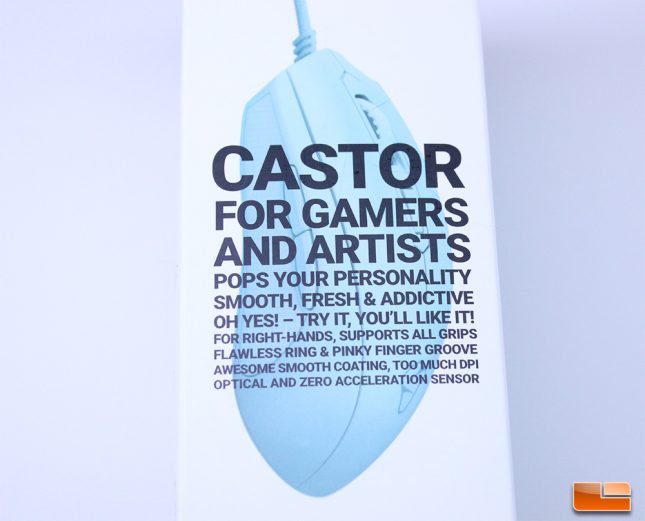 Mionix pokes a bit of fun at their competition and got a chuckle out of me by noting "Too Much DPI Optical and Zero Acceleration Sensor" on the side of the Castor Ice Cream box. Until now, I've never heard a company try to market a mouse as smooth, fresh and addictive, but Mionix is busy making mice with ice cream and french fries as inspiration, so I can't be too surprised by any of their marketing strategies.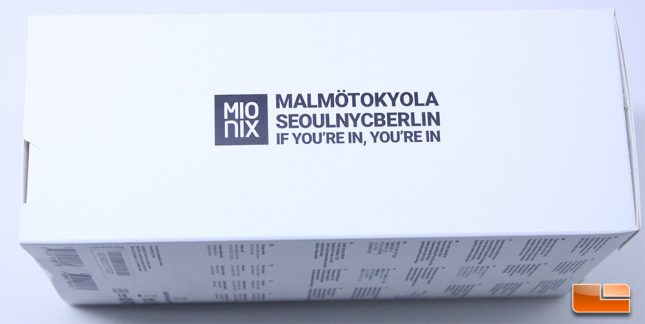 Somebody once told me that if you have to ask if you're in, you're definitely not in. Here is a bit more of that cheeky marketing from these Swedes at Mionix on the side of the Castor Ice Cream Edition box.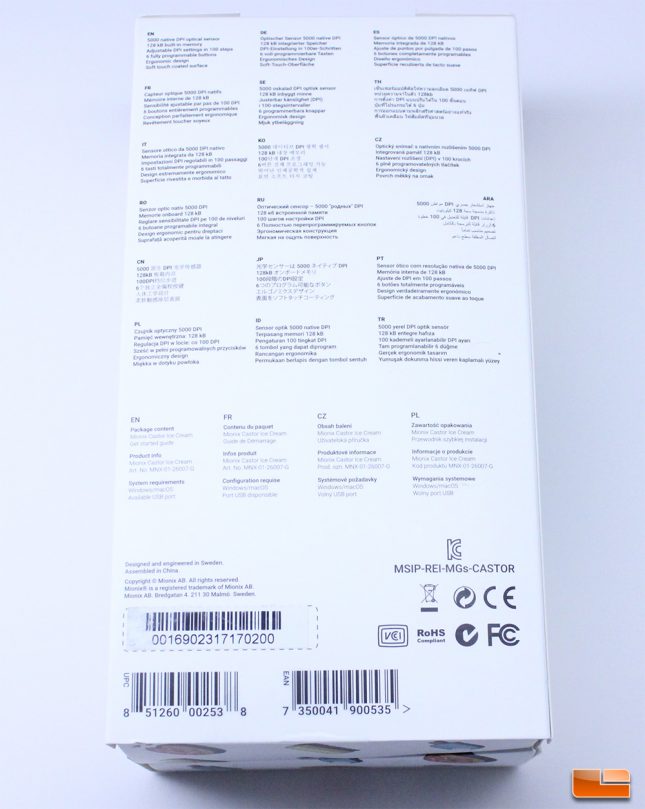 The back of the Castor box takes a break from being quirky and unique to be boring and technical. While Mionix provides basic specifications for the Castor, you'll notice that a lot of potentially important information is missing from the box of the Castor Ice Cream. Users consider weight and dimensions of a gaming mouse to be important factors for purchase, but that information isn't available on the rear of the box of the Castor. Mionix outfitted the Castor with a PMW3310 optical sensor and Omron 20 Million Click main switches, both quality component selections that don't get any mention on the box. I know Mionix has a unique marketing approach for this mouse, but giving users basic specifications would be really helpful. I couldn't even find the weight and dimensions for the Castor on the Mionix Castor Ice Cream product page, nor was the warranty information listed directly on the page.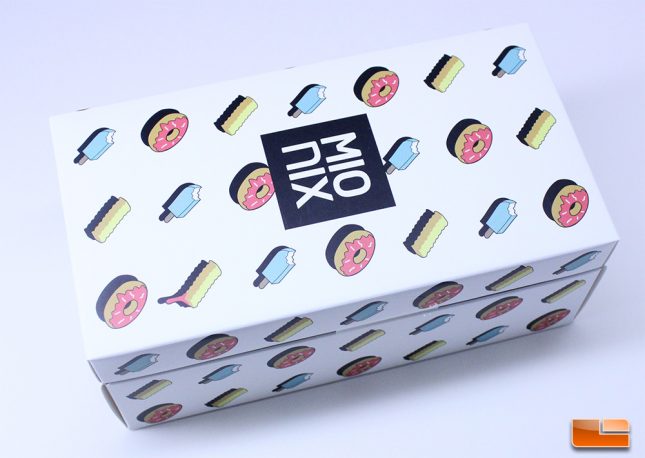 Possibly the first product I've ever unpacked that ended up making me hungry, the Mionix Castor Ice Cream inner sleeve is lined with various graphics from the Get Fresh series from Mionix. We see ice cream bars, donuts, french fries and a shark fin. I am not sure who at Mionix was thinking of delicious snacks like french fries, donuts and ice cream and then suddenly thought of shark fin soup, but it certainly is weird.
The Castor is shipped in a custom clamshell that perfectly encases and protects the mouse during shipment, with the cord going into a small cut out in the bottom portion of the clamshell and wrapped nicely underneath.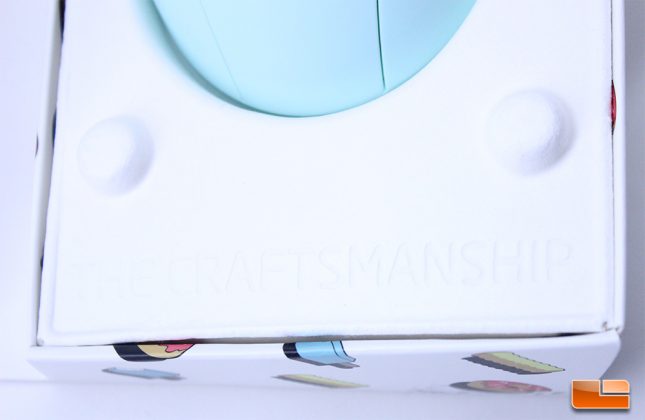 Mionix has stamped "The Craftsmanship" onto the bottom clamshell that the Castor Ice Cream Edition mouse ships in. The presentation here is really simplified and places a lot of attention on the mouse, which has a really cool looking, smooth, consistent color that reminds me a lot of Blue Moon Ice Cream.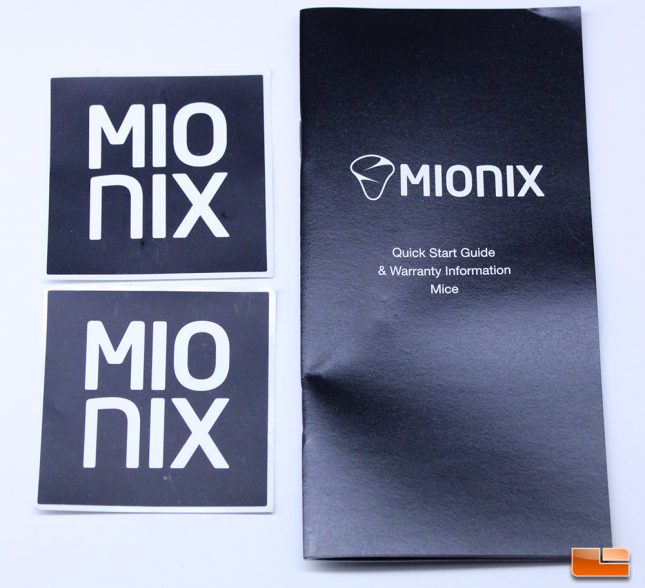 Mionix includes a Quick Start/Warranty guide and a couple of Mionix stickers with the Castor Ice Cream Edition mouse.
The custom packaging that Mionix shipped the Castor Ice Cream Edition in was indicative of a high quality product, with Mionix ensuring the mouse was nestled properly in the package, with a simple, clean presentation mixed with a bit of creativity and humor. I do think that Mionix should focus a bit more on including more technical information on the packaging for the Castor Ice Cream Edition, along with the product page on the Mionix website, as pertinent information like weight and dimensions aren't readily available.
Let's take a closer look at the Mionix Castor Ice Cream Edition on the next page.