Mad Catz R.A.T. TE Gaming Mouse Review
By
Software: Mad Catz A.P.P.
The R.A.T. TE does not come with Mad Catz's A.P.P. customization software. Instead, the driver and software must be downloaded from the Mad Catz downloads site. Both Windows and Mac software versions are available and Mac users only need to download the software.
The R.A.T. TE customization menu is organized into tabs for navigation. Along the top is PROGRAMMING for assigning and customizing mouse button macros, SETTINGS for changing tracking sensor settings, and SUPPORT for accessing a library and links for help documentation.
The PROGRAMMING submenu is split into a picture of the R.A.T. TE with boxes, pointers, and mode switch to the left and a menu of commands to the right. A number of Windows or Mac system shortcuts can be assigned such as copy and paste or keyboard inputs.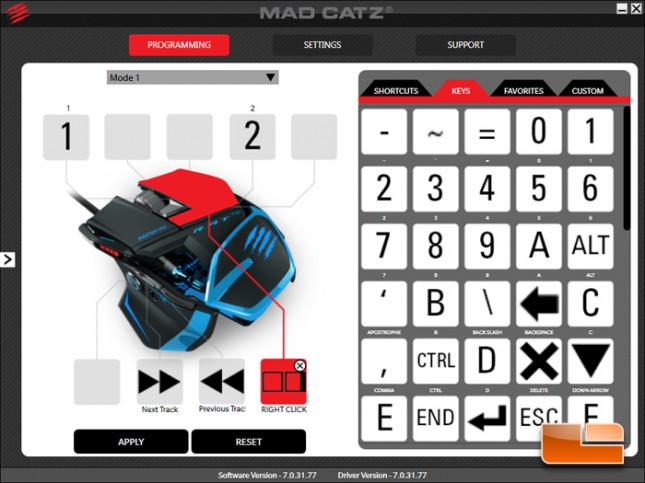 Custom macros can be recorded, saved, and then assigned to a mouse button.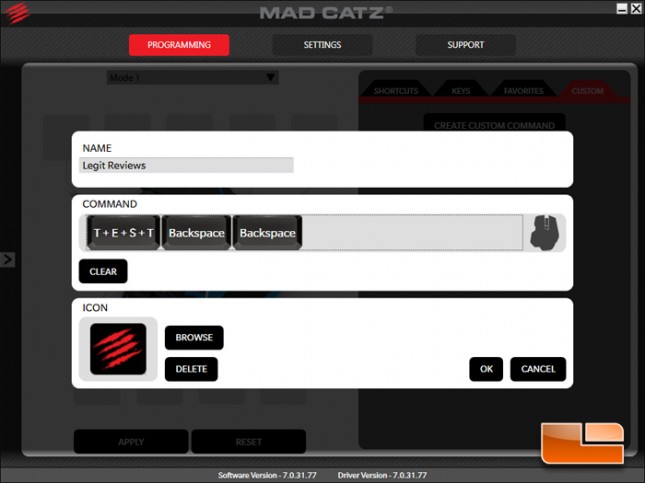 A dropdown above the recreated image of the R.A.T. TE lists three custom profiles. Pressing the arrow tab to the left will bring up a list of profiles which contain their own set of button assignments and macros.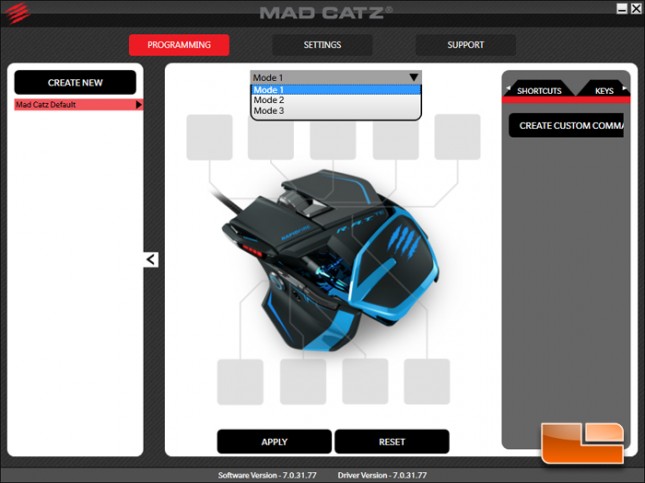 Here we've loaded a suite of preset profiles downloaded from Mad Catz website. To install them, simply drop the .pr0 files into the R.A.T. TE folder within the Mad Catz folder in Documents.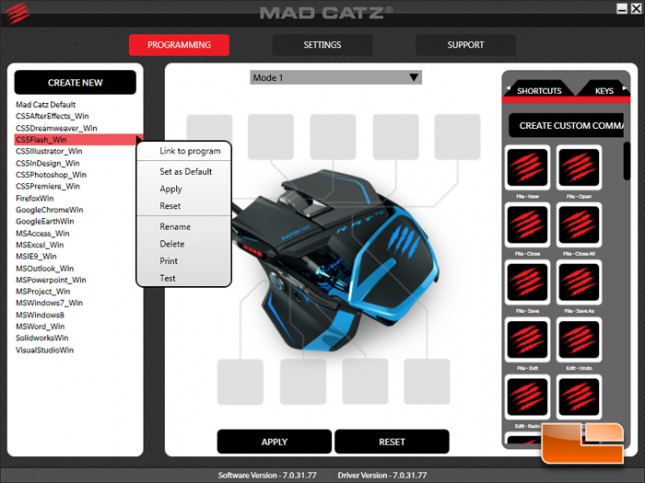 The first of the submenus in SETTINGS is Mouse Response which changes sensor sensitivity. Each of the four DPI banks can be customized even for individual X and Y axes.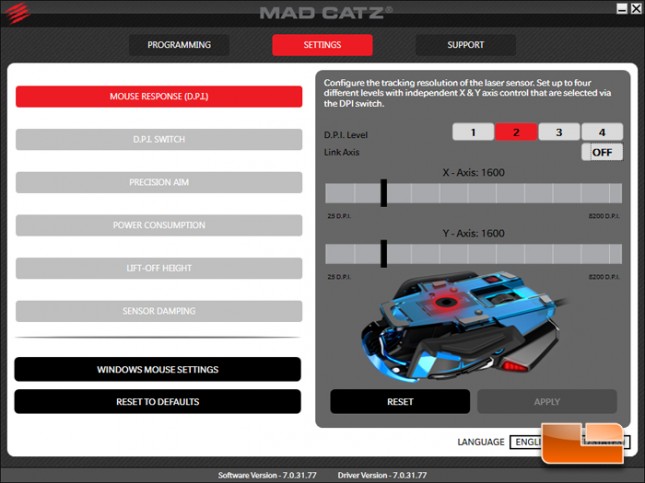 DPI Switch toggles whether the tilting button next to the scroll wheel is set for on-the-fly DPI switching or to act as additional mouse macro buttons.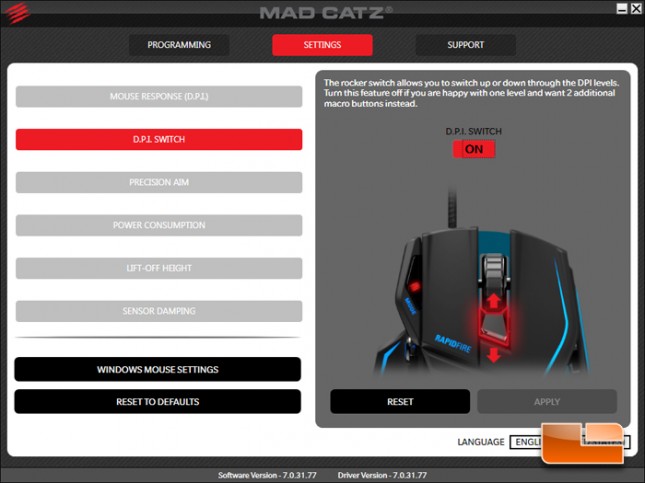 Precision Aim modifies the sensitivity reduction when the Precision Aim button is pressed. The slider is scaled in percentage.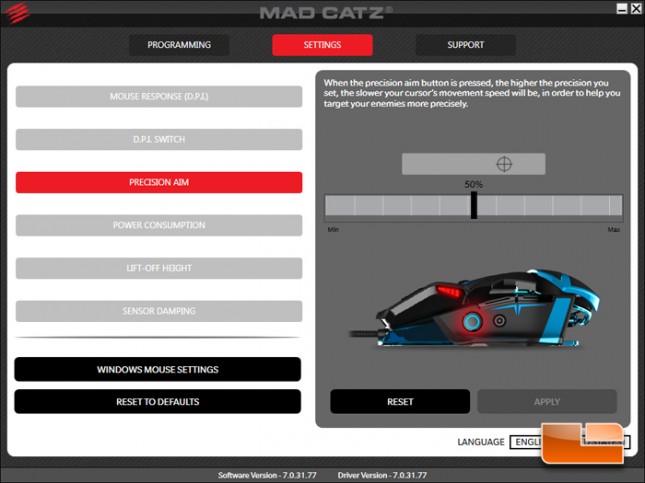 Power Consumption enables sleep states fothe R.A.T. TE and is provided primarily for laptop users in consideration for battery life.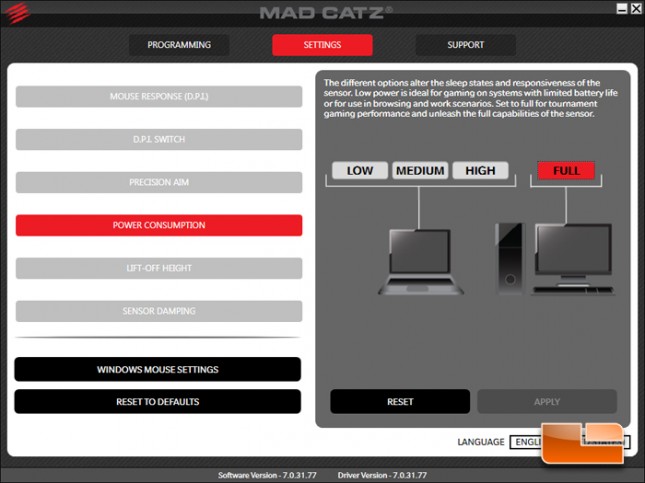 Lift-Off Height changes the height distance the laser sensor should cut-off when lifting. Mad Catz recommends 0.2 mm for smooth or metallic surfaces, 0.35 mm for silcon mats or lightly textured surfaces, and 0.5 mm or greater for cloth mats or heavily textured surfaces.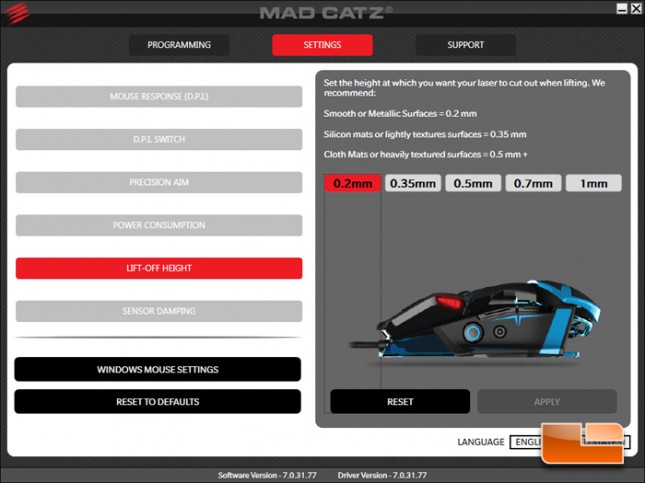 Sensor Damping modifies compensation for laser sensor tracking errors. Mad Catz suggests using a higher setting for more uneven surfaces.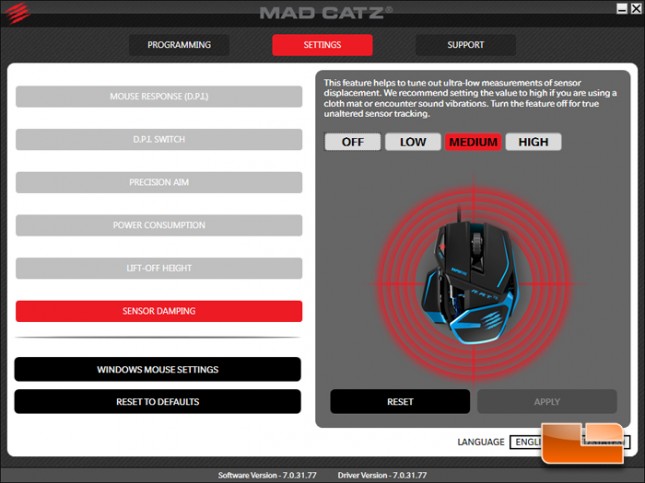 The SUPPORT tab has links to various help documentation including a tutorial video that has not yet been linked, a programming manual, a quick start guide, software download pages, Mad Catz support, and social media.