MACS Monsoon II Lite Intel Active TEC CPU Cooling System
By
Final Thoughts and Conclusions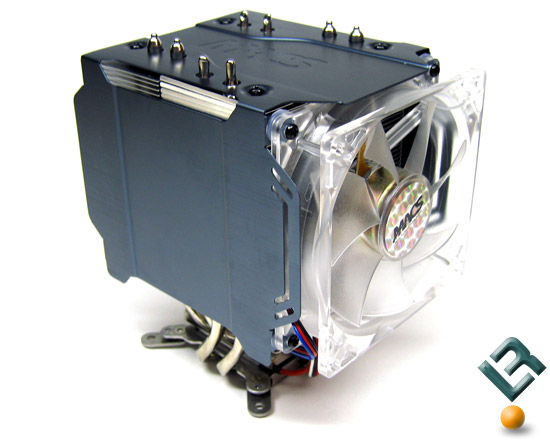 Nathan Kirsch's Thoughts in First Person:
The original Monsoon II TEC CPU Cooling System was supposed to designed exclusively for Vigor Gaming, but the recent release of the Ultra Chillitec quickly popped that bubble. It made Vigor Gaming go back to the table and make improvements to their design and find a way to cut costs. I believe Vigor Gaming did just that with the Monsoon II Lite and they did so without hurting performance. They were able to keep the performance the same by not changing the fan, TEC or heat sink design and did away with some fluff that really wasn't needed to start with.
The new mounting system is greatly improved and is easy enough for even a novice computer user to do with success. When I used the Monsoon II Lite on our Intel Core 2 Duo test system I found that it did perform better than the Thermaltake Big Typhoon VX and Corsair Nautilus 500 at default settings and mild overclocking, but water cooled still ruled when overclocking to the hilt.
The original Monsoon II CLT-M21 Intel cooler will set you back $149.99 plus shipping making it the same price as the Corsair Nautilus 500. The model we reviewed in this article was the Monsoon II Lite CLT-M2LA, which can be found for $111.99 plus shipping. This version is being sold at 25% less than the original and performs exactly the same, so if you're looking for the best price versus performance ratio between the two the CLT-M2LA is the way to go.
The Monsoon II Lite is also great for those that are afraid of running water in their computer case and for those consumers the CLT-M2LA is a very good alternative. While TEC cooling systems in the past have has condensation problems the Monsoon II didn't have any condensation problems due to the cold side being directly on the die and thanks to the management unit turning it on or off while monitoring temperatures.
Legit Bottom Line: The Monsoon II Lite TEC CPU Cooling System brings safe thermoelectric cooling to the CPU cooling market, but for the same price an entry level water cooler can be had.