MACS Monsoon II Lite Intel Active TEC CPU Cooling System
By
Test 3: The Hardcore Overclocker
Profile 3: The Hardcore Overclocker (Major Overclocking)
CPU Multiplier: 7x
CPU voltage: 1.50625V
FSB Voltage: 1.40V
FSB: 1960MHz
Memory Voltage: 2.20V
Final CPU Frequency: 3.43GHz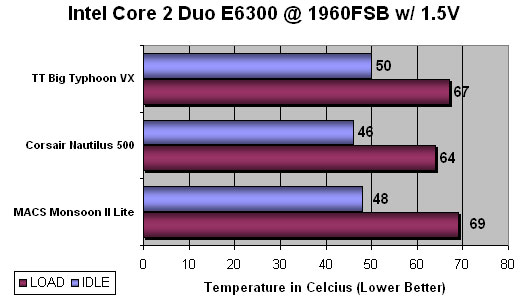 Results: This overclock is really pushing the limits of both the processor and the cooling as things are really starting to heat up. It looks like we finally reached the limit of the TEC on the Monsoon II Lite as it now performs the worst at load. With the processor putting out more heat than the cooler can handle we were nearly hitting 70C, which is too hot for our tastes. The Corsair Nautilus 500 finally struts it stuff and beats out the TEC cooler and air cooler at both idle and load temperatures. Something that was interesting to note is that the Corsair Nautilus 500 cooled system was the only one that could complete two instances of Super PI 32M at these settings.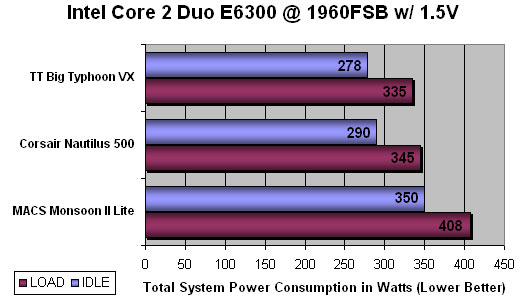 Results: There is nearly a 100W power consumption difference from our stock settings to our highest stable overclock, which just goes to show that overclocking needs more energy and in turns produces more heat. No shocker here to see the Monsoon II Lite consuming the most power as it is the first cooler to put the system over 400W.
Let's take wrap this up!