MACS Monsoon II Lite Intel Active TEC CPU Cooling System
By
Test 2: The Average Enthusiast
Profile 2: The Average Enthusiast (Mild Overclocking)
CPU Multiplier: 7x
CPU voltage: 1.4000V
FSB Voltage: 1.30V
FSB: 1600MHz
Memory Voltage: 2.20V
Final CPU Frequency: 2.80GHz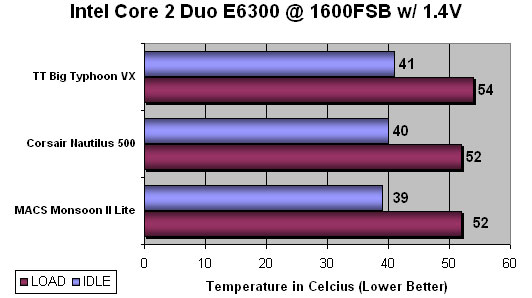 Results: Things are starting to heat up now and both the MACS Monsoon II Lite and the Corsair Nautilus 500 are both at the same load temperatures. At idle there is just a 1C difference between each cooler, which is amazing.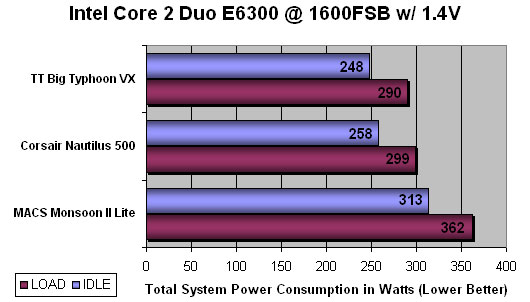 Results: When it comes to power consumption on our mild overclock the the MACS Monsoon II Lite consumes more power than either of the other coolers as the TEC plate was running at full throttle at both idle and load trying to keep the cooler nice and cool. The Big Typhoon VX and Nautilus 500 remained under 300W at load, but the Monsoon II Lite was well above that, running at 362W.
Let's take a look at extreme overclocking.