Logitech G910 Orion Spark RGB Mechanical Gaming Keyboard Review
By
Logitech G910 Orion Spark RGB Mechanical Gaming Keyboard
Logitech products have long been one of the favorites for gamers. Many of their computer peripherals are well regarded for their affordability and reliability their range of home, lifestyle, business, and gaming focused products in many different places. More recently, we've observed the company take new approach with its gaming brand, now called Logitech Gaming. The immense surge of interest in competitive multiplayer gaming in recent years has attracted many companies to push forward performance products through sponsorships and partnerships. Logitech didn't push its gaming products as aggressive for a relatively long time until about the time of the League of Legends Season 3 World Championship in fall of 2013. Since then, Logitech Gaming has readapted and redesigned many of its products to fit in emerging gaming landscape.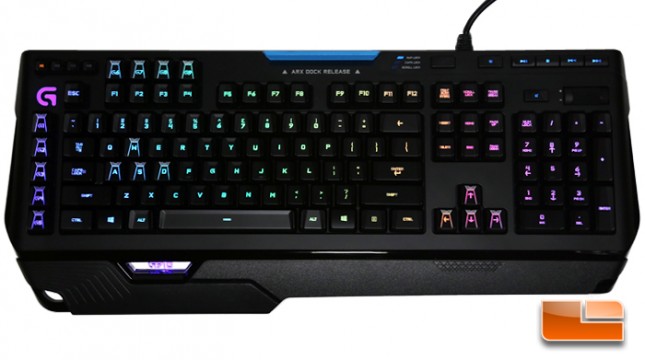 The G910 Orion Spark is Logitech's first RGB mechanical keyboard and it looks nothing like their past keyboards. Its exaggerated futuristic looking vibe stands in contrast to the more conserved, if still somewhat overdone G19 predecessor. There's also the new naming scheme for Logitech Gaming products released since last year which involves tacking on some combination of two words with the first being the name of a character from Greek mythology. For the G910's namesake, Orion was a giant huntsman who after his death and defeat to a giant scorpion was honorably placed in the night sky as a constellation.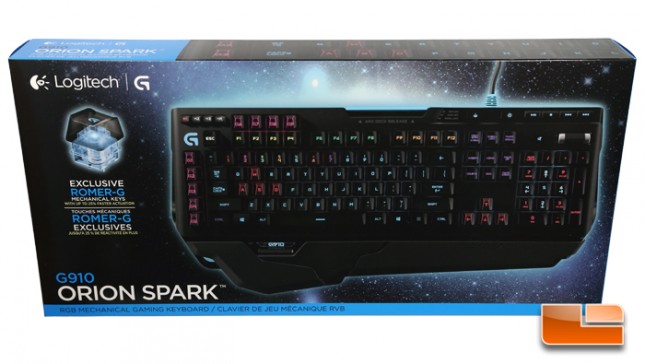 The G910 is an accomplishment its designers claim took two years to develop. The project was spearheaded by the development of the Romer-G switch, a new mechanical switch co-developed by Logitech and Omron, a major supplier for mouse button switches. Currently, Cherry MX RGB switches are tied up with Corsair keyboards and as a result, Razer and SteelSeries have looked to modifying Kailh switches for their RGB keyboards. Logitech's Romer-G switch on the other hand is built from the ground up incorporating a so-called light pipe that permits even and visible illumination of the backlighting through the keycap while still retaining the characteristic advantages of mechanical switches. As Logitech's new flagship gaming keyboard, the G910 doesn't come cheap, costing $179.99 at Logitech's web store or Best Buy. The G910 will be available at other retailers later this spring.
Logitech G910 Orion Spark RGB Mechanical Gaming Keyboard Features:
Exclusive Romer-G mechanical keys: with up to 25%faster actuation
9 individually customizable G-keys
Individual key lighting
Individual key lighting that can be customized from a palette of 16.8 million colors
Designed for Arx Control app
Arx Control integration: In-game display information, vital systems statistics and more on iOS and Android devices
Logitech G910 Orion Spark RGB Mechanical Gaming Keyboard Specifications:
Height: 19.9 in (505 mm)
Width: 9.6 in (243.5 mm) / 8.3 in (210 mm)
Depth: 1.4 in (35.5 mm)
Weight: 3.3 lb (1.5 kg)
Cable: 6 ft (1.8 m)
Key Switch Durability: 70 million
System Requirements
Windows 8, Windows 8.1, Windows 7
Powered USB port
Internet connection and 100MB hard drive space (for optional software download)
2-Year Limited Hardware Warranty