Logitech G900 Chaos Spectrum Wireless Gaming Mouse Review
By
Logitech Gaming Software
Logitech has their own software that lets the user configure the G900 Chaos Spectrum to their personal preferences. The Logitech Gaming Software (LGS), which is at version 8.94.108 as of this writing is well laid out, simple to use, and can service multiple Logitech products through the same application.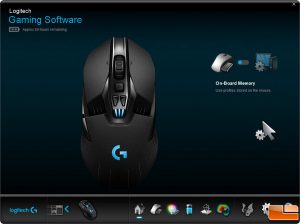 On the home screen, an image of the G900 Chaos Spectrum appears if its the selected device. This is where you can switch devices for configuring each in turn. It's also at this point where you are toggle whether to store the configured profiles on the PC or on the G900's onboard memory. Also in the top left-hand corner is a battery level indicator expressed in hours of use remaining.
The next screen is the button configuration screen. First up, you can select from four preset layouts or choose your own by clicking on the button or feature and assigning it according to your preference. You can then save the profile for recall later. On this screen you can also set the DPI sensitivity presets and even change the number of available presets from 1 to 5. Finally, you have the ability to set your polling rate preference in predefined increments from 125 to 1000.
The RGB lighting is on the next screen with 16.8M colors at your disposal. Enable either DPI or logo zones, or both. Change the lighting effects from color cycle to breathing or off if you wish to show just a solid color. The colors can be input via a ten stock colors chosen for you, choose from a color wheel with sliders, input RGB values, or create up to six custom color presets. If you're running multiple Logitech devices that support RGB, you can also choose to have them all synced.
The power screen is next with a large graphical depiction of a battery in various states of fill based on the current battery level which is also displayed numerically as a percentage or hours remaining. There is also a real-time display of power consumption metrics off to the right and a lighting presets radio box selection. At first I was confused as to why the lighting presets would be here as well as on the previous screen but then realized this allows you to see what impacts the lighting presets have on power consumption and ultimately, battery life. Clever! The next screen is where you can choose your mousing surface from a few presets to optimize tracking or create your own by running a tuning exercise where you move the mouse in a figure eight pattern for a short period of time while the sensor evaluates the surface and then, after a few seconds of waiting, the software will interpret and store the data in a profile that you've named.
Finally, the last screen is a metrics tool allowing the user to tracking the number or duration of keypresses during a specified time frame for later analysis. Also in the software is the ability to install Overwolf, which after install you can come here for various skins, apps, utilities, chats, along with a method for capturing/streaming gaming content.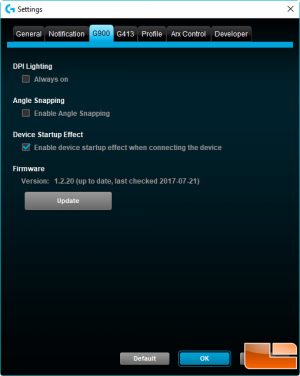 Clicking on the gear icon brings up the overall settings screen where you set things like allowing the LGS to start when Windows does, do firmware updates for all connected devices, set profile parameters, configure Arx Control for mobile connectivity, and access developer tools. It's a very solid software tool with many features and nuances I didn't even address so check out Logitech's site if you want to know more about it.