Logitech G513 Carbon RGB Gaming Keyboard Review
By
Logitech G513 Carbon RGB Gaming Keyboard
Beginning business in October of 1981, Switzerland's Logitech is one of the largest, most well-known manufacturers of computer peripherals on Earth, with over 9,000 employees worldwide. The Logitech Gaming Division, or Logitech G as it is branded, is responsible for producing peripherals for the PC gaming market. We've had quite a bit of experience with Logitech here at Legit Reviews, having reviewed various products under the Logitech G moniker. A couple years ago, Joe had the opportunity to look at the Logitech G413, an attractive keyboard with a minimalist design that features Logitech Romer-G, a mechanical switch developed in partnership with Omron. Today we're presenting you with a review of the Logitech G513 Carbon, an upgraded version of the G413 that is available for $129.99 shipped.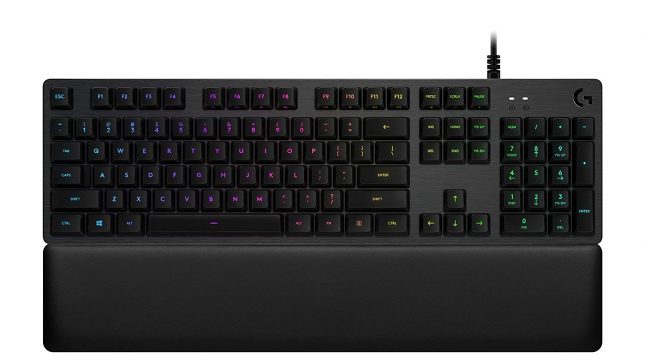 The Logitech G513 mechanical gaming keyboard has an identical design to the Logitech G413, but Logitech has outfitted the G513 with RGB lighting, a detached leatherette wrist-rest, programmable F-keys and a couple of other new features that I will get to in a bit. The Logitech G513 has a tight, minimalist frame featuring thin bezels and an attractive 5052 aluminum top plate, but extras that gamers may look for like macro keys and independent media controls have been omitted in favor of keeping the keyboard light and tight. Like the G413, Logitech has made the G513 available in Carbon and Silver, with the Carbon models being what we were sent for review. With Logitech offering more feature-rich keyboards with aggressive styling like the G910 and G810, the G513 makes sense for users who want a clean aesthetic but find extra buttons on the keyboard to be unnecessary, or even cumbersome. I am a really big fan of minimalist design with a clean aesthetic when it comes to my computer peripherals and accessories, so the Logitech G513 sparked my interest the moment that I was briefed on it.
Romer-G Linear and Tactile Mechanical Switches
Along with the G513, Logitech is introducing the 'Romer-G Linear' mechanical switch to go alongside the previously released Romer-G switch, which is now being branded as the 'Romer-G Tactile' mechanical switch. Logitech has decided to name their Romer-G switches after their characteristics, rather than naming them after the switch that they closest correspond to within the Cherry MX clone landscape. Developed in conjunction with Omron, the Logitech Romer-G Linear mechanical switch has the same 1.5 mm of actuation distance as the Romer-G Tactile switch, but features a grey stem and offers smooth travel until the key bottoms out rather than a slight bump at the point of actuation. The Romer-G Linear mechanical switch also has a more consistent force curve that tops out at 45gf, while the Romer-G Tactile had a 45gf actuation force, but 50gf of tactile force.
I've been a fan of the Logitech Romer-G switches that were developed in conjunction with Omron ever since I first tried them on the Logitech G810 Orion Spectrum mechanical gaming keyboard, as they offer a consistent feel along with fast actuation. From what I've gathered, there are a lot of people who aren't fans of the somewhat muddy tactile bump of the Romer-G Tactile, as they say it gives the Romer-G a feeling almost similar to a rubber dome keyboard. While that isn't my personal feeling on the Romer-G Tactile, I do think that linear switches make more sense for gamers and that the Romer-G probably should have been offered as a linear switch, originally. Of course, Logitech doesn't limit the Romer-G to just their gaming keyboards, so I understand making the original version a type that would appeal to as many users as possible.
Linear switches have become my go-to when I am looking for a new gaming keyboard, as they allow for rapid actuation and have a smooth feel. When Cherry MX released the MX Silver, I obtained a Ducky One TKL RGB keyboard with them and I've been a huge fan of the MX Silver and its smooth, quick linear actuation. I'm glad that I'll be able tell our readers how the new Logitech Romer-G Linear switches compare to the Cherry MX Silver.
| | | |
| --- | --- | --- |
| Switch | Romer-G Tactile | Romer-G Linear |
| Feedback Type | Discernible Bump | Fluid and Smooth |
| Actuation Distance | 1.5mm | 1.5mm |
| Total Travel | 3.2mm | 3.2mm |
| Average Force | 45gf | 45gf |
| Tactile Force | 50gf | N/A |
| Lifespan | 70M Clicks | 70M Clicks |
The chart above highlights the similarities between the Romer-G Tactile and Linear varieties. Certified and tested for 70 Million clicks by Omron, a Japanese outfit that happens to be one of the most respected, well-known manufacturers of relays, sensors and switches in the world, the Romer-G switches should theoretically last for years and years of heavy use. I've used Romer-G switches on my personal Logitech G Pro and G810 since they were both released and both of those keyboards happen to be personal favorites of mine, with the G Pro keyboard taking up residence as my daily driver.
One of the knocks against the Romer-G switch often come down to their lack of compatibility with Cherry MX key caps due to using a different stem, meaning custom replacement key caps can't be sourced easily and users are stuck with the basic caps provided with their keyboards. I've never had any issues with the Romer-G switches when it comes to reliability, though I did manage to snap a post off of one of the keycaps for my G810, an issue that Romer-G key caps can be prone to due to how they mount on the switch. While Logitech is sticking with the same key cap mounting style as they move forward with Romer-G, one can only hope that as the company continues to produce more and more keyboards with the Romer-G switch, the aftermarket will have no choice but to open up shop and start providing quality key caps for the Logitech Romer-G switches.
LOGITECH G513 RGB GAMING KEYBOARD SPECIFICATIONS
PART NUMBER
Black,Tactile Carbon Version: 920-008860
Black,Linear Carbon Version: 920-008848
Silver,Tactile Silver Version: 920-008721
WARRANTY INFORMATION
2-Year Limited Hardware Warranty
SYSTEM REQUIREMENTS
Windows 10, Windows 8.1, Windows 8, Windows 7
USB port (for keyboard)
Second USB port (for USB passthrough port)
(Optional) Internet access for Logitech Gaming Software
Requires LGS 8.98 or higher for advanced settings.
PACKAGE CONTENTS
Gaming keyboard
Gaming keycaps
Keycap puller
User documentation
PHYSICAL SPECIFICATIONS
Keyboard dimensions:
Height: 132 mm
Width: 455 mm
Depth: 34 mm
Weight: (w/o cable): 1020 g
Cable: 1.8 m
Palmrest dimensions:
Height: 88 mm
Width: 445 mm
Depth: 21.5 mm
ROMER-G KEY SWITCHES:
Durability: 70 million key presses
Actuation distance: 1.5 mm
Actuation force: 45 g
Total travel distance: 3.2 mm
KEYBOARD SPECIFICATIONS:
Connection Type: USB 2.0
USB Protocol: USB 2.0
Indicator Lights (LED): 2
USB Port (Built-in): Yes, 2.0
Backlighting: Yes, RGB per key lighting
Special Keys:
Lighting Controls: FN+F5/F6/F7
Game Mode: FN+F8
Media Controls: FN+F9/F10/F11/F12
Volume Controls: FN+ PRTSC/SCRLK/PAUSE
Programmable FN keys via Logitech Gaming Software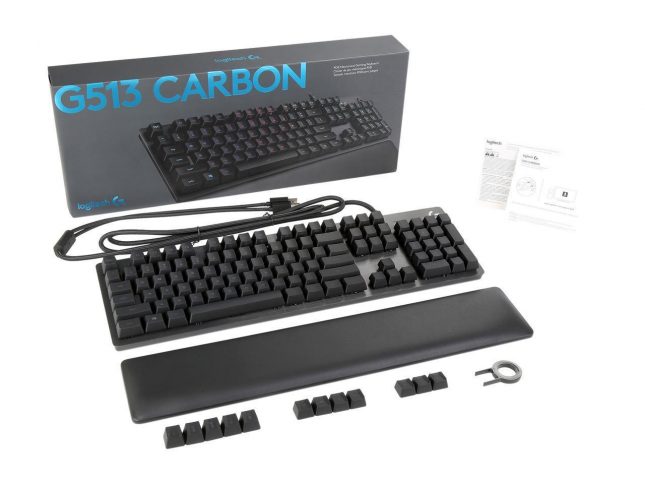 Logitech packages their G513 Carbon in a box that is similar to the other G-series products, keeping consistent branding across their product packaging. Logitech has done a great job of using high quality materials with their packaging and the images on the box do a good job of showing off the aesthetic value of the G513 Carbon. Logitech prints different boxes for both the Romer-G Linear and Romer-G Tactile versions of the G513, with the switch type noted on the box of each very clearly.
A warranty guide and multi-language instruction manual are included with the Logitech G513. The instruction manual for the Logitech G513 is pretty straightforward, prompting the user to plug the keyboard in and visit the support site to download the necessary software.
Logitech includes a set of specially contoured ABS key caps that have been laser ablated. These caps help hold the fingers in place since they contour, a feature that I really like when playing FPS games. Unfortunately, using these kind of caps can cause long term discomfort when typing, as the contoured edges will often rub against the fingers during travel, leading to a bit of irritation if you are typing quickly.
A wrist rest filled with memory foam and wrapped in a leatherette PU material is included with the Logitech G513. Rather than snapping to the G513 and holding in place, the bottom of this wrist rest has rubber isolation bumpers to hold it in place and keep it steady, which means you can position the wrist rest however you like. The memory foam wrist rest that Logitech includes with the G513 is one of the best ones I've ever seen included with a keyboard and certainly adds value, with quality memory foam wrist rests running ten dollars and up on Amazon.