Logitech G413 Mechanical Backlit Gaming Keyboard Review
By
Logitech G413 Mechanical Backlit Gaming Keyboard
Recently, I had a look at Logitechs G Pro Mechanical Gaming Keyboard which I liked very much for the intended purpose a lightweight, travel-friendly, no frills, high-quality gaming keyboard. No ten key number pad, no media controls, no USB passthrough, just the essentials for a full-on gaming keyboard with some RGB lighting thrown in for style. Great for gaming, a little less useful for an all-purpose keyboard. Enter the G413 Backlit Mechanical Gaming Keyboard. Again, the target demographic here is the gamer segment, but has a little more robust feature set making it more attractive to those who want a high quality mechanical gaming keyboard but also some of the niceties that come with a general purpose keyboard. Can the G413 be versatile in this respect and still deliver a great experience for both gaming and general use? Thats what were here to find out.

Another product under Logitechs G gaming brand, the G413 is definitely more gamer oriented as the design itself is more function over form choosing to dual purpose keys for things like media controls rather than having dedicated keys or buttons for functions outside of the gaming realm. Also, no RGB here but rather white or red backlit keys depending on the keyboard color. The white is paired with the silver and the red with the carbon. Both look very attractive and the absence of RGB lighting helps keep it more affordable with current pricing found online for under $85 which is a bit less than the $89.99 MSRP. However, the silver/white combination can only be found at Best Buy as an exclusive for $89.99, so don't hunt for it elsewhere. Personally, I think the carbon/red combination is a little more of what one would expect a gaming keyboard to look like with the silver/white looking a little more business-like though that's entirely subjective. Both are attractive and stylish and crafted in part from aircraft-grade aluminum.
Logitech G413 Mechanical Backlit Gaming Keyboard Features and Specifications
Romer-G Mechanical switches

Precision Key Lighting
Aircraft-grade Aluminum Alloy
USB Passthrough
Full Function Keys
Gaming Keycaps
Programmable Macros
Part Number

Carbon: 920-008300
Silver: 920-008348

Warranty: 2-Year Limited Hardware Warranty
System Requirements:

Windows 10, Windows 8.1, Windows 8, Windows 7
USB 2.0 port (for keyboard)
Second USB 2.0 port (for USB passthrough port)
Internet access for optional Logitech Gaming Software

Package Contents:

Gaming keyboard
Gaming keycaps
Keycap puller
User documentation

Physical specifications:

Height: 5.12 in (132 mm)
Width: 17.5 in (445 mm)
Depth: 1.4 in (34 mm)
Weight w/o cable): 2.4 lbs (1105 g)
Cable: 6 ft (1.8 m)

Romer-G Mechanical Switches:

Durability: 70 million keypresses
Actuation distance: 0.06 in (1.5 mm)
Actuation force: 1.6 oz (45 g)
Total travel distance: .12 in (3.0 mm)

Keyboard Specifications:

Connection Type: USB Type A (corded)
USB Protocol: USB 2.0
USB Speed: Full Speed
Indicator LIghts (LED): 2
USB Ports (Built-in): 1, USB 2.0
Backlighting: Yes

Single color (5 fixed brightness levels)
G413 Silver: White
G413 Carbon: Red

Special Keys:

Backlight Toggle: FN + F7
Game Mode: FN + F8
Media Controls: FN + F9/F10/F11/F12
The G413 is flush with their Romer-G key switches, each having lighting on the tops and fronts of the keys where applicable and are rated for 70-million keypresses. Should they not live up to that expectation, Logitech does offer a 2-year warranty to cover defects and premature failures. This makes it an excellent choice for gaming due to the large demand for mechanical switches in that realm.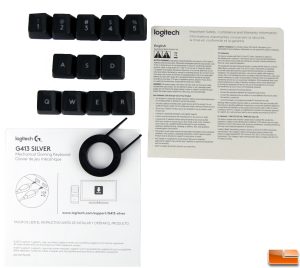 In the box along with the keyboard are a legal brochure and quick start guide, plus a set of extra "performance" key caps that can be switched out with the provided keypuller tool. These keycaps have a different shape to the surface so that they are easily identified to the touch. No more looking down to find your hand resting on the E, S, D, & F keys rather than the normal W, A, S, and D keys like I find myself doing quite often. Let's get a little closer look at the hardware and features.