Logitech G402 Hyperion Fury Gaming Mouse Review
By
Logitech G402 Hyperion Fury Ultra Fast FPS Gaming Mouse
Logitech calls its G402 Hyperion Fury "The world's fastest gaming mouse", an unintuitive and almost ironic statement since computer mice don't move on their own. There's only one wheel and it's not for transporting the mouse. The buttons don't move any faster. The slick feet on the underside aren't anything revolutionary. One would think that perhaps this mouse is ultra-lightweight, but It isn't and it's actually nearly the same weight as a typical gaming mouse. It's when Logitech is not trying to summarize the G402's capabilities in five words does it ascribe to make more sense.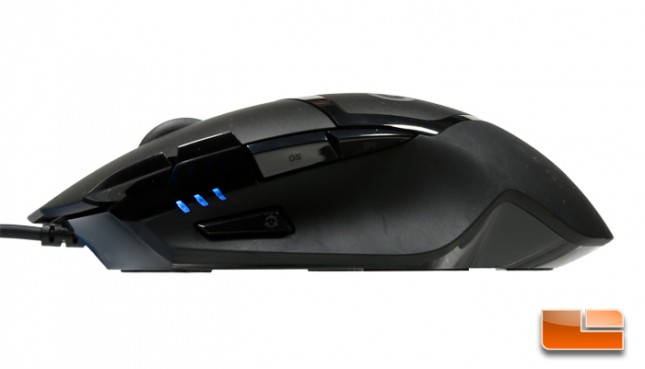 The G402 is built to have the highest tracking speed of any mouse out there though the effect that translates to is not velocity, but how reliably mouse movement is translated onto the computer. The G402 can track even when the user moves the mouse so fast that the tracking sensor can't detect movement for a split moment thanks to an accelerometer inside the mouse. Fusion Engine is the name given to this combination of that accelerometer and Logitech's so-called Delta Zero sensor technology.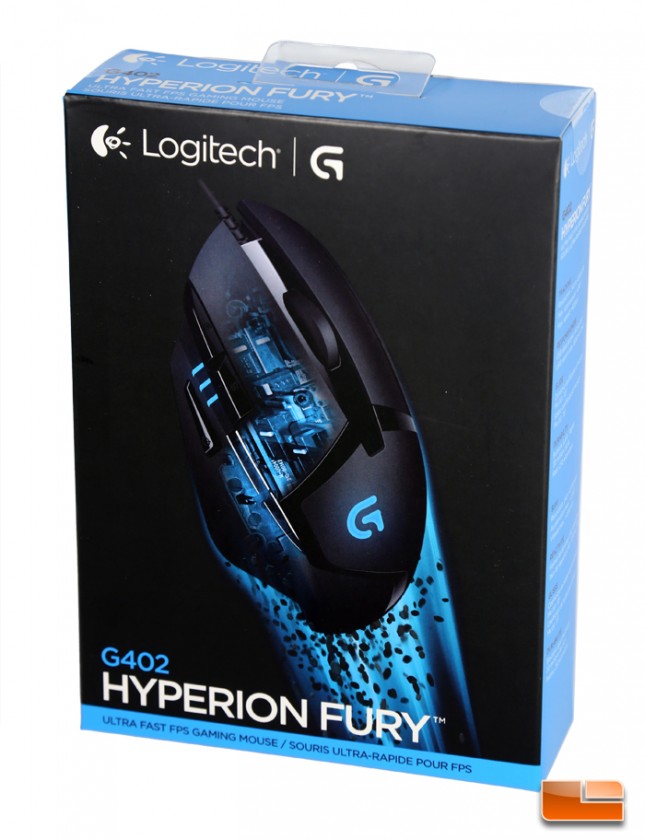 As the G402's namesake implies, this mouse inherits a few features from the older G400s, namely on-the-fly adjustable DPI and 8 programmable buttons. New features are the updated tracking technologies, a repositioned 8th button as the third thumb button, 4 DPI settings up from 3, onboard profile storage, and an all new ergonomic design. The G402 Hyperion Fury mouse comes with a 2 year warranty and will launch at a price of $59.99 in September.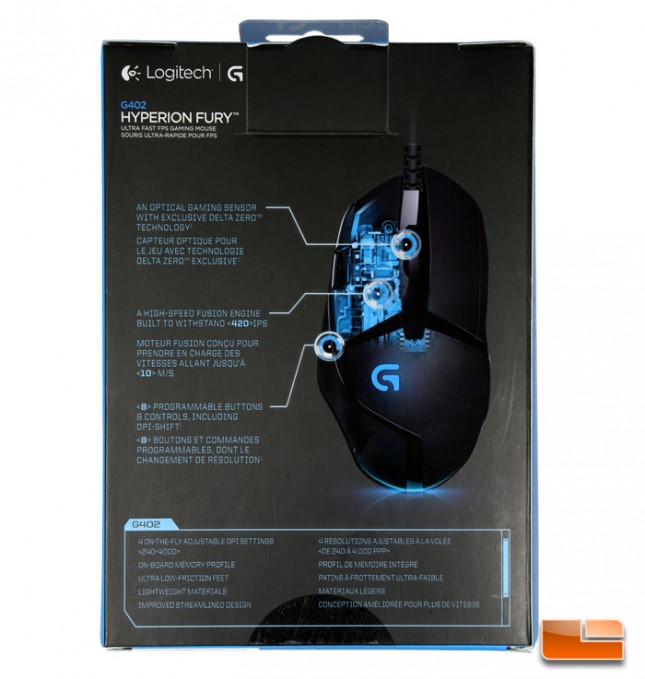 Logitech G402 Hyperion Fury Ultra Fast FPS Gaming Mouse Features:
An optical gaming sensor with exclusive Delta Zero Technology
A high-speed fusion engine built to withstand 420 IPS
8 programmable buttons & controls, including DPI-Shift
4 on-the-fly adjustable DPI settings (240-4000)
On-board memory profile
Ultra low-friction feet
Lightweight materials
Improved streamlined design
Logitech G402 Hyperion Fury Ultra Fast FPS Gaming Mouse Specifications:
Fusion Engine hybrid sensor
8 programmable buttons
On-the-fly DPI Switching
32-bit ARM processor
1 millisecond report
High-speed clicking
Full-speed USB
Tracking

Resolution: 240-4000 dpi
Max. acceleration: >16G*
Max. speed: >500 ips*

* Tested on Logitech G240 Gaming Mouse Pad

Responsiveness

USB data format: 16 bits/axis
USB report rate: 1000 Hz (1ms)
Microprocessor: 32-bit

Glide

Dynamic coefficient of friction -: .09 (k)*
Static coefficient of friction -: .14 (s)*

*Tested on wood-veneer desktop.

Durability

Buttons (Left / Right): 20 million clicks
Feet: 250 kilometers

Physical specifications

Weight: 144 grams (mouse plus cable)
Weight: 108 grams (mouse without cable)
Length: 136mm
Width: 72mm
Height: 41mm
Cable: 7ft

System Requirements

Windows 8, Windows 8.1, Windows 7 or Windows Vista
Powered USB port
Internet connection and 100MB hard drive space (for optional software download)

2-year warranty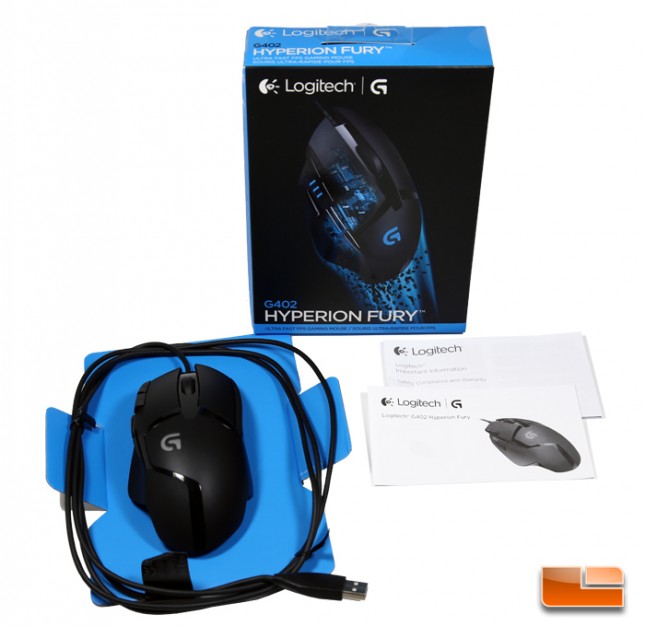 The G402 mouse is lean on the packaging. It comes with two paper slips, one which outlines some safety information and another which provides the support page link to download the Logitech Game Software.
There's more to cover so keep reading to see how the G402 mouse fares in this review!