Logitech G Pro Gaming Mouse and Keyboard Review
By
Logitech G Pro Gaming Mouse & Keyboard Introduction
The folks over at Logitech have been in the mouse and keyboard business for a long time and have essentially dominated the marketplace when it comes to those aforementioned peripherals for business and general computing use. If youve used computers for any length of time at all, odds are good youve used at least one of their products. However, on the gaming side of things they arent typically the first brand that comes to mind even though theyve been doing gaming hardware since the 90s. In recent years, Logitech has made a concerted effort to better delineate their gaming hardware by aligning them under their G brand name which covers entry to professional level products. In fact, I'll be honest – I've used a lot of Logitech products over the years for both gaming and business applications and I never really thought of them as a gaming powerhouse even though upon reflection, they've been there every step of the way in terms of gaming peripherals for both PC and console gaming. I think it's a smart move to continue to nurture their G gaming brand to ensure they stay in the forefront of customers' minds in this respect.


Logitechs professional gamer oriented products appropriately carry the Pro moniker and today we're going to look at a pair of devices from that lineup. Logitech sent us over both the G Pro Gaming Mouse and the G Pro Mechanical Gaming Keyboard to bang away on and we thought it would make sense to cover them both at the same time though they are sold separately (no bundling – but hey, maybe weve planted the seed of a marketing idea).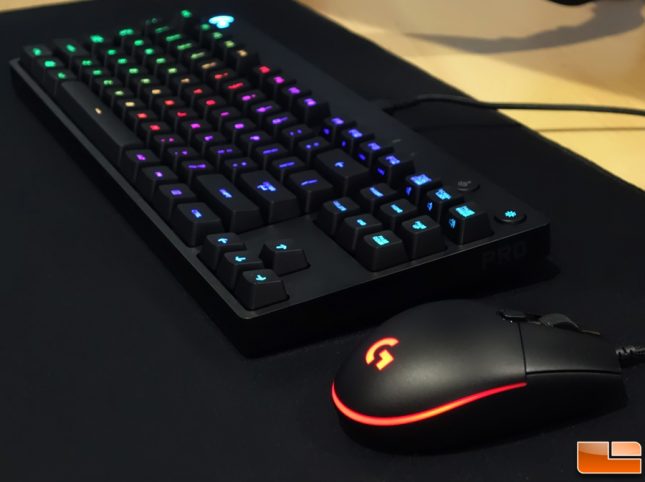 Both carry an impressive array of features and design elements, some of which were based directly on feedback from the eSports professional players they sponsor. Its always a good thing when companies listen to those who use their products especially when those giving the feedback are exceptionally attuned to the performance and design characteristics of the tools they use. The G Pro Mouse set out with an MSRP of $69.99 but has been on the market for a bit so can be found for as little as $53.98 online. The G Pro Keyboard launched at $129.99 and thats pretty much where youll find it priced today. Checking various customer reviews for each, it's clear that they are both winning over those that decided to make the purchase.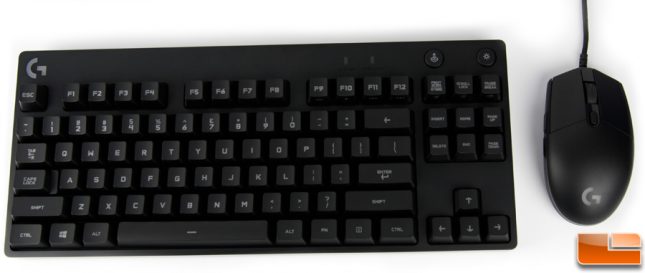 Both the mouse and keyboard have some similar basic feature sets such as insanely fast response times, high durability, onboard memory for storing customizations, and RGB lighting. They are no-nonsense designs, lacking any superfluous parts or features not essential to the maximizing gaming experience though one could argue the customizable RGB lighting is more form than function but color coding keys can certainly be helpful for some in quickly identifying crucial keys in the middle of a frag session.
Logitech G Pro Gaming Mouse Features and Specifications:
Advanced Optical Gaming Sensor
Metal Spring Button Tensioning System
Comfortable, Durable and Lightweight Design
Driver-free Operation for Tournament Systems
System Requirements:

Optional software download works with Windows 7 and higher
Powered USB port
Internet connection and 100MB hard drive space (for optional software download)

Physical Specifications:

Dimensions (L x W x D): 116.6mm x 62.15 mm x 38.2 mm
Weight: 83 g (mouse only)

Tracking:

Resolution: 200 12,000 DPI
Maximum acceleration: >40G
Maximum speed: >300 ips

Responsiveness:

USB data format: 16 bits/axis
USB report rate: 1000Hz (1ms)
Microprocessor: 32-bit ARM

Glide:

Dynamic coefficient of friction: .1 (k)
Static coefficient of friction: .16 (s)

Durability:

Buttons (Left / Right): 20 million clicks
Feet: 25km

Warranty:

2-year limited hardware warranty
Logitech G Pro Gaming Mechanical Keyboard Features and Specifications:
Romer-G Key Switches
Compact, Durable Design
Detachable Cable System
Customizable RGB Lighting
System Requirements:

Windows 7 or higher
Internet connection for Logitech Gaming Software installation
USB port

Technical Specifications:

Romer-G Switches
Durability: 70 million key presses
Actuation distance: 1.5mm
Actuation force: 45g
Total travel distance: 3.0mm
Physical Specifications:

Dimensions (L x W x D): 153mm x 361mm x 34mm
Weight (without cable): 980g
Cable length: 6 feet

Warranty:

2-year limited hardware warranty
The specifications sure look impressive but that only tells half the story. Keyboard and mice are the literal hands-on portion of computing and gaming so if they don't feel right, all the top specs in the world aren't going to entice consumers to lay down the green. So let's not waste any more time on the facts and figures and get some hands-on impressions.