Leef Supra 3.0 and Ice 3.0 16GB Flash Drive Review
By
Leef Ice 3.0 and Supra 3.0 Performance
Before we look at the numbers, lets take a brief look at the test system that was used. All testing was done on a fresh install of Windows 8.1 Pro 64-bit and benchmarks were completed on the desktop with no other software programs running. Windows has had the power option set to high performance.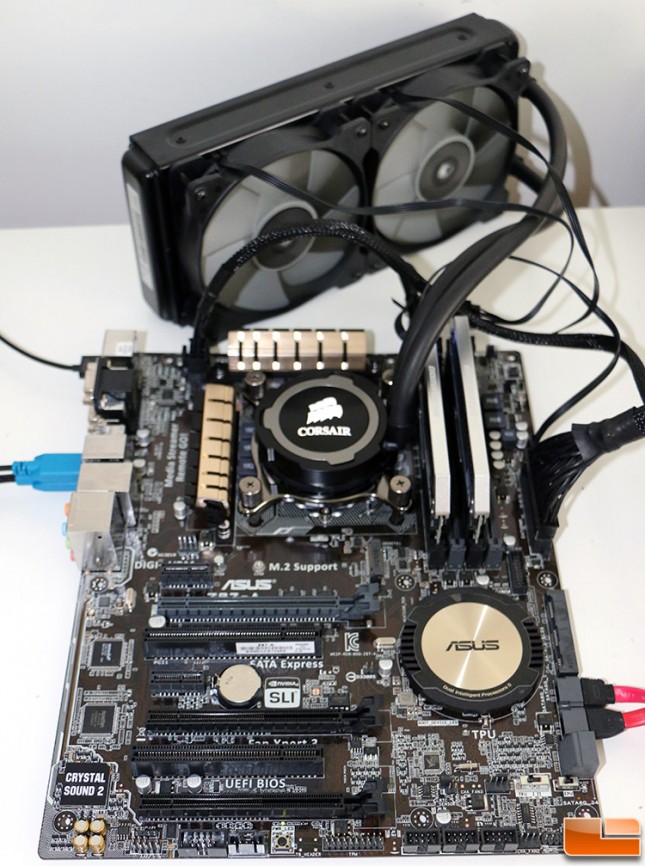 The Intel Z97 platform that we used to test the Corsair Flash Voyager GTX 128GB drive was based around the ASUS Z97-A motherboard with BIOS 1008 that came out on 5/29/2014. The Corsair Dominator Platnium 8GB 2133MHz memory kit was set to XMP 1.3 memory profile settings, which is 1.65v with 9-11-11-31 2T memory timings. The Corsair Neutron GTX 240GB SSD was used as the primary drive (uses 19nm NAND and M310 firmware).
Intel Z97 Test Bench
Intel LGA 1150 Test Platform
Component
Brand/Model
Live Pricing

Processor

Core i7 4770k

Motherboard

ASUS Z97-A

Memory

Corsair Platinum 2133MHz 8GB

OS Drive

Corsair Neutron 240GB

Power Supply

Corsair AX860i

Operating System

Windows 8.1 Pro 64-Bit
CrystalDiskMark 3.0.3 x64
CrystalDiskMark is a small benchmark utility for drives and enables rapid measurement of sequential and random read/write speeds. Note that CDM only supports Native Command Queuing (NCQ) with a queue depth of 32.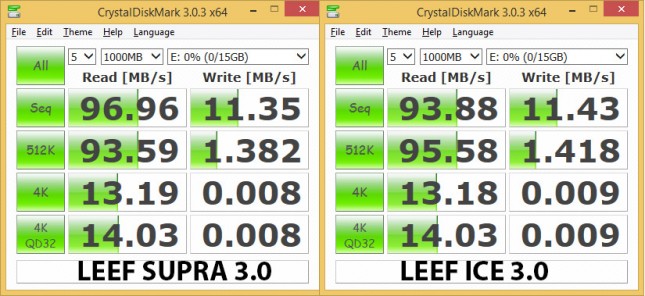 Benchmark Results: On our desktop PC that uses an ASUS Z97-A motherboard with Windows 8.1 along with ASUS USB 3.0 Boost drivers we found decent performance numbers with the latest UAS Protocol (UASP) drivers installed! WCrystalDiskMark showed that we were up to around 95MB/s sequential read and around 11MB/s sequential write on both drives. I
ATTO v2.47
ATTO is one of the oldest drive benchmarks still being used today and is still very relevant in the SSD world. ATTO measures transfers across a specific volume length. It measures raw transfer rates for both reads and writes and places the data into graphs that can be very easily interpreted. The test was run with the default runs of 0.5KB through 8192KB transfer sizes with the total length being 256MB.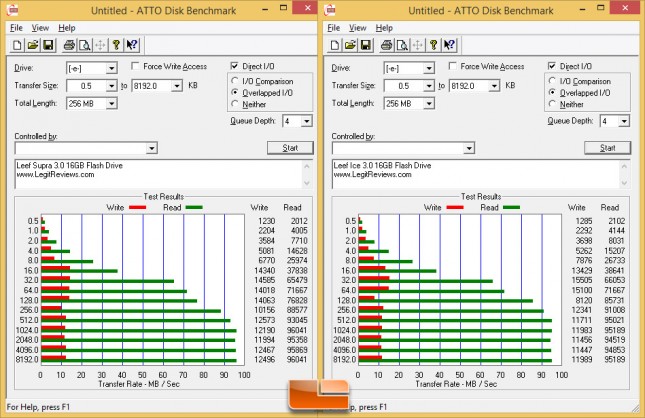 Benchmark Results: On ATTO with USAP installed we were getting around 95-96MB/s read and 12MB/s write.
What happens if you use this drive on a USB 3.0 platform that doesn't have USAP installed? We also tested that out the USB 3.0 port on an ASUS UX31A Ultrabook running Windows 8.1 .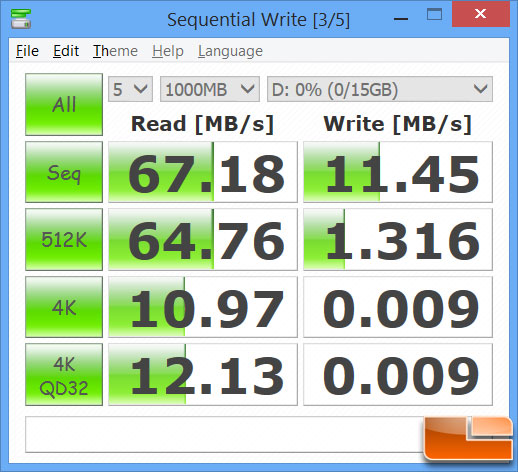 Benchmark Results: We got around 67MB/s sequential read and 11MB/s sequential write on CrystalDiskMark, which is around 30MB/s slower than with USAP. Not many systems have USAP installed, so this might be a more realistic number when you are using the drives out and about in the real world. If you want to get the most from your USB 3.0 devices you'll want to ditch the traditional protocol (BOT) that does just a single command at a time and switch over to the UAS Protocol (USAP) as you can do multiple commands at a time.