Leef Supra 3.0 and Ice 3.0 16GB Flash Drive Review
By
Leef Ice 3.0 and Supra 3.0 USB 3.0 Review
Today we'll be looking at a couple USB 3.0 Flash drives by Leef Technology, the Ice 3.0 and Supra 3.0. Leef Technology might be a brand name you are familiar with, but the company was created in 2010 with the goal of making memory products that people want to own. Leef isn't going after the high-end consumer market with their products, but rather the everyday user that they hope to win over with a solid products, stylish designs and very competitive price points. So, without further-ado let's take a look at the Leef Supra 3.0 and Ice 3.0 SuperSpeed USB 3.0 Flash Drives!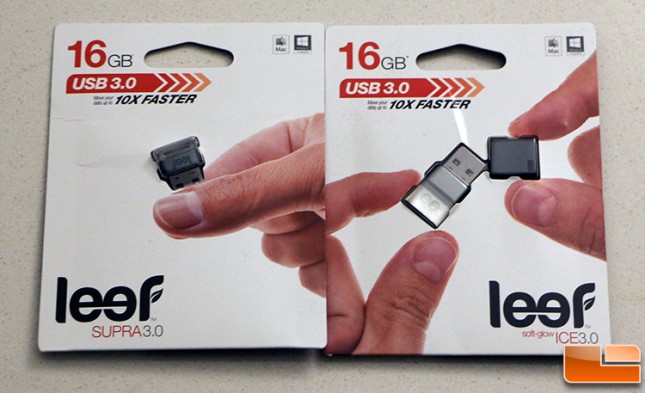 The Leef Ice 3.0 and Supra 3.0 product lines are available in 16GB, 32GB and 64GB capacities and all are backed by a 5-year warranty. Leef has implemented soft-glow LED lighting on most all of their USB 3.0 products and it has become their signature design style. The white LED light glows when not in use and strobes when the drive is actively being used. The bad news is that the LED shines constantly and there is no way to turn it off. You can select from a pair of color options on both products lines. The Supra 3.0 comes in charcoal or silver and on the Ice 3.0 you can choose either Black and Charcoal or Black and Copper. We will be looking at the 16GB capacities of both version with charcoal accents on both. Like the vast majority of USB Flash drives on the market today these drives are Plug-in-Play and will work on systems running Microsoft Windows, OSX and Linux. The product packaging by Leef is pretty unique as it correctly shows their size as you can see above.
Leef Supra 3.0 and Ice 3.0 Features:
Leef Supra 3.0 Dimensions: 14.97 x 21.60 x 7.58 mm
Leef Ice 3.0 Dimensions: 15.30 x 34.78 x 7.80mm
Operating Temperature 0C – 70C
Storage Temperature: -20C – 85C
Speeds: Up To 90MB/s Read and 30MB/s Write
Warranty: 5 Years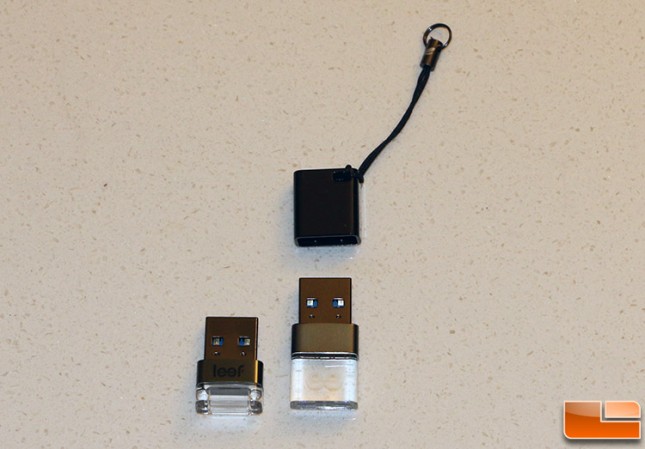 When it comes to pricing the Leef Supra 3.0 16GB drive can be picked up for $15.99 shipped and the Leef Ice 3.0 16GB can be found online for $16.99 shipped. Both drives feature Leef's PrimeGrade Memory which is said to be waterproof, shockproof, and dust proof. That is a claim we have seen on pretty much every USB drive we have ever reviewed, so doubt PrimeGrade memory is much more than just some fancy marketing department jargon that is been tossed into the pot. Leef doesn't put exact speed specifications on their product lines, but we are told that both series are capable of reaching read speeds of up to 90MB/s and write speeds of up to 30MB/s, but that all depends on the capacity.
Here is a quick look at what the Leef Supra 3.0 and Leef Ice 3.0 look like in an Intel Ultrabook when they are active and glowing.
Leef Supra 3.0: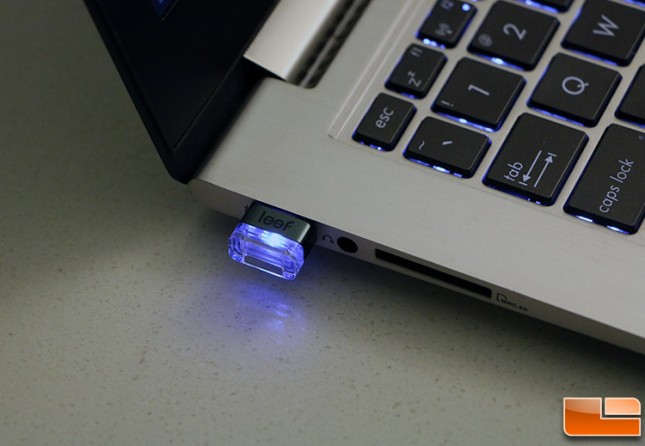 Leef Ice 3.0: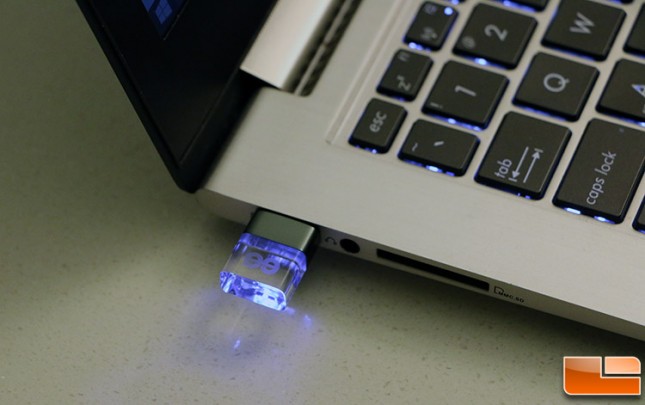 Let's move along at see how the Leef Supra 3.0 and Leef Ice 3.0 perform on a couple systems with USB 3.0 ports.