Kingston UV400 480GB TLC SSD Review
By
Kingston UV400 – First Kingston Mass-Market TLC Drive
Last year Kingston Digital released the UV300 SSD series in emerging markets like India, Mexico and Russia. The UV300 series was the first TLC NAND drive for Kingston and was designed to be their low-cost budget friendly Solid-State Drive (SSD). The UV300 series wasn't anything stellar on the performance front with <26,000 IOPS for Random 4K writes, but it was a starting point for Kingston in the TLC market. Thanks to advancements in controller technologies and improvements in TLC NAND Flash, Kingston was able to design the UV400 series drives with much faster speeds and larger capacities ranging up to 960GB. These changes have allowed Kingston to mass-market the UV400 series of SSDs and it is now the companies entry-level SSD.

All Kingston UV400 series drives use the Marvell 88SS1074 SSD four-channel controller along with Toshiba 15nm 2D planar Triple-Level Cell (TLC) NAND flash memory. This is the same TLC NAND that OCZ is using in the Trion 150 series with a different controller. The Kingston UV400 series offers up to 550MB/s read and up to 500MB/s write speeds for sequential performance and the maximum random 4K Read/Write speeds would be up to 90,000 and 50,000 IOPS. Performance varies greatly depending on the capacity of the drive (120GB, 240GB, 480GB, or 960GB), so be sure to take a look at the full specifications below.
We should also note that while our drive uses Toshiba 15nm TLC NAND that months down the road that could possibly change due to price changes or the NAND supply dries up to it no longer being produced. Here is a statement from Kingston on that.
"Kingston is currently using Toshiba 15nm TLC NAND in its UV400 SSD. As Kingston is not a semiconductor and availability is ever-changing, we may need to source NAND Flash from other suppliers whenever there are generational changes (e.g., moving to 3D NAND). NAND changes are planned out months ahead of time as any new Flash we plan to use has to pass our rigorous qualification processes. The UV400 will always meet the specs listed regardless of the internal components." – Kingston PR
Here are the published specifications that the Kingston SSDNow UV400 Series must always meet!
Kingston SSDNow UV400 Series Specifications
Capacities: 120GB, 240GB, 480GB, 960GB
Controller: Marvell 88SS1074
NAND: Toshiba 15nm planar TLC
Interface: SATA Rev. 3.0 (6Gbps)
Data Transfer (ATTO):
120GB up to 550MB/s Read and 350MB/s Write
240GB up to 550MB/s Read and 490MB/s Write
480GB up to 550MB/s Read and 500MB/s Write
960GB up to 540MB/s Read and 500MB/s Write
Maximum Random 4k Read/Write (IOMETER):
120GB up to 90,000 IOPS and 15,000 IOPS
240GB up to 90,000 IOPS and 25,000 IOPS
480GB up to 90,000 IOPS and 35,000 IOPS
960GB up to 90,000 IOPS and 50,000 IOPS
Power Consumption: 0.672W Idle / 0.693W Avg / 0.59W (MAX) Read / 2.515W (MAX) Write
Storage temperature: -40C~85C
Operating temperature: 0C~70C
Dimensions: 100.0mm x 69.9mm x 7.0mm
Weight: 57g
Vibration operating: 2.17G Peak (7800Hz)
Vibration non-operating: 20G Peak (102000Hz)
Life expectancy: 1 million hours MTBF
Warranty/support: Limited 3-year warranty with free technical support
Total Bytes Written (TBW):
120GB: 50TB
240GB: 100TB
480GB: 200TB
960GB: 400TB
The only feature we noticed that is missing is support for DevSLP, so if you are a mobile laptop user and want the best possible battery life that might be of concern. Kingston informed us that they disabled Dev Sleep, but did not elaborate as to why.
Kingston SSDNow UV400 Series Pricing on June 2nd, 2016
| | | | |
| --- | --- | --- | --- |
| Kingston UV400 Series | Model Number | Amazon Price | $/GB |
| 120GB Drive | SUV400S37/120G | $45.69 | $0.38 per GB |
| 120GB Upgrade Kit | SUV400S3B7A/120G | $49.99 | $0.42 per GB |
| 240GB Drive | SUV400S37/240G | $67.20 | $0.28 per GB |
| 240GB Upgrade Kit | SUV400S3B7A/240G | $92.58 | $0.39 per GB |
| 480GB Drive | SUV400S37/480G | $116.99 | $0.24 per GB |
| 480GB Upgrade Kit | SUV400S3B7A/480G | $152.42 | $0.32 per GB |
Street pricing on the Kingston UV400 series drives is at $0.41 per GB on the bare 120GB drive, $0.28 on the 240GB drive and just $0.24 on the bare 480GB drive. These prices are competitive with competing products, but slightly on the higher side. The OCZ Trion 150 series that we reviewed earlier this year uses the same exact NAND and runs roughly $10 less at these capacities. The Samsung SSD 850 EVO 500GB drive runs $154.95, so the UV400 480GB drive is priced below Samsung by a fair bit.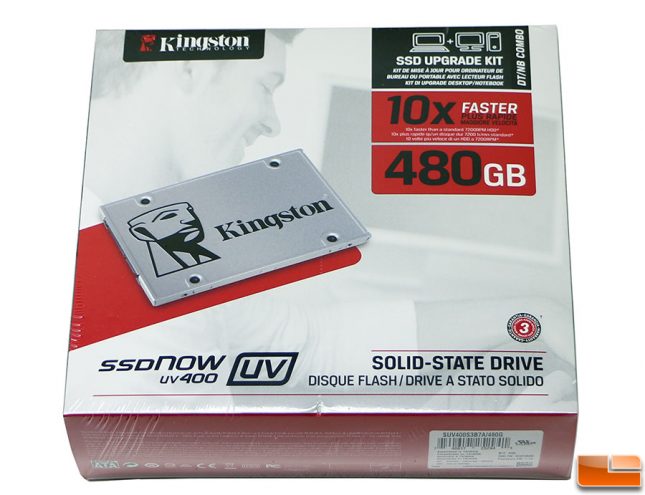 Today we'll be looking at the Kingston SSDNow UV400 480GB SSD with the optional SSD Upgrade kit that is sold under part number SUV400S3B7A/480G.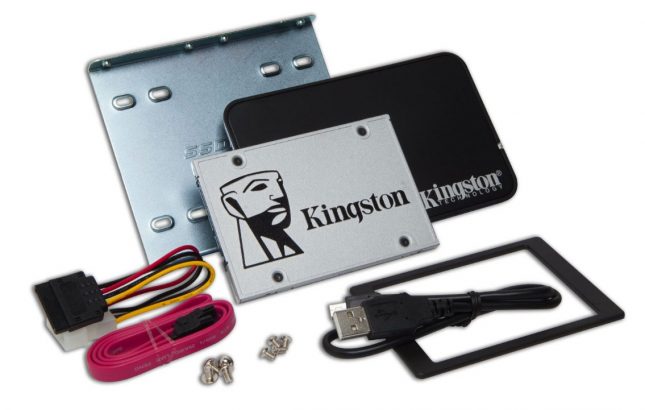 The bundle kits include a 2.5″ USB enclosure, 3.5″ desktop PC mounting bracket and screws, SATA power/data cable, 7mm to 9.5mm adapter and a key for Acronis True Image HD Software. This software is great for hard drive cloning and the entire upgrade kit makes upgrading from a hard drive to an SSD painless. We always suggest doing a clean OS install with a new drive, but if your drive is in perfect working order you can clone it to an SSD in minutes and have a significantly faster system. You can then keep your old drive as a backup if you'd like. Kingston says that the UV400 SSD is 10 times faster than a 7200 RPM hard drive and of course it is more reliable and durable.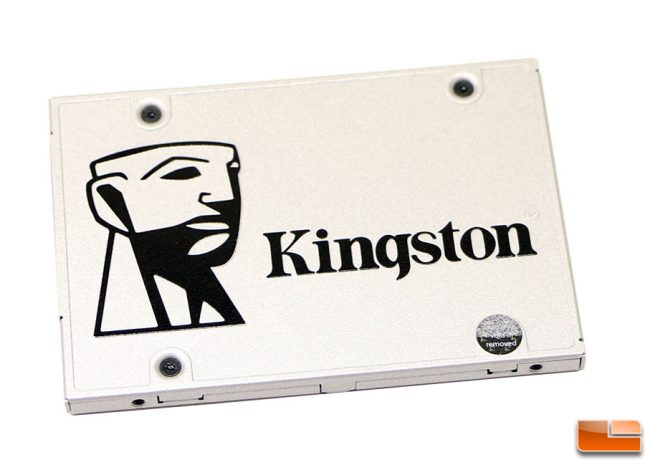 The Kingston UV400 series is only available as a SATA III 2.5-inch SSD form factor that has a 7mm z-height. The silver enclosure has the Kingston logo on the top with a warranty sticker covering one of the four screws that secures the metal drive enclosure.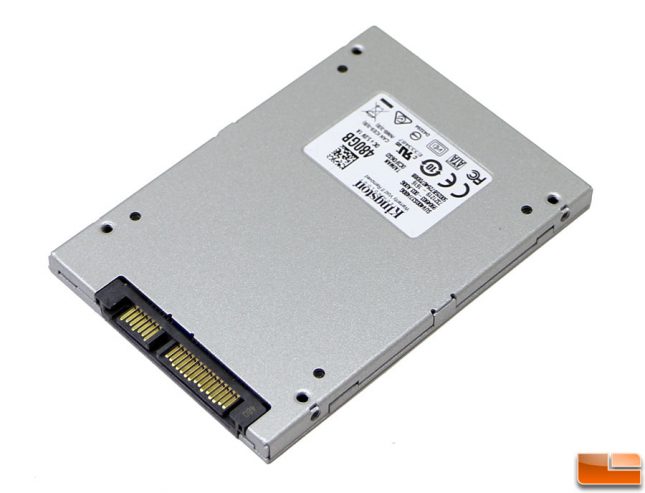 Flipping the drive over you'll find the actual product label of the UV400 that has the full part number, capacity, original firmware version, serial number and all that good stuff on it.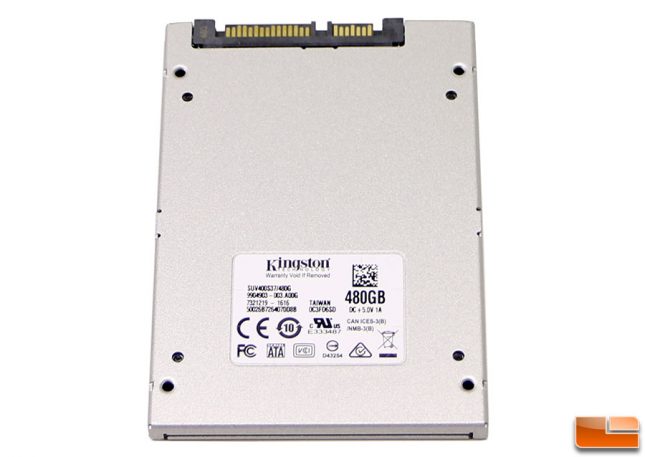 All of the Kingston UV400 series drives are backed by a 3-year warranty that has free tech support. The Kingston UV400 480GB drive that we are reviewing today has a Total Bytes Written (TBW) rating of 200TB, which is decent. For example the Samsung SSD 850 EVO 500GB drive has a 150 TBW and the OCZ Trion 150 480GB drive has a TBW rating of 240TB . This drive is right in the middle.