Kingston DDR2 PC2-6000 (750MHz) Memory
By
Overclocking / Conclusion
Overclocking
As always we must overclock and push new technology to the edge and find the breaking points. Lately Legit Reviews has been going for stability and quality of our overclocks rather than showing a single benchmark and showing off unstable results. We tested overclocking on the Intel 925XE and Intel 955X Chipsets, with both the Intel 640 and Intel 840 (dual core) processors. This was done since both motherboard chipsets offer different memory dividers.
The first system that was overclocked was the ABIT Fatal1ty AA8XE motherboard with the DDR2-600 (2:3) divider. I was able to reach 255FSB, which translates over to 765MHz on the memory. Anything over 255MHz FSB while using the 2:3 memory dividers would cause BIOS checksum errors and the system would not post. The ABIT Fatal1ty AA8XE motherboard allows the memory to be run up to 2.5V, but this didn't help overclocking past 255MHz. Using the 3:4 or 1:1 divider the system would work up to 300MHz FSB, so the only bottleneck was the memory.
Next we tried the modules on the brand new Intel 955X Express chipset with the Intel D955XBK reference board. With an 800MHz FSB processor you are able to run with a 1:2 divider for DDR2-800, so we gave overclocking a second chance with a different divider. Our system failed to post at 4-4-4-12 with 2.08V at with the 800MHz memory option that is found in the BIOS. We then ran the DDR2-667 divider (3:5) and were able to reach our best overclock of 770MHz. This is only a 20MHz overclock and far shy of the 866MHz that Kingston talked about hitting in their PC2-6000 press release. < ?XML:NAMESPACE PREFIX = MM />Below is a screen shot of our timings and frequency settings for our top overclock.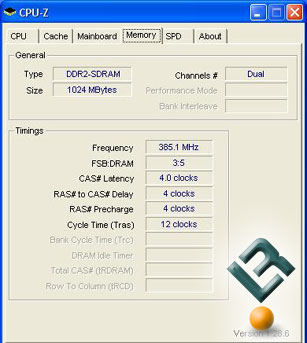 Conclusions: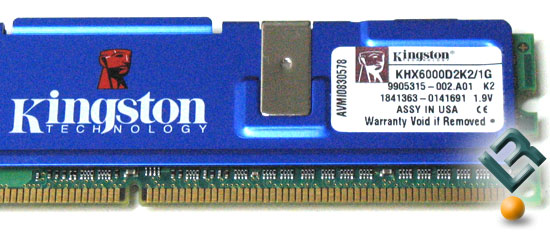 Nathan Kirsch's Thoughts:
Kingston took a step in the right direction with the launch of their PC2-6000 part as DDR2 memory is now starting to reach speeds that haven't been seen before. With new chipsets like the NVIDIA nForce 4 SLI Intel Edition and the Intel i955X Express entering the market we are starting to see support for beyond DDR2-667 memory. Kingston's launch of PC2-6000 memory modules enters the market timed with these new chipsets to take advantage of the new features. DDR2 memory wasn't exciting when it was launched, but DDR2 memory is now getting interesting as memory frequencies continue to rise.
As we noted early on in the article these modules are NOT plug-in-play and your computer will need to be overclocked to reach a memory speed of 750MHz. While this is no big deal to overclockers, it is necessary to point out as I'm sure someone is going to install them and wonder why their system memory isn't running at 750MHz. Kingston's HyperX PC2-6000 memory line allows overclockers to overclock higher by allowing higher memory frequencies, which is something everyone wants. We found our Kingston HyperX PC2-6000 modules were rock solid up to 770MHz at 4-4-4 timings, which allowed for some pretty impressive bandwidth numbers. Far better than what we saw when DDR2 first came out!
A one gig kit of PC2-6000 currently runs $350 shipped to your door, which is a tad more than the $288 a PC2-5400 HyperX memory kit runs that we compared it to in the article. The modules come in 256MB, 512MB, and 1024MB capacities and for the first time ever Kingston is offering a 2GB (2 x 1GB) kit in their HyperX line with their PC2-6000 2GB memory kit. If you are looking for the fastest memory that Kingston has to offer then PC2-6000 is what you need!
Legit Bottom Line:
Kingston's HyperX PC2-6000 memory raises the performance bar for DDR2 memory beyond 667MHz and keeps tight timings (4-4-4) a reality.