Kingston DDR2 PC2-6000 (750MHz) Memory
By
DDR2 Finally Reaches 750MHz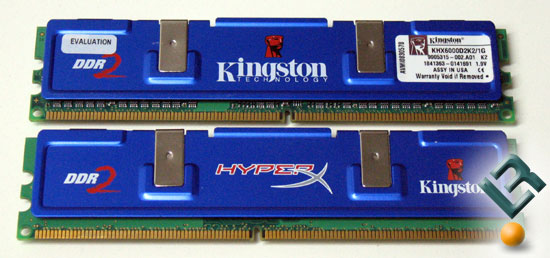 With DDR2 systems finally becoming mainstream many enthusiasts are finally making the transition from DDR1 to DDR2. Since DDR2 has been on the market since June of 2004 companies now have a wider selection of memory IC options available for use on high end memory products. A prime example of this is Kingston Technology, who at first used only Elpida memory IC's for their DDR2 memory modules. Once better performing IC's became available Kingston quickly switched IC's and launched new memory speeds. During the first week of April 2005 Kingston sent out a press release announcing the launch of the world's fastest DDR2 memory. The new speed grade was called PC-6000 and runs at a frequency of 750MHz. Kingston didn't have the world's fastest DDR2 memory for long though as just a couple days later another memory company launched a PC-6200 part. This is common in the memory industry as it is a fast changing environment where nothing stays current for long. The main reason for this is because memory companies are always changing IC's and module designs as new parts come forth to further increase frequencies or lower timings. Let's take a quick look at what Kingston's Mark Tekunoff has to say about their fastest DDR2 modules.
"Compared to DDR, the Kingston HyperX DDR2 PC2-6000 provides higher data bandwidths, lower power consumption by about 50 percent, and enhanced thermal performance. "Kingston is very excited to bring the next evolution of HyperX DDR2 memory to the market," said Mark Tekunoff, senior technology manager, Kingston. "Like all HyperX products, the new 750-MHz module was designed and qualified by careful selection of the best components, then assembled and tested for ultimate performance. Kingston's engineering lab was able to reach an unprecedented 866-MHz with these new modules," added Tekunoff. The Kingston HyperX PC2-6000 modules have been tested to run at low latency timings of 4-4-4-12-1. Actual speeds reached will depend on system configuration. "
After hearing what Mr. Tekunoff says about these modules we look forward to testing them!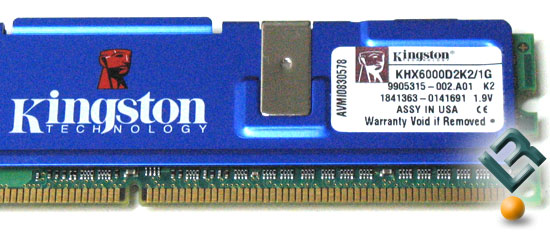 The modules that we have on the test bench are labeled KHX6000D2K2. The KHX6000D2K2 kit is a matched pair dual channel 512MB DDR2 750MHz PC2-6000 modules. These modules are rated at 4-4-4-12 timings with 1.9 Volts. Not the lowest latency on the market today by any means, but still considered low latency for DDR2 memory at 750MHz. Kingston's HyperX PC2-5400 (675Mhz) modules are rated at 4-4-4 timings, so the move to PC2-6000 did not have a dramatic impact on the CAS Latency.
These modules do carry a lifetime warranty in case something happens to them while you own them.
Let's take a look and see what is under the heat spreader on these modules.